Beginner's Guide to Polaroid: Part I (Integral) by Phil Shen
Phil Shen recently contacted JCH about contributing to the site. And when I asked him what he wanted to share, it was a guide to Polaroid cameras. Well, that is something that I want to read, and I hope you do too.

You saw some cool Polaroid photos online and you're wondering how to start experimenting with the magic of instant film. I got hooked when I saw some amazing raw portraits being taken with Polaroid cameras. Here, I'll break down the quickest and simplest ways to start making your own analog keepsakes.
The Polaroid cameras that are still useable today are divided into two categories: the integral route or the peel-apart route. First, I'll focus on the integral route, because that's most people's gateway to Polaroid addiction.
Integral Film
Most people today are thinking of integral film cameras when they think "Polaroid." They're the classic, varied collection of cameras that eject a photo from the front after taking a picture (you can see these photos taped all over some restaurants still). Integral film integrates the developing and fixing chemicals inside each individual film sheet. From 1972 until 2008, Polaroid manufactured integral film for their cameras. Since then, the amazing folks of the Impossible Project have taken up the mantle and released Polaroid-camera-compatible films of their own.
Essentially three categories of cameras fall under the integral umbrella. The first camera I'll cover is one of the easiest and cheapest ways to start making Polaroid magic.
600 Series Cameras
The 600 series cameras, named after the 600 film they used, mostly consist of plastic-bodied cameras with a fold-up flash. These cameras are everywhere at your local flea market or thrift store, and they're really cheap. We regularly find One Step Polaroid cameras for $5 or less at our flea markets.
The One Step is a great starting point for an old instant camera. The One Step Close Up variants contain built-in close-up lenses – just a plastic lens that slides in front of the main lens – that let you focus as close as two feet, versus most Polaroids' standard three feet.
The Impossible Project film I recommend using with these types of cameras is called PX 680. After many iterations and experimentation, their newest batch of films are much easier to use and produce encouraging results. Make sure to pick up the newest generation Color Protection type film; they have more forgiveness in regards to immediate shielding from light after the film is exposed and ejected (the Impossible Project has great instructions on how to use their films).
Left: Polaroid One Step 600 Flash Close-Up and Polaroid Sun 600.
Right: The One Step close-up lens
Shot with a Polaroid One Step Flash Close-Up with Polaroid 600 film
SX-70 Cameras
If you're looking to get more professional results with integral film, the legendary SX-70 is where it's at (watch this Eames video to really get hooked). Built from 1972 to 1981, Polaroid's original integral camera is a collectible that will cost a lot more than a 600 series camera. They're worth it.
The SX-70 is a folding SLR, so your composition will be spot-on, and with focusing down to 10 inches, you can take much tighter portraits. Polaroid released many variants of the SX-70; later iterations had such modern comforts as auto-focus, and plastic-body variants took the SX-70 or later Time-Zero film as well. But the original brown leather SX-70 is a thing of beauty.
Impossible Project PX 70 film works great with SX-70s and any older plastic Polaroid camera, which have a great vintage look. If you're more into functional shooting than collecting, though, my recommendation is to start with the 600 cameras or my top choice, the Spectra line (keep reading for my thoughts on these). Most models have built-in flashes and more features, and because 600 or Spectra cameras are more plentiful and cheaper than SX-70s, you won't feel too bad if you drop one.
Left to right: Polaroid OneStep, Polaroid SX-70, Polaroid SX-70 Autofocus
Left: SX-70 Autofocus with Impossible Project PX 70 Color Protection film
Right: SX-70 Autofocus with expired Polaroid 600 film
Spectra Cameras
The Polaroid Spectra, the last category of integral cameras, often gets forgotten in the shuffle, and I'm not sure why. Spectra cameras have been my personal go-to Polaroids for the past few years. They're great cameras, much more affordable than SX-70 cameras, and they produce wonderful images. Spectra cameras are my top choice for starting with Polaroid.
Built in the early 1980s, Spectra cameras are very durable, portable and compact, with the more modern trimmings that we've grown accustomed to. The standard Spectra model has auto-focus as close as two feet, an LCD display in the viewfinder indicating the distance, a self-timer, a tripod socket, and an option to turn off the flash. The Spectra also provided a sharper lens than your standard 600 camera.
You can even use the self-timer to take multiple exposures. When you flip the self-timer switch, the shutter will fire in about 12 seconds, but the film won't eject unless you flip the switch back. Just close the camera first, then flip the switch back to the original position, open the camera back up, shoot the second exposure, the film will eject and you will have a double exposure.
Spectra (or Image) film was developed by Polaroid as an alternative to 600 film. Instead of a square image, Spectra gives you a wider, more rectangular image area of 9.2 x 7.3 cm., which gives you freedom to experiment with different crops. And thank goodness, The Impossible Project makes a Spectra-type film, PZ 680!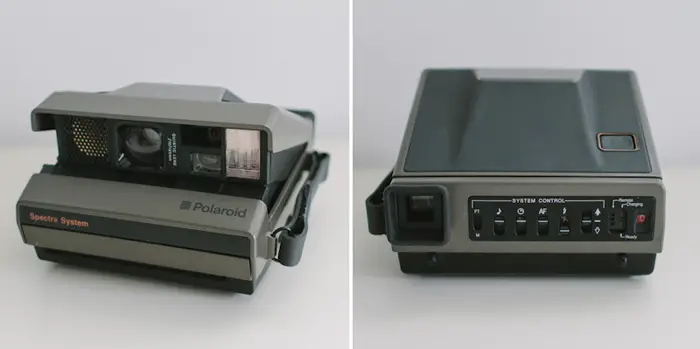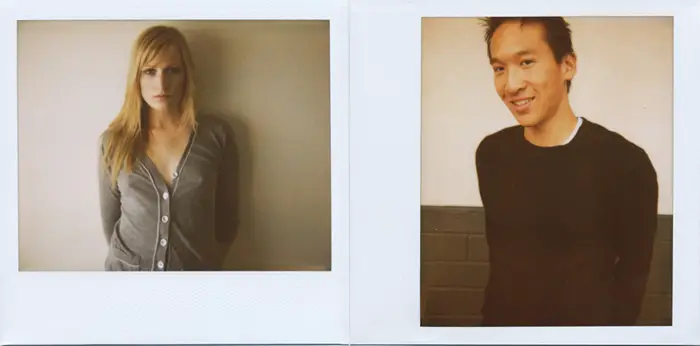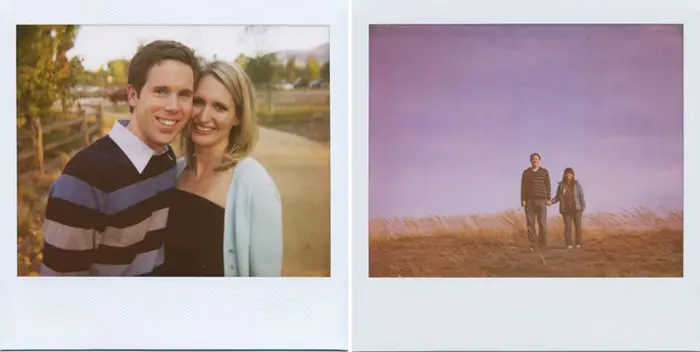 All shot with a Polaroid Spectra on expired Polaroid Spectra film.
Secret Tip
Integral cameras didn't have batteries; the batteries were built into the cartridge themselves. When you're done with your first batch of integral film, keep the cartridge to use as a testing cartridge. Next time you go Polaroid camera-hunting, carry a used cartridge with you to ensure the cameras you find still function. Just pop the cartridge in and hit the shutter to make sure it's good to go.
Final thoughts
Spontaneity is the real fun behind Polaroid cameras – never knowing exactly what you're going to get.
Integral films are a great way to start with Polaroid. You hit the shutter, the film ejects, and the fun begins as you watch an image magically appear. No fuss, no mess. There's something wonderful about holding a real print in your hand!
I was devastated when Polaroid announced in 2008 that it would stop manufacturing film, so I kept as many boxes of Polaroid film as I could. I exposed my last real expired Polaroid photograph in early April, 2013.
I'm excited to continue my experimentation with Polaroid cameras with the new generation of films from the Impossible team. You may not get the same results from the original Polaroid film as you see in some of the examples above, but Impossible Project films are getting better and better every year, and it  gives everyone an opportunity to continue to use these great cameras.
Part II
In Part II, we're going way back to discuss vintage Polaroid cameras, like the Land Camera, that take the new Fuji peel-apart film.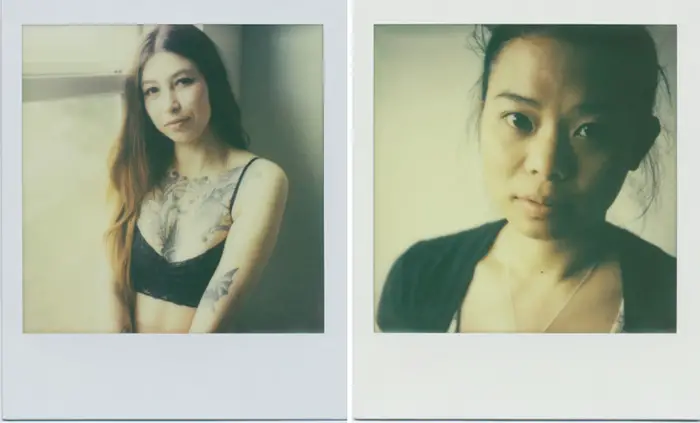 All above shot with an SX-70 Autofocus and Impossible Project PX 70 Color Protection film.
Along with his fiancée Kim, Phil Shen is a professional portrait and food photographer based in the Bay Area. He always makes sure to bring a Polaroid camera to every shoot.
Phil's Website: http://kptwo.com
Edited by Spencer Foxworth: https://twitter.com/spencerfoxworth
A big thanks to Phil for sharing this piece with us. I must admit that I was a bit clueless when it came to Polaroid cameras before I read this, but I feel a lot more secure now. I am really looking forward to part 2.
JapanCameraHunter