Camera Geekery: Mamiya 7
There is no shortage of hullabaloo about the legendary Mamiya 7. It is placed on the pedestal of GOAT on many an internet camera reviewing blog or video you will come across in cyberspace. Owners seem to lose their collective fecal matter over the Mamiya 7 and sing its praises like Maria von Trapp on a mountain top. With this relatively portable 6×7 cult classic, are the hills really alive with the sound of music? The only way to find out is put in a roll of #not120mm and find out.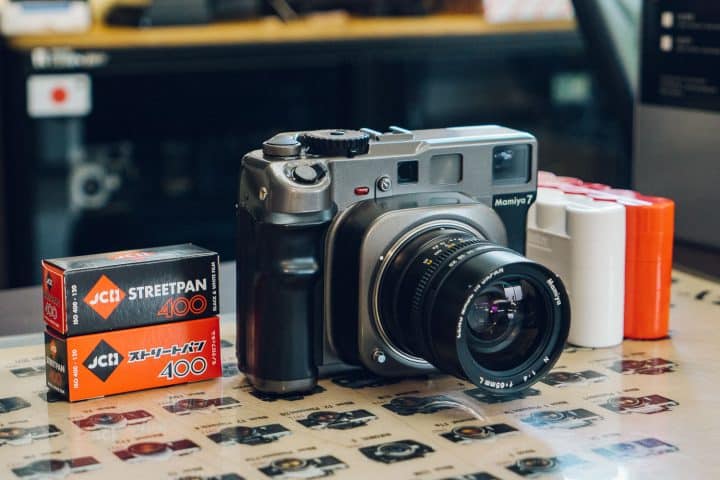 Background History
You can't be bored from this history lesson as there isn't much to be bored from. Information is scant on the production details of the Mamiya 7 even though it is relatively new camera with production running from 1995 to its discontinuation in 2014. It was preceded by the 6×6 Mamiya 6 of 1995 and replaced by the Mamiya 7II in 1999. The only functional differences between the Mamiya 7 and 7II is the latter can do multiple exposures, has an extra neck strap lug and supposedly has an improved rangefinder.
Either are revered for boasting ideal performance features, such as interchangeable lenses, automatic exposure, easy-to-see rangefinder, and super silent operation. It is especially popular among Japanese mountain and landscape photographers and boasts such users as Naoki Ishikawa, Hiromi Tsuchida, and Tomoko Yoneda. Analog Forever magazine has a great article about 20 Mamiya 7 photographers you need to know here.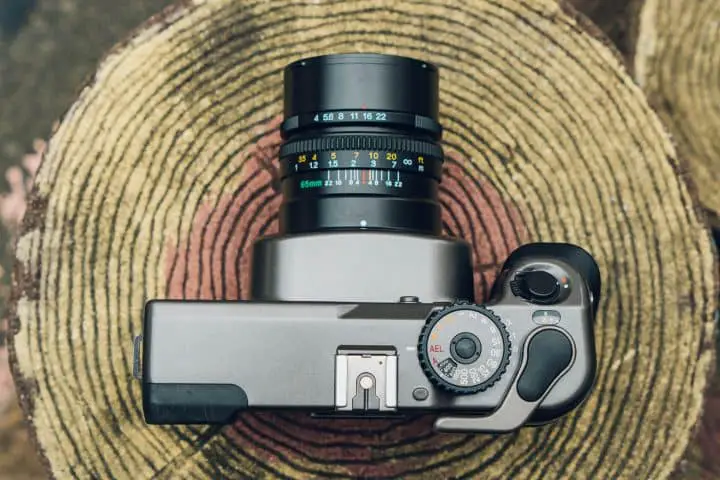 Mamiya 7 Tech Specs
Mamiya 7
Camera type
6 x 7 format rangefinder with interchangeable lenses
Format
6 x 7cm (56 x 69.5mm with 120/220 roll film)
Multi-formats
Optional interchangeable panoramic insert mask (24 x 65mm with 35mm roll film)
Shutter
Electromagnetic full flash synch lens shutter
4 sec. – 1/500 sec., B X synchronization at all speeds
Hot shoe
Synch-socket
Self-cancelling self timer
Metering
Built-in metering
SPD sensor in finder range: EV3 (f/ @ 2 sec.) ~ EV18 (f/22
@ 1/500 sec.) with 80mm f/4 lens at ISO 100
Film Settings: ISO 25 ~ 1600
Exposure Corrections: +/- 2EV in 1/3 step via Compensation Dial Aperture Priority AE or manual metering modes
Viewfinder
Rangefinder coupled
Automatic parallax compensating
Automatic bright line selection (65mm, 80mm, 150mm)Readout shutter speed LED indicator
Separate ultra-wide optical finder supplied with 43mm or 50mm lens
Power
One 6V PX28 alkaline silver oxide or lithium (4SR44, 4LR44 or 2CR1/3 lithium) battery
Dimensions/Weight
159 x 112 x 123mm (6.2 x 4.4 x 4.8 in.)
1210 g (2.6 lbs.) with 80mm lens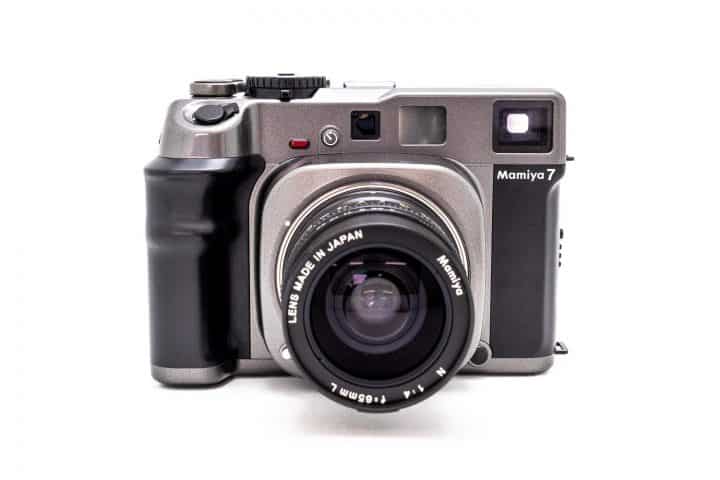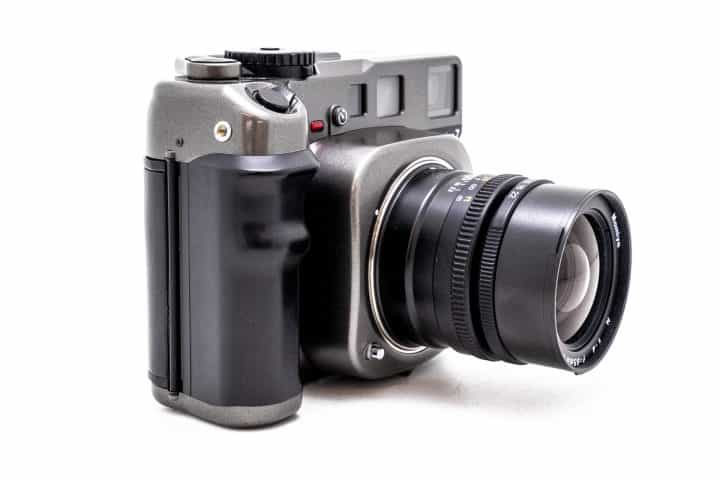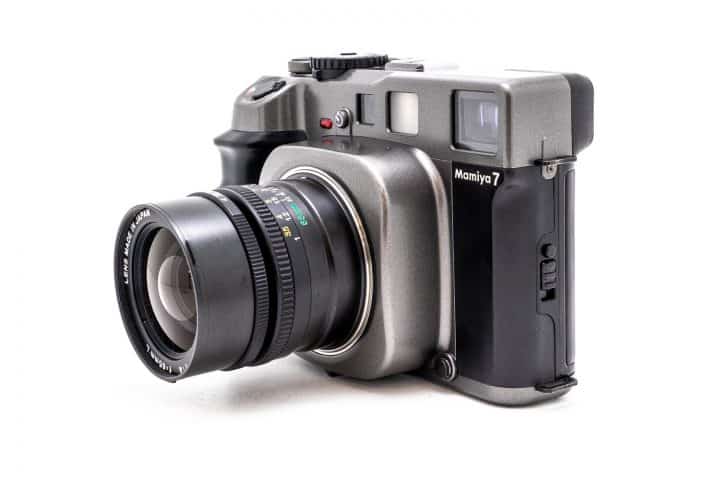 A major benefit of the Mamiya 7 system is of course the lens interchangeability. The sample seen here is equipped with the 65mm f4. The Mamiya 65mm f/4 "kit lens" gives a wider view than the standard 80mm lenses often accompanying other medium format cameras. Below is the list of available lenses for the Mamiya 7 and its 35mm equivalent focal length for your reference.
43mm f4.5 (35mm equivalent 21mm equivalent)
50mm f4.5 (35mm equivalent 24mm equivalent)
65mm f4 (35mm equivalent 31mm equivalent)

80mm f4 (35mm equivalent 40mm equivalent)

150mm f4.5 (35mm equivalent 70mm equivalent)

210mm f8 (35mm equivalent 100mm )
Mamiya 7 Cool Features
There are a multitude of very in depth technical reviews out there already so I just want to highlight the few features that stand out for better or for worse.
Shutter Speed/ ISO/ Exposure Compensation Dial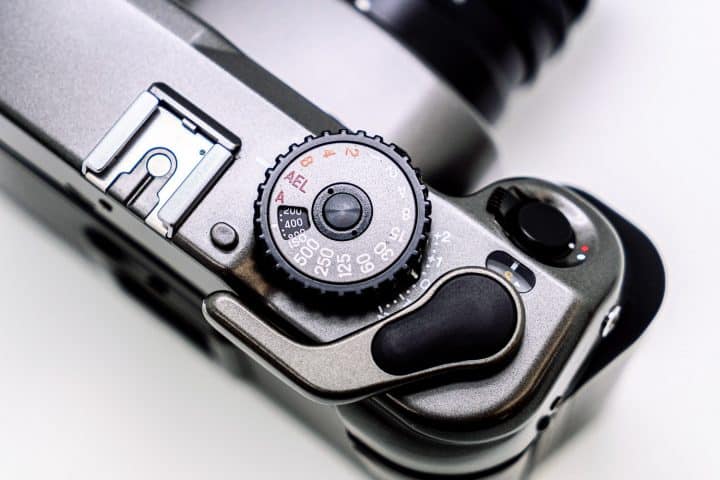 The shutter speed/ ISO/ exposure compensation dial is well designed and nice and chunky. At A or AEL, the dial is locked. The lock can be released by pressing the AE lock release button "A" in the center of dial. In any position other than A or AEL, the shutter speed dial is in the manual mode and moves freely from click-stop to click-stop. However, it must be set on a specific click-stop and cannot be used at an in between setting.
Film Pressure Plate
The Mamiya 7 can use either 120 or 220/ 135 film. To set for the type of film used, simply rotate the pressure plate in either direction of the arrow until the white dot is at "120" or "220/135". When set, "120" or "220/135" will appear in the small window under the memo clip on the rear of the camera. The number of exposures on the film counter is automatically set at 10 for 120 film and 20 for 220 film, according to the position of the pressure plate.
Spool Release Levers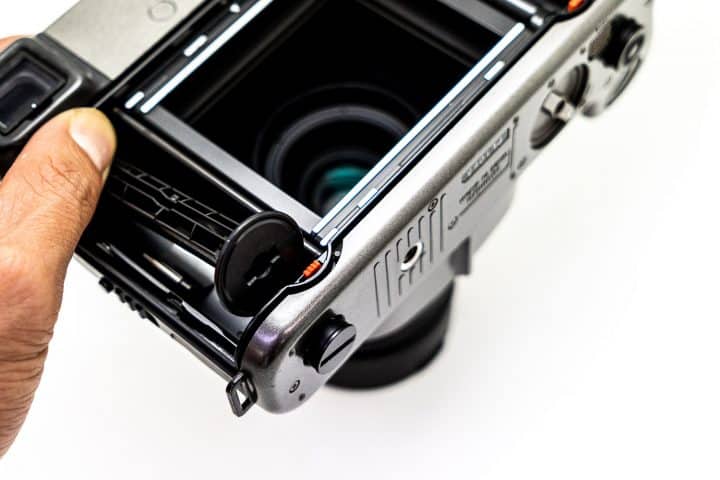 A feature from the Mamiya 6, the spool release levers are also on the Mamiya 7 and makes loading and removing film a cinch. I find these levers very useful and well made and makes it among the fastest loading medium format cameras.
Mamiya 7 Gripes
The following are the glaring gripes I had with this camera. The usual qualms from other reviews with the plastic-y body hold true for me however I believe it is a necessary compromise to keep the weight down. The following are gripes that I find more fault in.
Shutter Release Button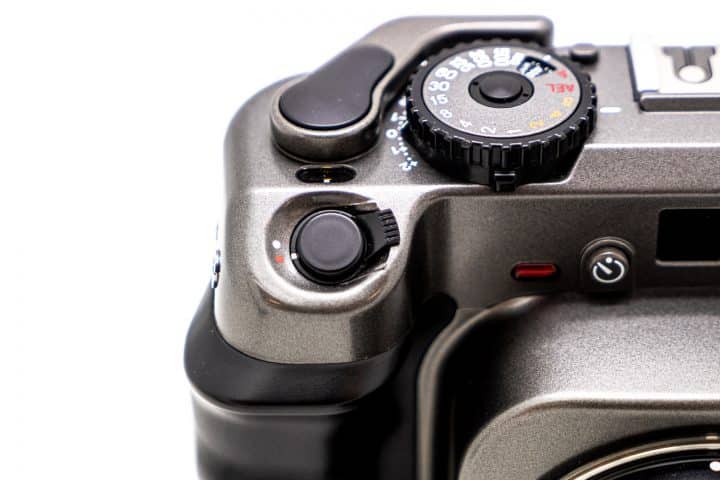 The shutter release button is sensitive. I don't know if people like a hair trigger button but a slight touch will trip this shutter. I find myself losing a couple frames just walking around and accidentally firing off a shot or even prematurely busting while metering and recomposing. There is much less of a distinct "half button press feel" compared to say my Leica M6. A shutter lock lever is around the release button but it is on the other hand too tight and cumbersome to engage.
Strap Lugs
The Mamiya 7 strap flat lugs are placed on the left side of the camera so it is in portrait mode when hanging around your neck. While it looks pretty cool, I had the same issue with the Leica CL when I had one. When shooting, the strap annoyingly gets in the way either by blocking the viewfinder or uncomfortably scratching your nose. Not a fan of flat lugs, I think having ringed lugs would be better.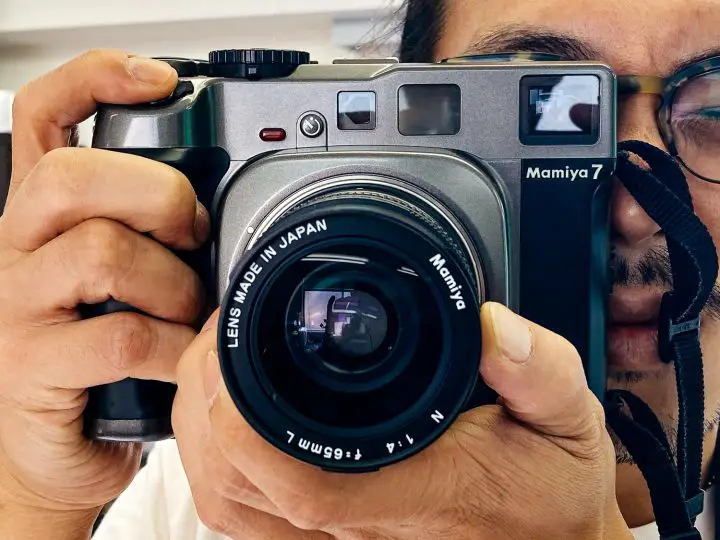 Mamiya 7 Sample Images
Since it is renown for its portability, I figure I should see how the Mamiya 7 fares in a messenger bag cycling around. The following images were shot on Fujifilm 400H and Kodak Tri-x 400, self-developed with Cinestill Cs41 and Df96 respectively and scanned on a Canoscan 8800f.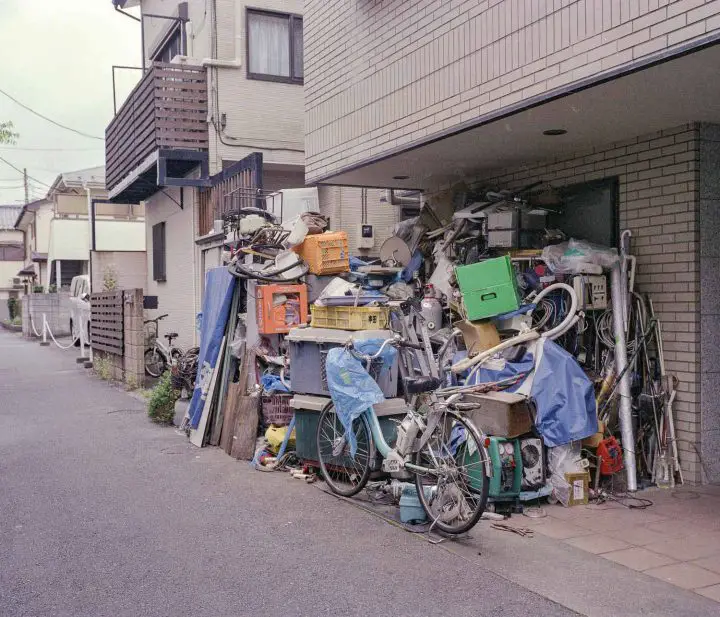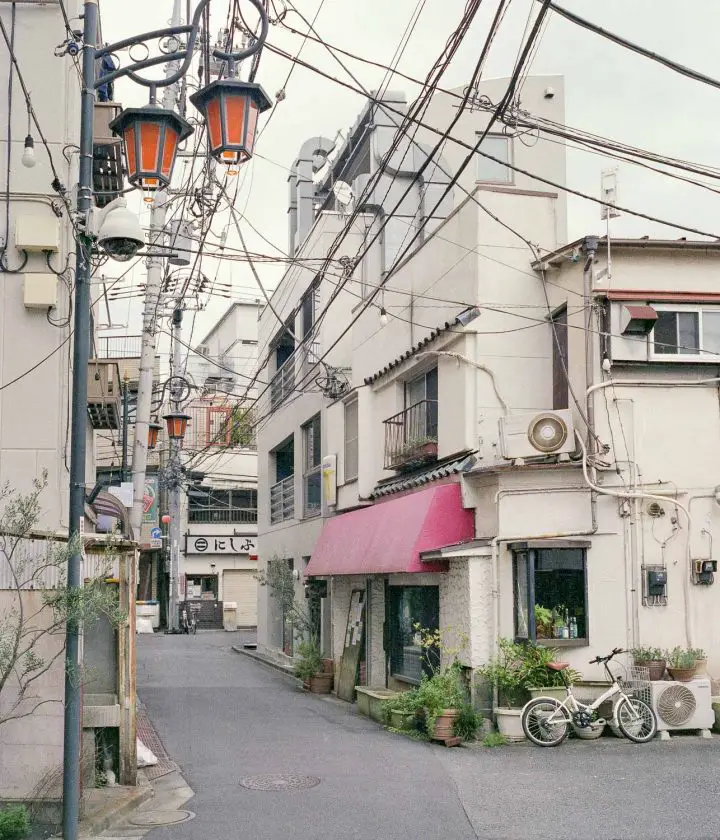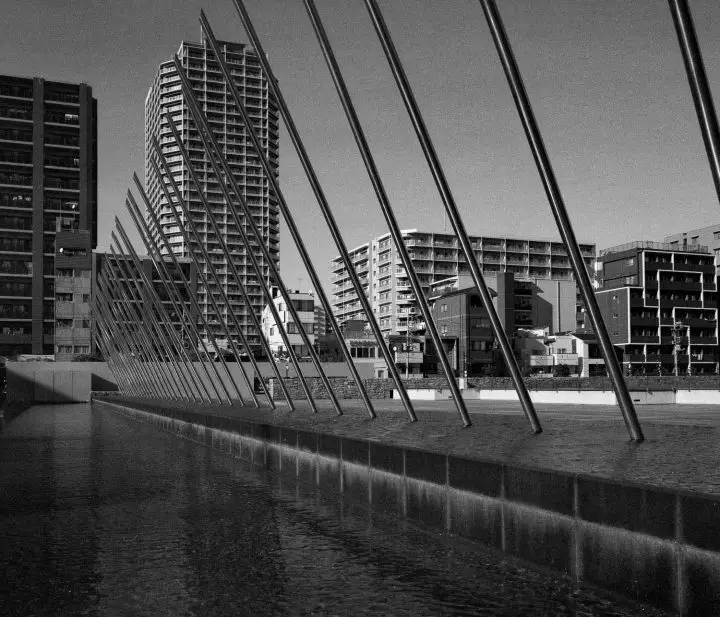 Final Thoughts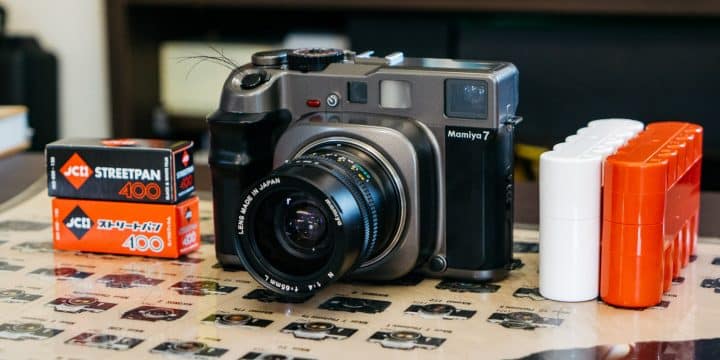 The Mamiya 7 is an easy to use portable medium format camera with a great meter and can change lenses. Weighing in at 1.32 kg with the 65mm lens, carrying the Mamiya 7 in a bag and cycling was no issue. That being said, i did not fall in love with the Mamiya 7 and would prefer a Plaubel Makina 67 myself.
As mentioned earlier, the hair trigger release button is APITA, especially with film prices what they are, losing shots is expensive. I am sure after time it is something that one can get used to but why bother.
vs. Plaubel Makina 67
The 80mm Nikkor 2.8 on the Makina is faster and provides more appealing results to me. Yes, you can change lenses on the Mamiya 7 where you're stuck with one lens on the Makina, but for my purposes I don't really need to deviate from 80mm, especially if the lens is that good. Mamiya lenses are sharp and great, but to me lacks the sexy je ne sais quoi of the Makina's Nikkor, Zeiss Planars or Schneider Xenotars. I can see the 43mm being useful for landscapes, but then you need an external finder where precise composition is quite difficult. For long focal lengths and portraits, I wouldn't be using a rangefinder anwyays.
In regards to portability, the Makina weighs slightly less at 1.27 kg and folds down much smaller. Where the Mamiya clearly trumps the Makina are ergonomics, speed and reliability. The Mamiya offers AE, more intuitive controls and newer, more reliable electronics. For flash users too the leaf shutter sync speeds are a boon. The body construction, while plastic, is more robust and handle adversity much better than the Makina. The bellows on the Makina are a constant source of required caution.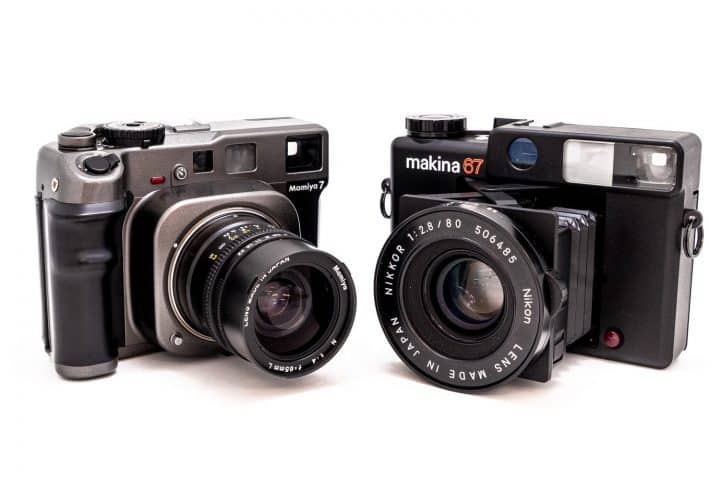 Conclusion
In conclusion, if you need portability and interchangeable lenses in a dependable 6×7 medium format camera for landscape or speedy situations like reportage, the Mamiya 7 system is hard to beat. It certainly deserves the credit and reputation it has garnered for its ease of use and a lineup of sharp lenses. AE is nice to have, and the meter is very good.
Personally, for a medium format travel cam, I prefer the foldability and final image from the Makina despite its quirks and reliability issues for personal work. Yes it is clunkier but one of the charms of medium format aside from the larger negatives for me has always been about slowing down so speed for me is not a priority. You only get 10 shots a roll, I don't mind taking my sweet ass time.
Prices ain't cheap, but at least the Mamiya 7 can still be relatively easy to repair and I gather prices will only keep going up. Some will throw in a case for the Fuji GF670 as an option but unfortunately I have no experience with one. What are your experiences with the Mamiya 7 system? Agree or think this is brimful of excrement? Let us know your thoughts below.
MN