Jesse's Book Review – Middle Life Notes by Sean Lotman
There was point in the mid-1960s when Bob Dylan after three straight electric records needed a change. The reaction to the change even to electric was notorious for the amount of boos he received from audiences wanting what they have already had with the earlier topical folk records. So at the end of the decade and coming off of a long hiatus (by Dylan's standards) and in the height of the civil strife in the US, Dylan puts out two country albums. It is even harder to swallow, since everything he sang about at the beginning of the decade was reaching its climax and he chose to go off and make more inward music. Any other artist perhaps would have returned to form, even after the boos that accompanied the first electric album, but Dylan did what he wanted to do. The second of those country records was his thinnest in Nashville Skyline coming in at under a half an hour with only half of the tracks being Dylan originals. Yet as soon as you hear the space in "Girl from the North Country" you just enjoy where he is and see where he takes you. Good artists can do that and some do it with less.
Enter Middle Life Notes a rather unexpected photo book from photographer, Sean Lotman. This comes a couple years after his last book, Sunlanders, that featured 48 photos taken in Japan in more or less a straight forward photo book. The book here is reduced from 48 to 26 photographs in a book that is literally half the physical size of his last. Much of the photo content is replaced with 12 poems and a short essay of a personal nature that lends itself to the notebook style binding. Yet as soon as you open it and see the first poem:
"Once there was darkness…
then an inferno;
and then floods happened-
from there land emerged life formed…
sometime much, much later, I was born"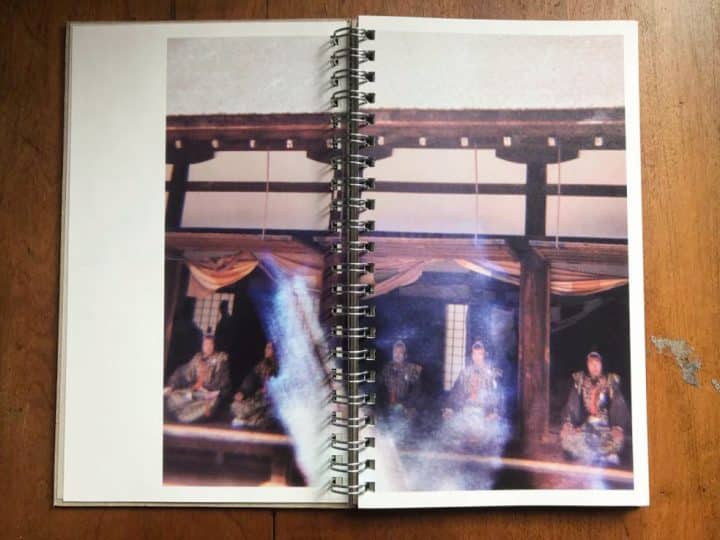 This is followed by a suitably abstract photo dominated by a central black in between red and blue perfectly reflecting the preceding sentiment of darkness, inferno and flood that like Dylan you just enjoy where he is and see where he takes you. For Lotman, that journey is really a greater cycle ending on a photo of his own son at infancy followed by a photo of an uphill path leading to the vast horizon ahead. The following is written:
"Feeling joy and fear
I took him into my arms…
Steady!
This new me."
With that the poems or really waka (Japanese for short poem), of which even utilize the traditional five line stanza, come in both English & Japanese and are on a different paper more akin to a newspaper-like feel that subtlety sticks to your fingers encouraging one to linger while offering a great contrast to the crisper photo paper. But despite the truly equal preference giving to each medium it is about the photography. A point Lotman himself emphasizes stating he is a "photographer who writes". Again with a total of 26 darkroom color photos he arranges them not in any particular manner lending itself to the spontaneity that notebooks encourage with a few two-page photo spreads that really work with this binding as traditional binding usually leaves out some of the image. There are a few fold out picture spreads as well that offer a nice variance and added tactile interaction to the book. All photos are taken in Japan on a Diana f+ toy camera. Offering continuity from Sunlanders, the photos are made up of his everyday made surreal style, yet with an underlying narrative that becomes more personal as a lot of the photographs are of his wife that perhaps do to the various hairstyles, etc, could be thought of as taken over the vast amount of time that they have been together.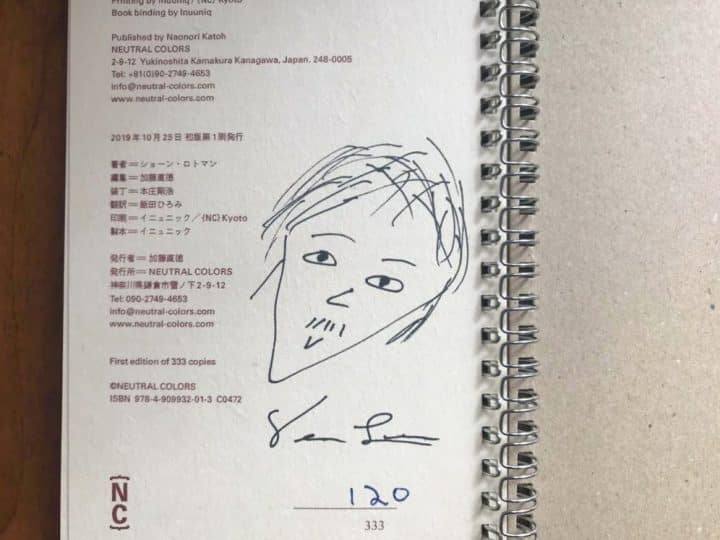 The overall effect of the two mediums becomes the point as both serve an atmosphere of reflection as the title suggests. You really can't have one without the other and with that neither medium feels forced in anyway. One thing about writing, and reading for that matter, is an underlying understanding of narrative that seems in general to have informed Lotman's photography greatly. But also as mediums go, both literature and photography can't adequately record and depict reality in a truthful manner, so in a very personal way he shows the validity of the two mediums combined through this exploration.
But again to the overall effect, kudos to the publisher! Across most things in life, people like to go with what they have already done as the results are more or less predictable. Going through the book you can feel this was exactly what the photographer wanted to do and one can easily see the sincerity in his results. Middle Life Notes is limited to 333 copies each individually numbered. There are still some copies left and can be had for 3,200 yen about 30 USD.
Jesse Freeman is a friend, photographer and movie buff. He has a great knowledge of photography books and classic cinema. He can also be relied upon for decent music recommendations.
You can see more of his work and passions at the following places:
https://www.instagram.com/jesselfreeman/
http://www.flickr.com/photos/imnothinginparticular/
Want to read Jesse's other great reviews? Then click here to go to the archives.
JCH