In your bag No: 1687 – Hansel Wong
Prices have soared recently but it's hard to argue with these choices for a premium do-it-all street setup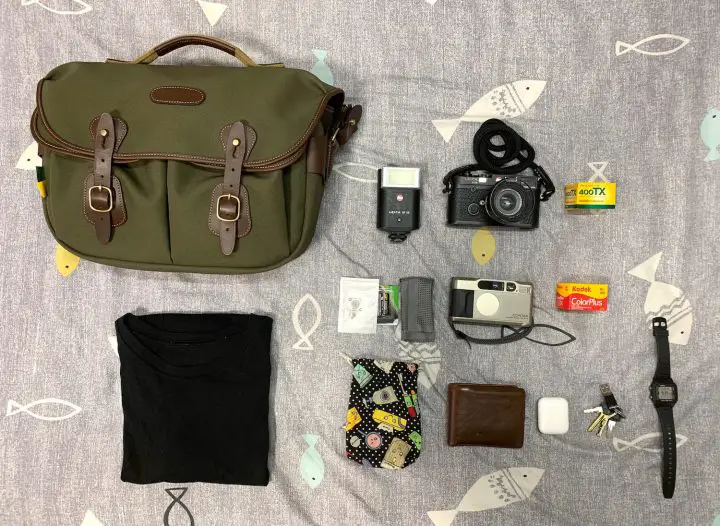 Hello, my name is Hansel from Singapore. I'm a digital product designer by trade, photographer by fun.
I've been shooting film since 2014 after I chanced upon a film SLR and shot my first roll of Kodak Tri-X 400. Since I spend most of my time sitting in front of the computer designing and developing digital software, photography became a quick outlet for me to get out of the house and make photographs.
The bag is a Billingham Hadley Pro 2020 that I just acquired recently. It's the perfect size for carrying my camera gears and has extra space to bring along an extra t-shirt, a water bottle or an umbrella when the weather gets rough.
My main camera is the Leica M6 Classic with the Carl Zeiss 35mm Biogon F2.8 lens. I've experimented with different focal length but found 35mm to be just right for how I see and frame things. At the moment I am shooting on Kodak Tri-X 400 which I develop at home in HC-110.
When I am heading out for longer photo walks, I usually bring along a second camera loaded with colour film in case I find anything interesting that I'd like to capture in colour. Right now I have a Contax T2 that was loaned to me by a colleague who never got around using it.
I don't really go out to shoot with something in mind, but rather let myself wander around freely and just capture what I see. Sometimes I discover new places that I've never been to this way, making it sort of a little adventure.
Instagram: @yourshansel
Website: hanselwong.com
Thanks for keeping film alive!
Hansel.
—————————
Thanks for sending us your bag shot Hansel. My M6 and T2 are jealous they don't get to ride in a Billingham now.
Keep them coming folks, we need more submissions, so get your bag on Japancamerahunter.com
Send me a high resolution image of the bag. Optimum size is 1500px across. Please ensure there is a bag in the shot, unless you don't use one. The more you can write about yourself the better, make it appealing and tell us a story. Snapshots of your gear with a camera phone and no words will not be featured.
Oh and don't forget your contact details (twitter, flickr, tumbler et al). Send the bag shots here. Please understand that there is a long wait now as there is a backlog of submissions. Not all make the cut, so make sure yours is funny/interesting/quirky. And please make sure the shot is of good quality, as the ones that are not do not go up.
Cheers
Japancamerahunter