Camera Geekery: Hasselblad Xpan ii
When DMX growled "X Gon' Give It to Ya" in that 2003 hiphop classic, he was actually rapping about the greatness that is the Hasselblad Xpan ii. I kid of course. Or do i? After the original XPan was discontinued, the XPan ii was coincidentally introduced in 2003 and the worldwide cult status of these cameras were cemented.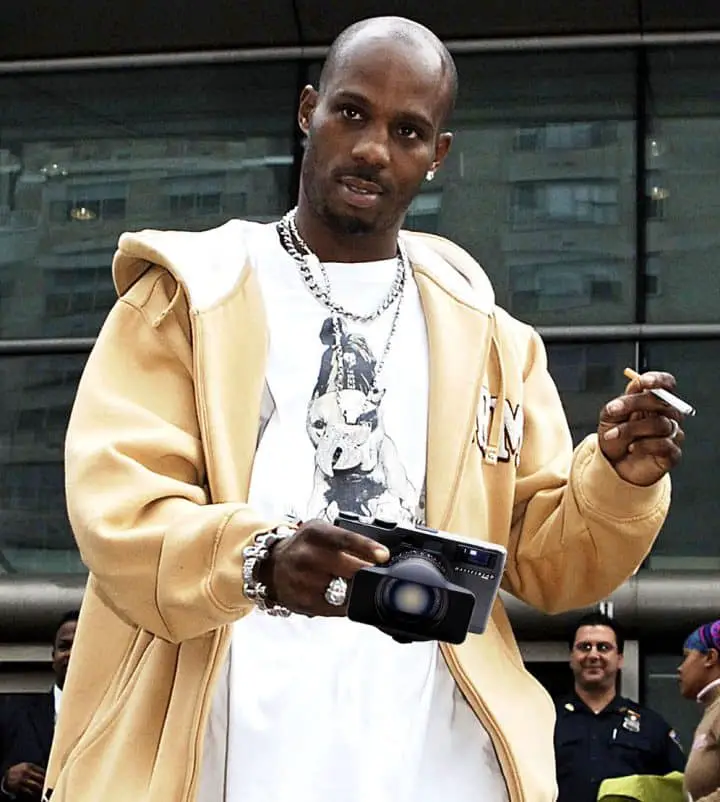 Hasselblad broke routine back in 1998 with the introduction of the OG Xpan. Hasselblad was of course a stalwart of the 6×6 medium format chemical sensor SLR for decades so it was a surprise to see our Swedish pals release a 35mm camera. But the Hasselblad Xpan and its latest version, the Hasselblad Xpan ii, are no ordinary 35mm cameras.
Background History
The Hasselblad Xpans were built with the assistance of Fujifilm. By assistance, they actually manufactured the whole damn thing, body and lens. To the western world it was launched as the Hasselblad X-Pan, whereas in Japan it was launched as the Fujifilm TX-1. As such, the Fujifilm TX-1 and TX-2 were virtually identical to the Hasselblad Xpan i and ii, respectively, minus the finish.
The Hasselblad Xpan ii, like its predecessor, shoots 21 extended 24x65mm "panoramic" frames on a 36 exposure roll of film. They are the world's only true dual-format 35mm cameras which can be set to take normal 35mm shots too. Between 2003 and 2006, an estimated 5500 Xpan ii cameras were produced, making it them a relatively rare camera. Unfortunately, the rise of digital compounded with new EU regulations that came into place in 2006 banning certain elements from being allowed in electronics, lead to an unceremonious demise.
A Dual Threat
The Hasselblad Xpans provide the ability to swiftly change to full panorama format without having to change the film. The Xpan's dual-format produces both full panorama 24x65mm in addition to conventional 24x36mm on the same exact roll of film. Its length is much the same as the 6x7cm format film so the Hasselblad Xpans could technically be classified as a medium-format camera using 35mm film.
It was the first dual-format 35mm camera on the market that expanded the format instead of masking it, making sure that every exposure utilized the full area of the film. Just toggle this switch found here on the back above the LCD and you'll see how the mask extends.
Hasselblad XPan ii Tech Specs
Dual-format – 24×65 mm and 24×36 mm.
Integral viewfinder LCD.
Shutter speeds from 8sec to 1/1000sec and B (max 540sec).
Frame rate 1.2 (0.9) frames-per-second for 24x36mm (24x65mm) format.
Flash sync speed up to 1/125sec.
Front or rear exposure flash sync.
Aperture-priority center-weighted TTL metering system.
Auto-bracketing.
The viewfinder LCD shows the shutter speed and exposure information.
You can take up to nine multiple exposures.
The self-timer has a choice of 2sec or 10sec delay
Hasselblad Xpan Lenses
The Hasselblad XPans had three interchangeable compact lenses, including focal lengths of 30mm, 45mm, and 90mm. The full panorama format was made possible by the large image circles of the specially designed interchangeable lenses. These light and extremely compact "medium format" lenses were characterized by razor-sharp image quality and excellent coverage. Multi-coating of the glass elements ensured top quality results, exhibiting brilliant contrast and full tonal scale.
| Hasselblad XPan Lens | Focal Length | Aperture Range | Angle of view (diag/hor)(panorama format) | Length | Diameter | Weight | Lens Elements | Filter Thread | MFD | Equivalent 35mm Focal Length |
| --- | --- | --- | --- | --- | --- | --- | --- | --- | --- | --- |
| XPan 30mm f/5.6 | 30mm | 5.6-22 | 98°/94 ° | 53mm | No data | 310g | 10 | 58mm | 0.7m | 17mm |
| XPan 45mm f/4 | 45mm | 4-22 | 74°/71 ° | 47mm | No data | 235g | 8 | 49mm | 0.7m | 35mm |
| XPan 90mm f/4 | 90mm | 4-22 | 42°/40 ° | 73mm | No data | 365g | 9 | 49mm | 1m | 50mm |
Hasselblad XPan ii Improvements
XPan ii improved upon numerous features of the original XPan, including that the shutter speed and exposure data were viewable on the LCD display of the camera's viewfinder; the bulb exposure capabilities were lengthened to 540 seconds; both 2 or 10 second options for self-timer delay; option for flash sync to be set at the start or end of exposure.
Hasselblad XPan ii Ergonomics
The Xpan ii weighs in at only 950 grams and boasts a quiet shutter, quick built-in motor drive, an electronic exposure counter, and runs on two CRV2 3V batteries. Below you can see how its size compares to a Leica M.
A cool design feature I like is the camera winds the film when the photographer loads the roll, not at the end of a roll. So when shooting with the XPan, as the film was exposed, it was wound back frame-by-frame into the cassette, thereby protecting the exposed section in case the camera was accidentally opened.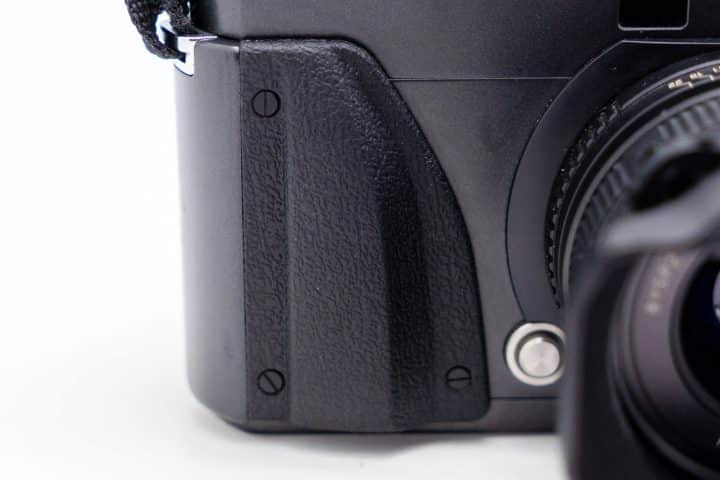 The big rubberized grip on the right side of the camera is well designed and I like the extra curve for comfort and stability. The camera is heavy in the hand for its size so the grip's contours give an extra place for your finger tips to feel secure and tactful in all weather conditions.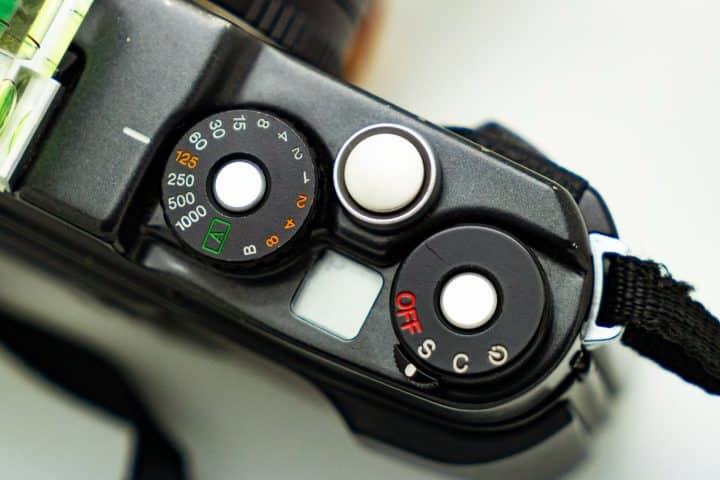 The top dials are placed logically and easily accessible and triggered with one finger. There's not many things in life I can't stand more than an ill-positioned shutter release button ;)
Hasselblads have always had an aura of quality and reputation as the "Leica" of medium format. So while the Xpans aren't Holgas by any stretch, their craftsmanship and finish falls a little short of what you'd expect from a Hassy.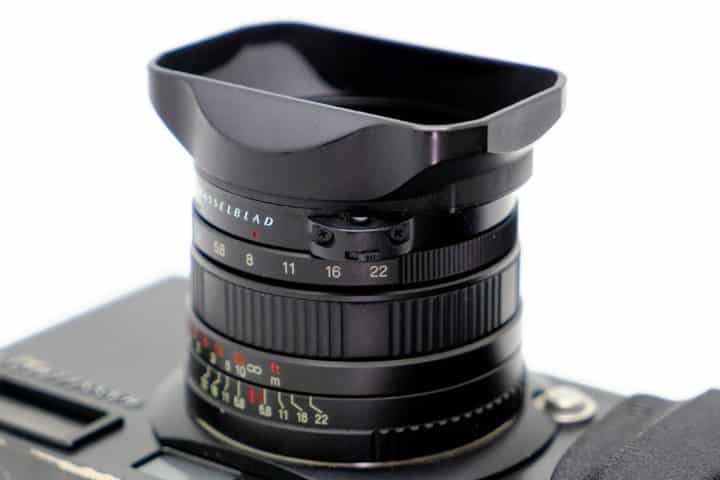 The hood is a bit shoddy and loose and makes noise from movement. The paint chipping is also notorious with the Xpans so you'll be harder pressed to find one in mint or near mint condition. If a clean finish is paramount for you, perhaps the titanium of the Fuji TX-2 is more desirable.
The LCD panel on the back indicates the automatically selected speed, which also appears in the viewfinder. If you need to override you have the option to either switch to manual or use exposure compensation. However, I found the buttons on the back to be quite finicky. It sometimes took a fair amount of pushing before it allowed the press through options. Therefore you'll have to hold it down briefly for it to kick into action.
Hasselblad Xpan ii Sample Pics
Alright, enough of the tech chit chat let's take a gander at some sample pics. The below color shots were taken on Kodak Colorplus 200 and the black and white shots on JCH Streetpan 400. They were then scanned on a Canoscan 9000f. You can click on individual images to enlarge them.






Impressions
There is definitely a learning curve but overall the Hasselblad Xpan ii is a joy to use. However, thinking, seeing and anticipating in such a wide format will take some getting used to. But the quality of the images you'll get makes it worth the try.
Yes, they are expensive. The relatively small number of models is a factor but mostly it's because they have no real competition. So it will also force you to forgive the slightly underwhelming build quality and finish by regular Hassy standards. It is still a very unique option if landscape photography is your main subject and you've been considering medium-format.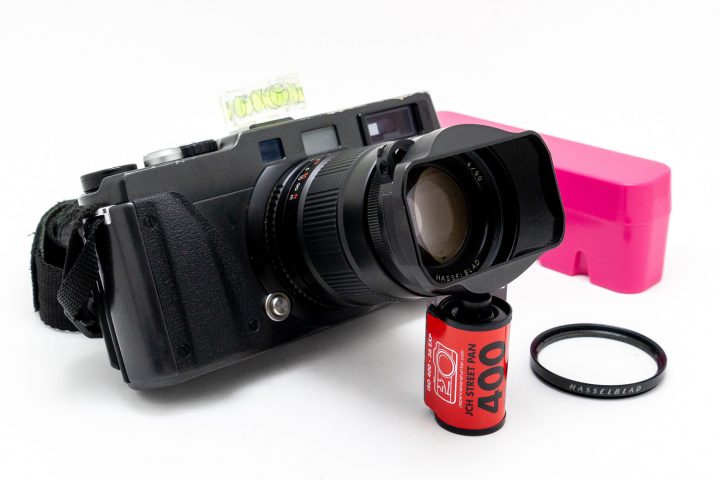 Final Thoughts
The Hasselblad Xpan ii is one of those cult cameras that usually get pulled for landscape photography thanks to guys like Peter Lik. But it can also give you a unique vision for street photography if done right, a la Walter Rothwell.
One issue to be wary of with the uber wide format is "TMI" in street scenes. This can be tricky as unwanted elements find their way into the frame, focal points can get lost or confused. On the flip side there can also be too little information with big areas of negative space that don't complement anything or work in harmony with the main subject. The format can be challenging but that's not a bad thing. As always, your relevant comments and thoughts are always welcome.
MN