Camera Geekery: Fuji GW690III review
I've always heard whispers of the Fuji GW690III among medium format shooters for its supposed legendary lens and portability, but had not ever used one in practice. So when the opportunity arose to borrow one and shoot for a weekend, I promptly got a photo chubby and was aroused to see what the fuss was about.
Released in Japan in February 1992 for ¥179,000, the leaf-shutter fixed-lens rangefinder camera for medium format film was targeted to professionals and travel and landscape photographers. While it has a fixed 90mm lens, it was affectionately dubbed "the Texas Leica" for its resemblance to a Leica M on steroids. Indeed, its dimensions are H 119 x W 201 x D 132 mm and weighs in at 1510g. Below you can see one juxtaposed to my M6 for comparison.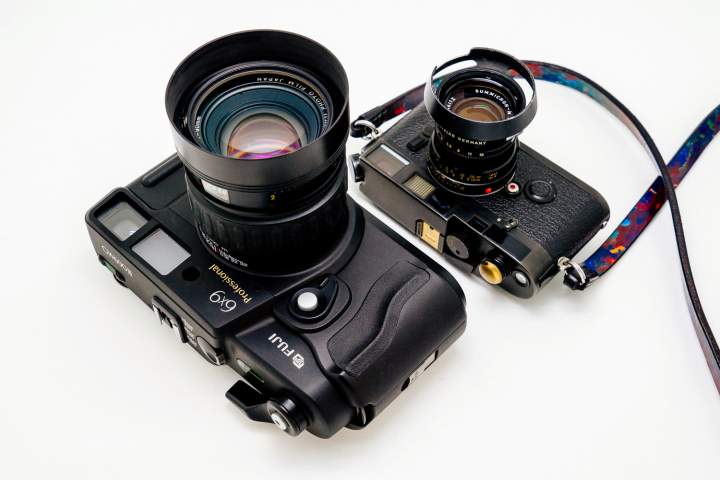 For those not familiar with the Texas Leica, let's take a quick gander.
The Lens
EBC Fujinon 90mm, F/3.5 (equivalent to 39~41mm on a 35mm camera).  Five elements in five groups with a No. 0 interlens shutter.  5 straight shutter blades.  One meter nearest focusing. Takes 67mm filters.  58° coverage diagonally.  Built in metal lens hood.
Some key features
Leaf shutter
6×9 negatives on 120/220 film rolls (8/16 exp)
f/3,5 – f/32 half-stop increments
1s – 1/500s plus T-mode. full-stop increments
Film length selector (half roll-4 shots, 120-8 shots or 220-16 shots
Hot shoe with a X-Sync connector
Spirit level on top plate
The negatives you will get are HUGE. The camera shoots 6×9 cm frames which roughly equates to 5 times the size of a 35mm frame or about half the size of a 4x5in frame. A nice thing is that 6×9 is about the same aspect ratio as 35mm film making it a smooth transition for those wanting to get into medium format.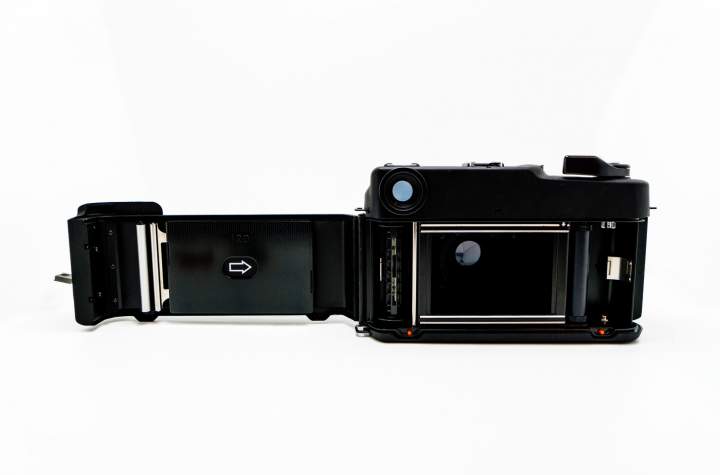 These manual focus rangefinders are entirely mechanical so they take no batteries and provide no metering, so you'll need to bring a light meter or trust your knowledge of sunny 16.
They've got an accessory shoe on top, two shutter release buttons, a tripod mount on the bottom and a built-in lens hood. An interesting aspect to the ergonomics is that aperture, shutter speed, and focus are all adjusted via rings around the lens barrels with the hood out. More will be said of this later.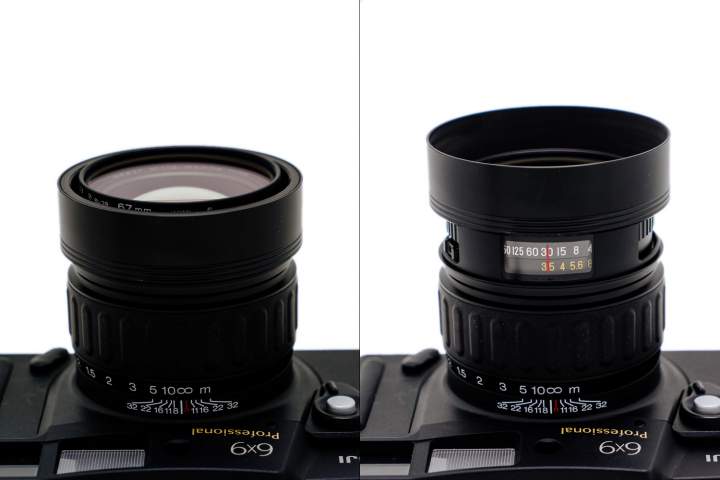 On the top plate you'll find the film length selector which I guess is rather moot now as 220 rolls and half rolls of 12o are about as abundant as Quaaludes. The spirit level can be handy for tripod setups but is only single axis, serving only to help balance the left and right for horizons.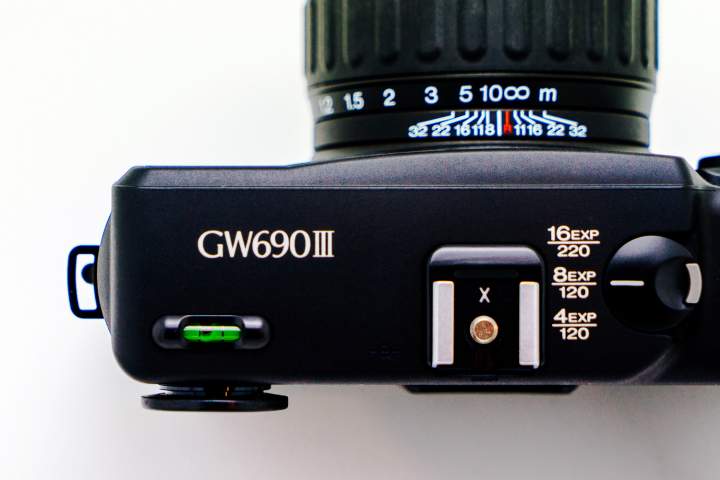 On the right hand side of the top plate you will find the frame counter and the shutter release. The shutter release is within the film advance lever, which takes 1 and a quarter throws to forward a frame.
The shutter button is a classic design, and takes threaded cable releases. To advance the film is a 2-stroke motion much like the single stroke of early Leica M3's; the first stroke will cock the shutter and advance the film partially and the second stroke will complete advancing the film.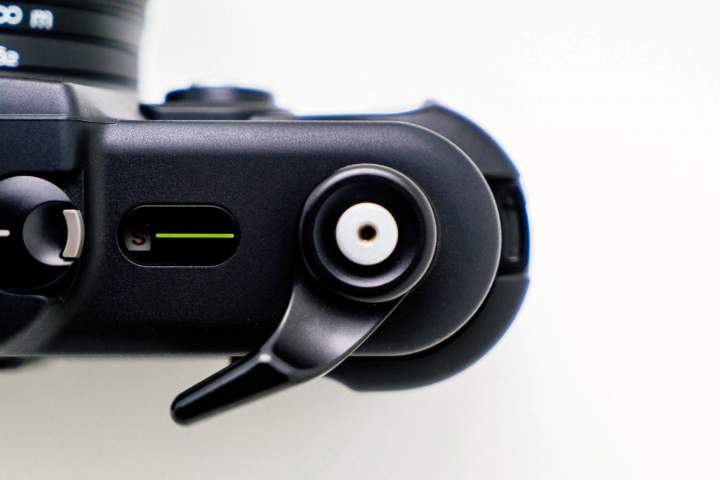 A couple little details I appreciated is the push-button spool release which you can see once you open the back as below. The red buttons are pushed to pop the spools out, reducing fiddling with trying to pry the rolls out and the pop-out button on the bottom plate helps with loading a spool securely as well. Wish my toilet paper holder in the bathroom had this function.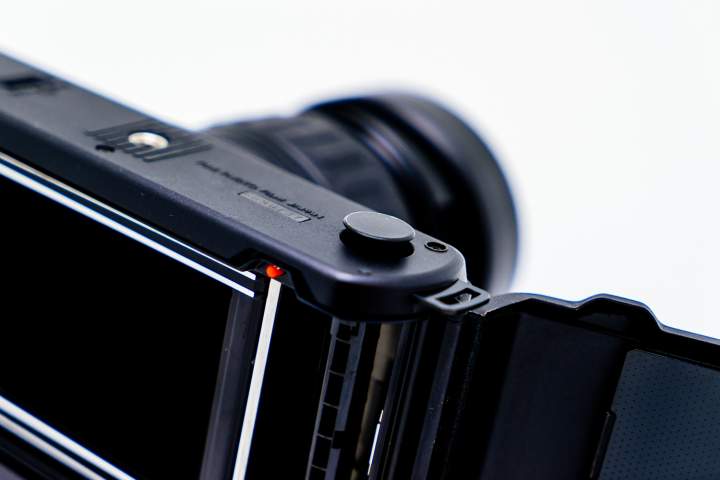 The front of the GSW690III has another shutter release button which is quite useful for vertical compositions and is built into a locking lever that stops both shutters ensuring no accidental firing while in transport.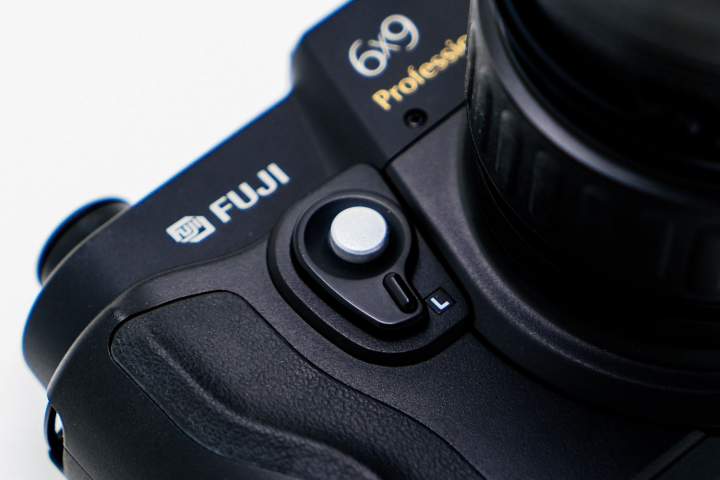 A camera back locking lever is another welcome addition, being much more secure than just a release slide. It also is part of a rubberized grip that I find aids in holding the camera more securely as the camera is rather robust in size, especially for smaller hands.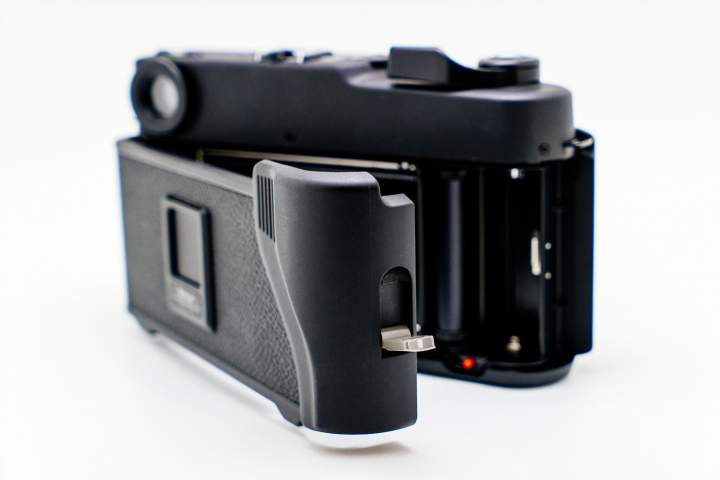 The bottom plate also features a total shot counter window (you need to multiply by 10). Meaning this particular camera has had 1750 shots gone through it.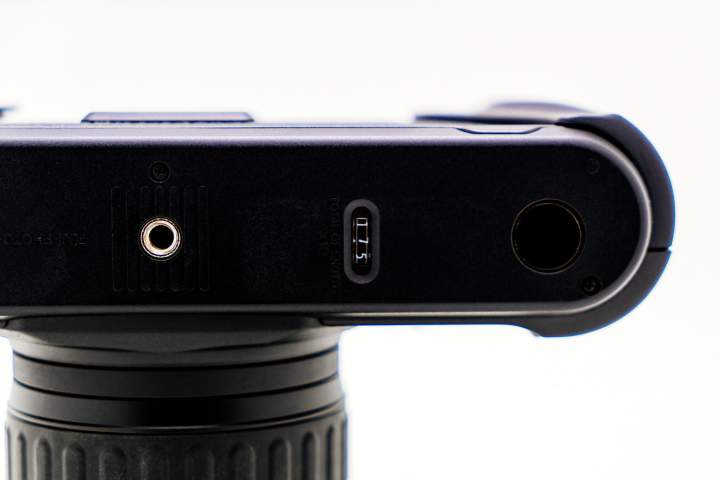 There are of course camera strap lugs on both sides but also I like the addition of another one on the base of the left side for hanging the camera sideways if so preferred much like the Leica CL and M5.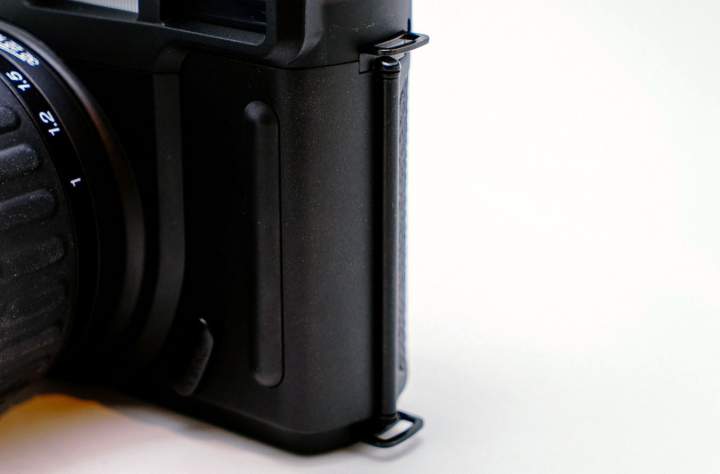 Performance
Alrighty then, let's take a look at it in use. As it was designed to be portable I decided to take it along for a nice little cycle around town. For being a big camera it fit well into my messenger bag and didn't feel too hefty on my back. The sun was shining, plums were in blossom and I packed some Kodak Portra 400 and Fuji Pro 400H into my JCH film case and went exploring.
The viewfinder is quite nice, it's clear and contrasty and a joy to view out of. But that rangefinder patch is a bit of a b**ch to use, especially in bright light. The focusing patch is circular vs. rectangular and is quite small and dim for a camera this size and one can get lost easily.
It very much reminded me of the rangefinder patch of the Yashica Electro 35's. Once found though it's easy to fine tune focus with the big rubberized focus grip. The guide lines move as you move the focus closer or farther away and the finder has 75% magnification with 95% field of view at 1 meter and 92% at infinity.
While feeling weighty enough and balanced in the hands, one cannot help but agree with the "plasticky" murmurings read online. You'd expect more metal put into a pro-level camera but you start to realize how heavy the camera would get if it did. After using it for a bit though it does feel robust enough and is fairly well built.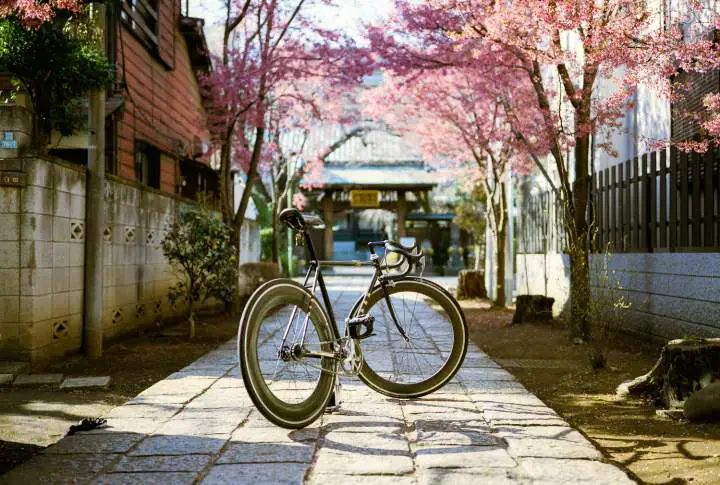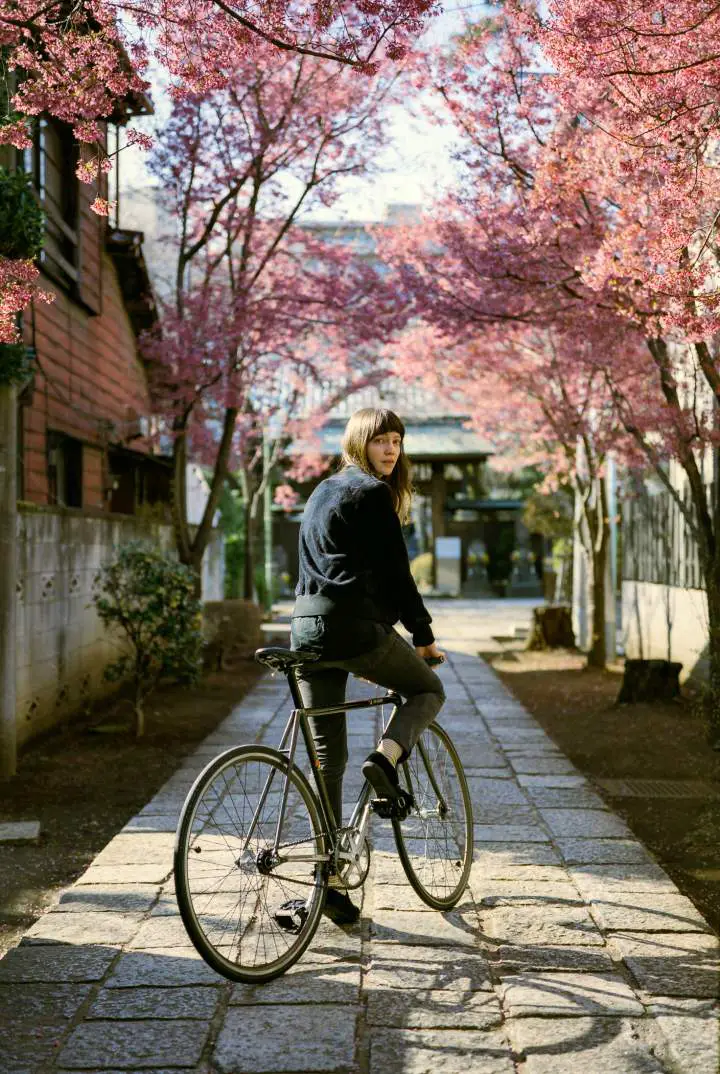 Shot wide open at 3.5 the results are lovely and yields subjectively nice bokeh and the vaunted 3D pop and sharpness I've heard about was not a let down to my eyes.
The closest focusing distance is rather far at 1 meter, so it's not ideal for tight head shots or macro photography. What's nice though is that you can focus on something up to 10 meters away and still have noticeable bokeh in the background.
It's quite a different feel from shooting with a smaller format. But because of a far minimum focus distance, and centered nature of the rangefinder system as well as parallax issues inherent in that system, using the Fuji GW690III for serious portrait work could pose quite the challenge.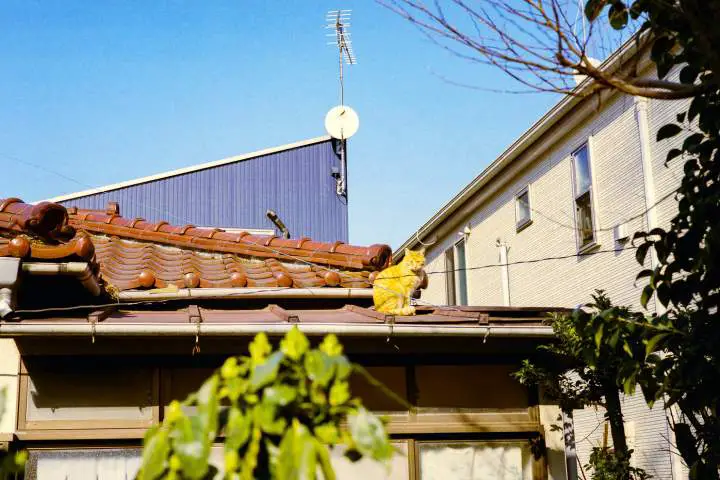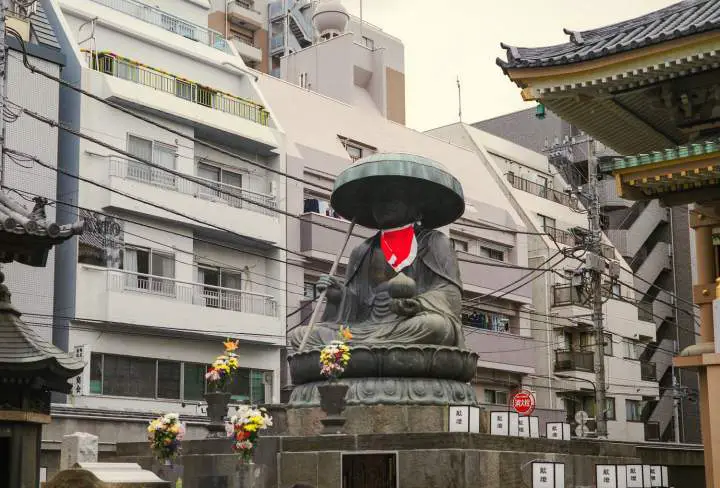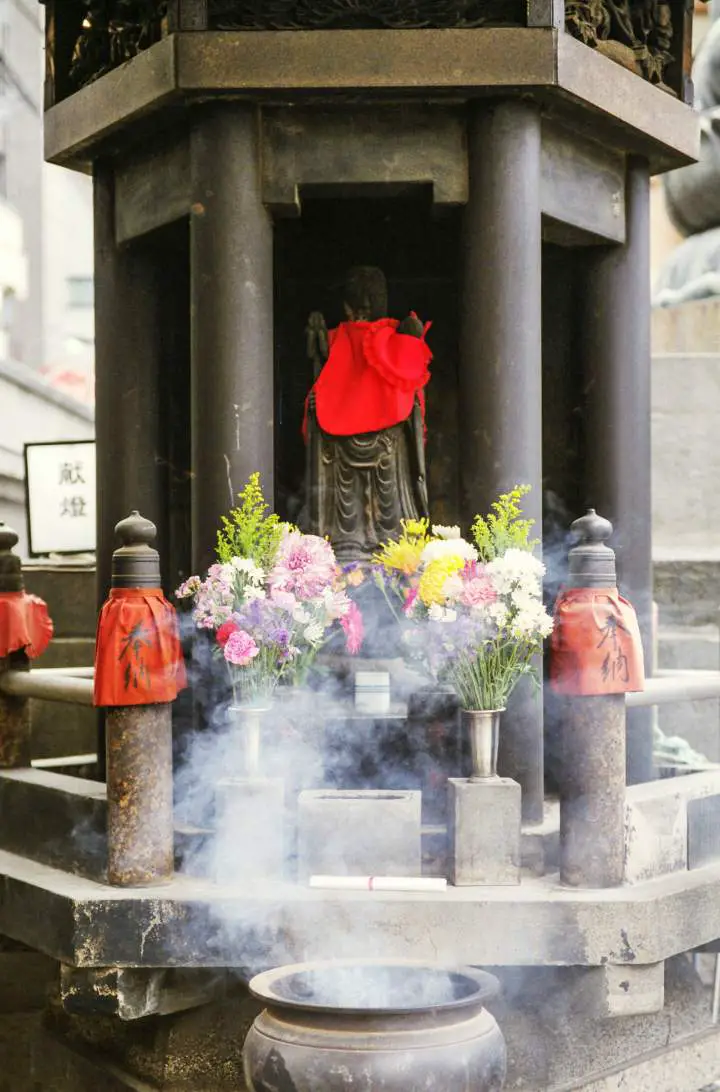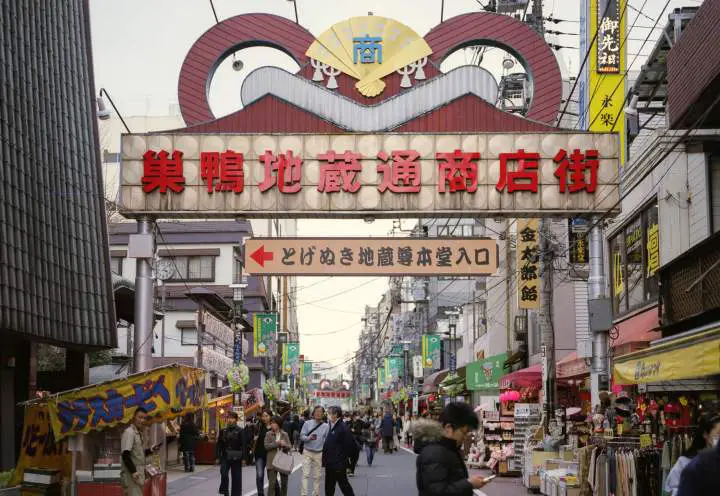 Gripes
It excels in scenes where you have some time to set up up a bit and hence its forte as a companion for travel and landscapes. As mentioned earlier, focusing is not much of a treat so you'd be forced to rely on zone focusing for street photography as trying to pinpoint a moving target is an annoying exercise in futility.
The shutter sound is also sonically challenged, making a metallic clang when fired resembling dropping a pan on the kitchen floor. The source of such a God awful sound is reported to be a spring mechanism inside the body that is attached to its shutter counter. If the sheer size of the camera doesn't render it useless for stealth, the horrible shutter sound will.
Another source of many a complaints among photographers is the hood design. When retracted it covers the aperture and shutter speed controls so you have to extend it out but once you do, you can only use 67-77mm filters that screw on which limits your selection of filters significantly.
Not a huge deal to me personally but I can see it being frustrating as well as using an ND filter on a rangefinder.
Of bigger concern to me is the proximity of the aperture and and shutter speed rings under the hood. While an interesting design in theory, in use it's cumbersome and people with big fingers will no doubt shout expletives fiddling with their settings. The rings are placed so tightly together that adjusting one invariably causes the other to move as well, kind of like using a Miyazaki lens. If you can get around these quirks the results have nice depth and a cinematic feel.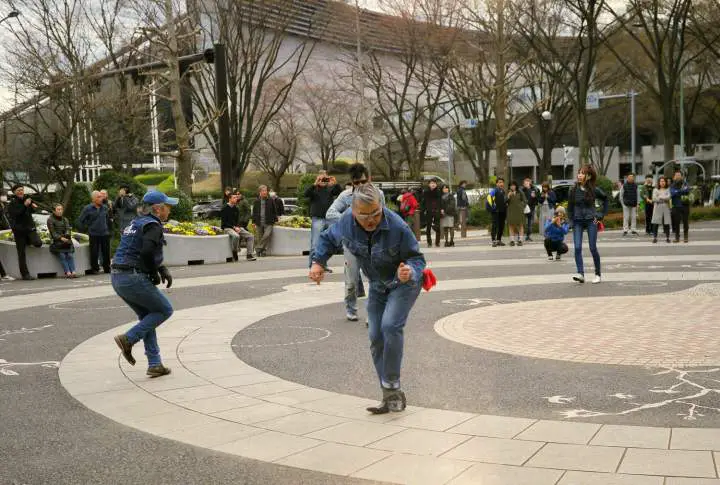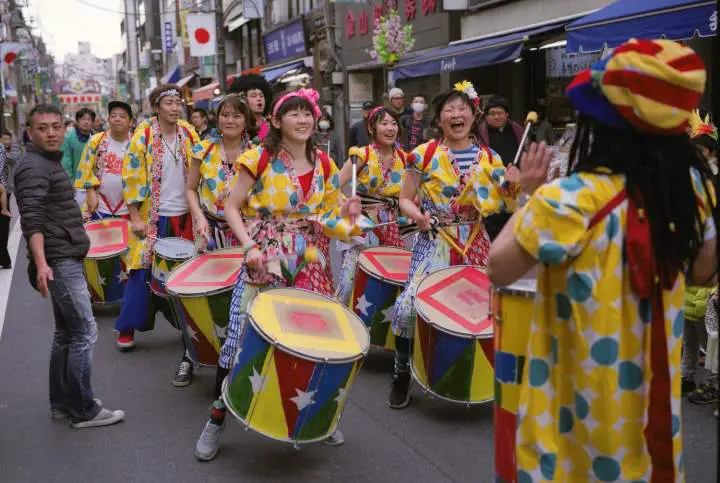 The biggest concern is the the shutter advancing mechanism. As mentioned earlier, the film advance uses a two-stroke cocking feature. If done properly there seems to be no issue, but when you're trying to run and gun, rushing the advance can yield a loosely wound finished roll resulting in light leaks if you open the back in light. Not sure if this is a recurring issue with others as I couldn't find any information online but it's happened to me when not being careful with the advance lever.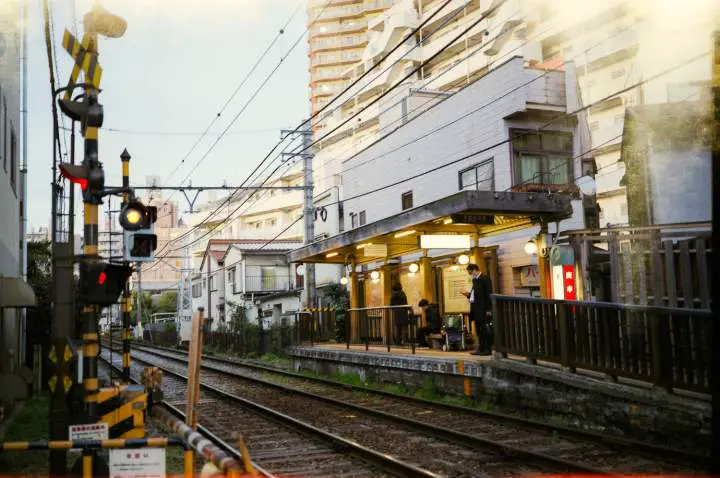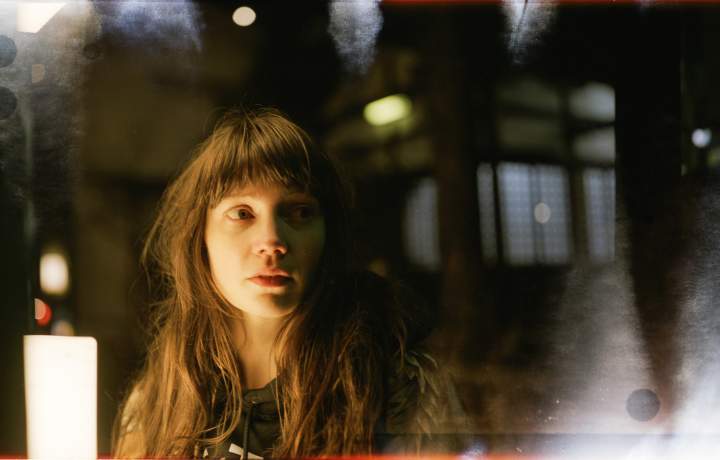 Conclusion
The Fuji GW690III is a good bang for your buck medium format camera for the purists. It's relatively smallish and light and shoots a very large negative with premium glass and is generally well built.
This is probably not the camera for the person who takes pictures of fast moving scenes or prefer full automation as one must think carefully and use some time before a photo is taken.
The quirks are something that need getting used to and if you're a glass half full type it'll force you to slow down and think about the process.
As results go, yeah the lens is great and lives up to the hype and I'd love to have one for specific shoots someday. It's a recommended entry for people wanting to try the wonders of medium format but it hasn't appeased my lust for a Makina or Mamiya 7.
MN