Camera Geekery: Filtr
I love hearing about new film photography businesses, so when I heard about Filtr I had to know more. Whilst most camera sellers focus on the high end gear (I am also guilty of this), not many concentrate on the cheaper cameras.
That is where Filtr steps in, with really appealing price points and a wealth of knowledge. I asked the guys behind Filtr to tell us more about what they are doing.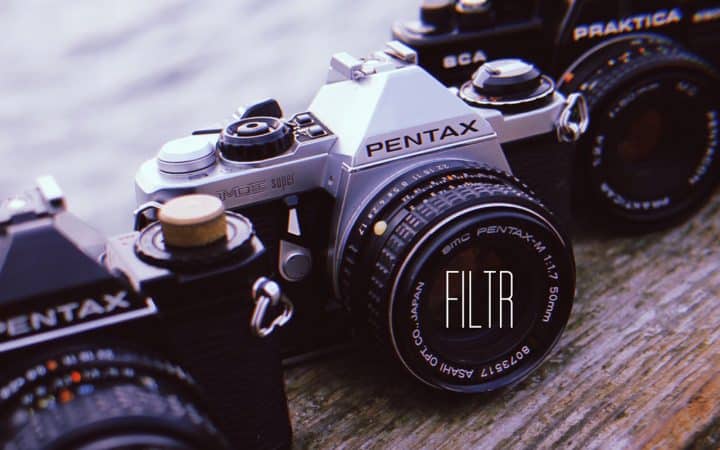 Filtr
There's heaps of great sites, podcasts, blogs and shops for those with a great deal of knowledge about analogue cameras.  They're fantastic for us camera nerds, and an invaluable source of information. 
We've spent more hours than we care to confess trawling through them, drooling over pictures, contemplating the advantages of a rangefinder over an SLR, and trying to convince ourselves that yes, we really do need a Nikon F3, just in case the F2 breaks down….and the cat is busy shooting with the Nikon F…..
If you're looking to buy something specialist, expensive, rare, or all three, then there's probably never been a better time for you.  If you're reading this then you're already on the right site for that sort of thing!
But we felt the analogue world was lacking a decent one stop shop for people looking to get into film photography for the first time, and particularly those whose only experience with photography has been on the phones they've grown up with.
And that's how Filtr was born….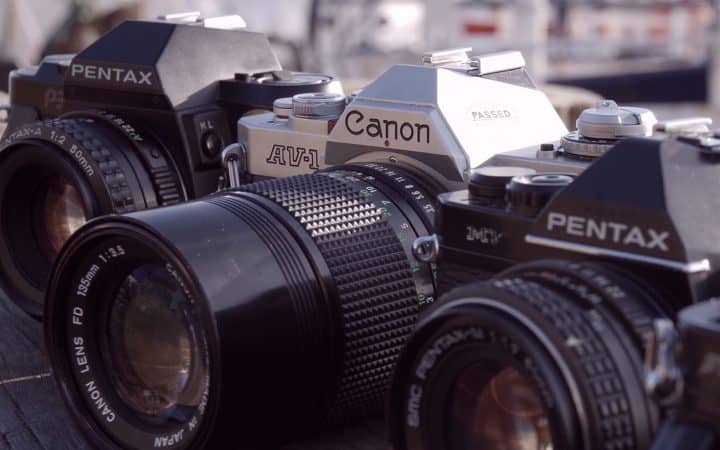 Our goal was simple; create a platform that gave newcomers to film everything they needed to break down that invisible wall stopping them from taking the leap into something new. 
We didn't want lack of knowledge or lack of funds to be obstacles to those wanting to get into film.
We like to stick to what we know, and what we know is manual focus SLRs; there's heaps of other great types of cameras out there but we leave that to the experts in their fields.
So our mission was, and is, to stock affordable, easy to use, fully working manual focus SLRs, which have been matched to a lens, fitted with new light seals and batteries, and shipped with two rolls of film; everything you need in one box to set you on your way.  No need to learn the hard way about the difference between stuff like Canon FD and Canon FL lenses, or the different versions of Takumar 55mm lenses that would appear to be the same but aren't – we do all that for you.
But enough about us.  What do we think beginners should be thinking about when they're entering the analogue world?
The Different Modes
As tempting as it is to choose your camera based on a brand, or to pick the one that looks nicest (been there, done that!) we think the first and most important thing to consider is what shooting mode(s) your camera will offer.
You can read more about that here.
Everybody is entitled to their own view and it's something that's guaranteed to create debate.
Plenty of people will tell you as a novice you should always shoot 'manual' to learn your craft.  We wouldn't argue with anybody who held that view – one of our first camera was fully manual – the Pentax S1a, since you ask – and for those who have the time to commit to learning the basics a fully manual only camera is a great option.  Due to their simplicity a lot of them tend to last well and be more reliable, and you can pick up a decent manual camera for a good price too.
Others will tell you to get something with fully automatic 'program' mode is the way to go for a beginner.  That makes a certain sense too – you'll be able to start shooting straight away, and learn the more complex stuff as you go, if you fancy doing that and if you have the time.
Personally though, we think somewhere in between those two options is a good bet.  We'd recommend looking at a camera with an aperture priority option, and probably even go as far as saying this – an aperture priority only camera makes the ideal beginners camera.
Here's why….
Reason One – They're Easy to Use
Stating the obvious we know, but with Aperture Priority only cameras all you need to do is select your aperture on the lens.  The camera takes care of the shutter speed, and in all bar the most unusual of lighting situations this is going to get your correctly exposed shots.  No going through your prints afterwards and finding you've only got it right 3 or 4 times on the whole roll (again, been there, done that!)  and no missing a shot whilst you fiddle with settings.
For a beginner, that is going to be a huge help.  Nothing is going to put you off shooting film quicker than spending £10 on a roll, then another £10 on your prints (or more if they're black and white) and finding you've only got 4 good shots – not many of us will keep shooting film if it is working out at £5 or more per decent print to begin with.
This ease of use also allows you to focus on the composition of the shot, as you're not being distracted by meter readings, changing settings and so on.  Again, better prints as a result.
Reason Two – They're Cheap. Very Cheap.
Back in the pre-digital days a lot of people held firm views about Av only cameras. 
Some people thought it was 'cheating' and would talk at length about the importance and purity of shooting with manual only cameras.  Others enjoyed looking down their nose a bit at these cheaper cameras and the people that used them, preferring their "professional" level models instead.
Believe it or not, some of these cameras were actually marketed as cameras for women.  Yep, you read that right! Whilst that's incredible to think by today's standards, we're sure this put off a lot of 'men's men' types too.
As a result a lot of these Av only cameras don't have the reputation that the more expensive manual cameras from the same period enjoy.
The result – they are cheaper to buy today.  A lot cheaper.
Take the Nikon EM…..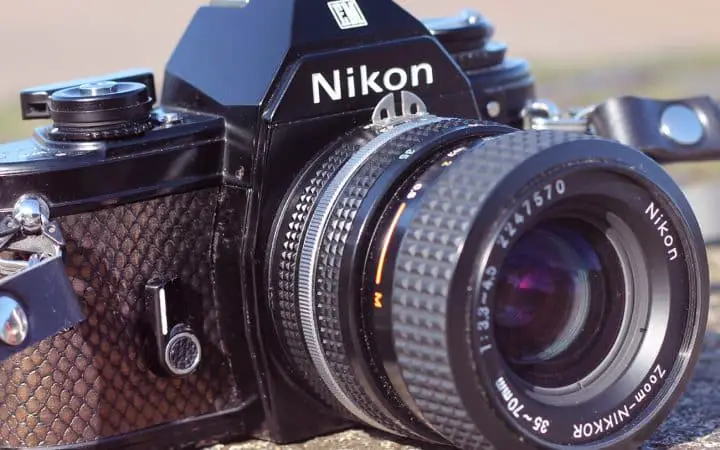 A lot of people have in their mind this is a 'bad' camera.  With respect, that's nonsense. 
Sure, it has some plastic parts – something that was a no-no in the 70s – but you can spend thousands on a full frame DSLR these days and it will be covered in plastic.  Construction methods change, and having a bit of plastic here and there on a camera is no big deal by today's standards.
Other people sneer at it because it is Av Only and will be too basic for them.  So what?!  If you're a beginner and that's what works for you, go for it.  It's the lens that will affect the quality of your image, not the camera, so don't let the fact a camera doesn't have a load of features you won't ever use anyway put you off.
Take advantage of these pre-conceptions people have, rather than letting them work against you – You'll pay about a quarter of the price you would for a Nikon F2 (maybe even less) and you'll be able to use all the same lenses on it that you could on an F2, and you'll have something much easier to use for a novice.
What's not to like about that?
Great AV Only Cameras
Pretty much every camera company going made an AV only model during their popular spell in the mid 1970s.  In fact, companies like Pentax made various different AV only models, and Canon made shutter priority only ones too, like the EF or the AE-1.
Here's three of our favourites:
Olympus OM10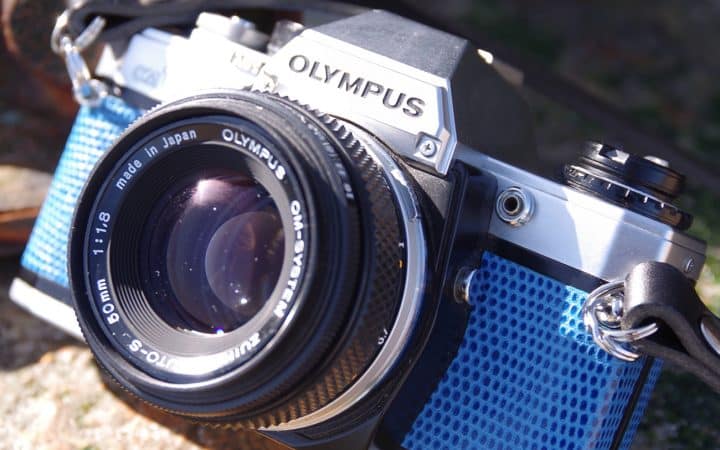 You can buy a 'manual adapter' for this camera for next to nothing, which will give you the added bonus of being able to shoot in manual mode for when you fancy it.  A lovely compact camera with iconic styling.
Canon AV1
We love so many different AV only cameras its hard to pick a favourite, but if pushed we'd say this was the one for us.  A lovely big bright viewfinder helps, but there's just something about the way this one looks that gets us feeling all tingly.
Pentax MV
An absolute gem for beginners this one.  We love the all black styling on the body, and it is the very definition of a camera that has everything you need and nothing you don't.  Shooting film probably doesn't come any easier than this.
So, if you're considering dipping your toe into the film photography world, why not consider an Av only camera….
You can check out what Filter has to offer on their site www.filtrfilmcameras.co.uk and their instagram
JCH