In your bag No: 1525 – Morten Krogh
Morten makes a good point and shares his not one but four bags; different horses for different course.
Since you where so kind to help me find information on the Konica Hexar AF lens conversion (I haven't given up on the camera yet) I thought I might give something back. So I've decided to share my camera bag – or camera bags, to be precise. I'm not using only one camera or camera bag, it depends on the situation, so here is a couple of examples of what I might bring. 
About me: I'm a photographer and a journalist working on a diverse range of assignments and personal projects (see: mortenkrogh.com). I am based in Copenhagen, Denmark. 
"Workhorse bag".
It's a worn out Domke F-2. I will usually pack it with some Canon gear (Canon 5D Mark II, a Canon 40mm 2.8 pancake lens, a Canon 16-35 mm. 2.8 L, a Canon 85 mm. 1.8, a Sigma 50 mm 1.4 and sometimes a flash). Sony A7R and a Sony Zeiss 35 mm. 2.8. And sometimes a little point and shoot like the Olympus XA.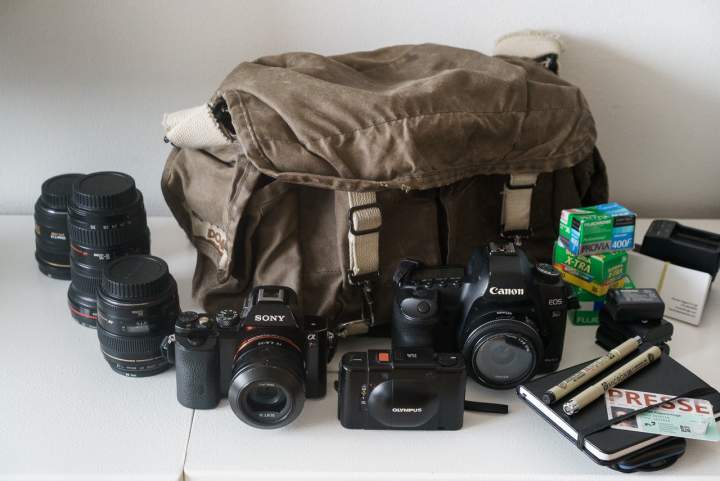 "Everyday bag"
The next one is a light bag of unknown origin that I carry with me more or less always. It contains the Sony A7R with the Sony Zeiss 35 mm. 2.8 and a point and shoot camera like the Contax T3. 
Billingham bag with 6×6 
The third bag is a Billingham 207 with a Sony A7R, a Sony A7S, a Sony Zeiss 35 mm 2.8, a Sony Zeiss 55 mm. 2.8 and an Iskra, which is a Russian 6×6 folding camera. 
Domke bag with 6×6  
The fourth bag is another Domke F-2 that I recently acquired since the workhorse bag is held together with duct tape. It contains a Mamiya C220 with a 80 mm lens and a 180 mm. lens, a Gossen Variosix lightmeter and a Sony A7R with a Sony Zeiss 35 mm.
Apart from the cameras and the lenses I also carry film, spare batteries, SD-cards and CF-cards, a notebook, pens, press credentials, business cards and stuff for cleaning lenses. 
Best regards / Med venlig hilsen
Morten Aagaard Krogh
Website: mortenkrogh.com
Thanks for sending in your bag shots, Morten. Well thought out like a pro!
Keep them coming folks, we need more submissions, so get your bag on Japancamerahunter.com
Send me a high resolution image of the bag. Optimum size is 1500px across. Please ensure there is a bag in the shot, unless you don't use one. The more you can write about yourself the better, make it appealing and tell us a story. Snapshots of your gear with a camera phone and no words will not be featured.
Oh and don't forget your contact details (twitter, flickr, tumbler et al). Send the bag shots here. Please understand that there is a long wait now as there is a backlog of submissions. Not all make the cut, so make sure yours is funny/interesting/quirky. And please make sure the shot is of good quality, as the ones that are not do not go up.