Eric' Book Review – Footprints in Time by Tom Finke
Today we have a special guest book reviewer, Eric J. Hessler, as he introduces us to a two book series by Tom Finke; one chronicling the streets of the U.S of A and it's companion book featuring the land of the rising sun. Kind of a la Clint Eastwood's Flag of our Fathers and Letters from Iwo Jima, it's an interesting take. Check it out.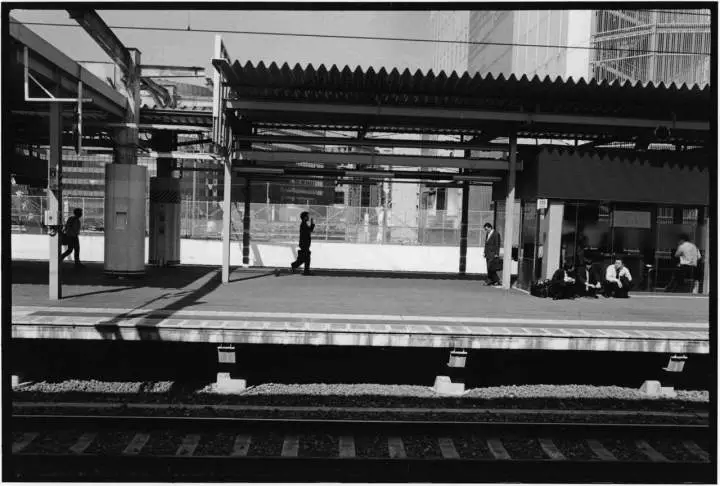 What makes an indelible photograph? Is there a secret, untouchable formula? The best photographs live on their own. These photographs breathe. They're living things. They have thoughts, moods, languages, ideas, emotions.  How many times have images 'spoken' to you? I know I have regular conversations with images (in my head, of course, not for anyone else to hear). Some of these conversations have lasted for many, many years and over time, these images have become old friends. I go to them when my mood changes. Time has no effect on them, it does not change them. These images seemingly have the power to live forever as fresh as the day they were born. There is unconscious magic in photography and everyone has a chance to grab it.  
The big guns like Brassai, Weegee, Bresson, and Atget have this magic. Their bodies of work look like they were all shot in one day. The same, timeless day, where these images live forever. Anybody, at any time, can stare at those images and even though they're close to a hundred years old, they feel alive. They feel like yesterday, or today, or this morning.  
Contemporary shooters like Boogie, Templeton, Moriayama, and Petersen have this magic. Tomatsu, Hosoe and Narahara have this magic but take it a step further by spinning their dreams into their work. There is a central unifier for all the above mentioned – people. A single human, a group of kids, a crowd at a parade, a crime scene, families. It's here where the glue begins to stick. 
My good friend and mentor Tom Finke has this magic and he's beautifully presented this in two volumes of work –  America: Footprints in Time 1982-2012 and Japan: Footprints in Time 1997-2010. Hardcover, cloth bound published by Sokyu-Sha, Tokyo.   
The work in America: Footprints in Time 1982-2010 begins begins in the early 1980's with an exploration into the suburban American identity. The mutton-chops and knee socks are familiar. We might not have met these individuals and we don't know where they are, but we are somehow related to these people. We share the planet and we share collected memories – your uncle in another state, your parents back home, your friends from college and long lost loves.
These memories, these images, live with us like a favorite song. They take us somewhere we've been before, immediately, like it was yesterday, or today, or this morning. There is no need to analyze camera choices or what film Finke uses – that's not the point of these two bodies of work. These are pure, black and white images in the style of the greats, and that's a language with ability to speak to everyone.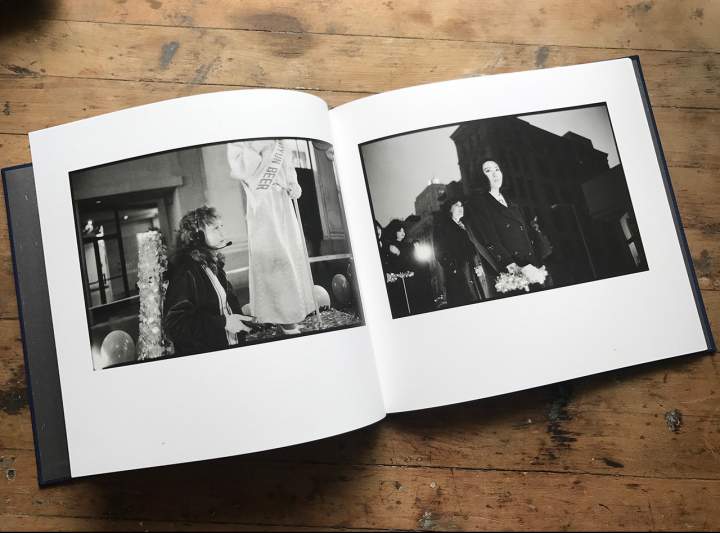 Finke has organized twenty years spent roaming America into 72 black and white plates that most clearly examine and identify what the changing landscape means to him. Parades, lawn chairs, county fairs and cowboy stampedes. There is no hint at big city life here. The frames are full of life, but there is a pervading sense of stillness. I might argue there's a bit of secret space being shown here that would normally go unnoticed. Can you define that feeling when you're between glances? You know, the space between a head turn – that fraction of time where thoughts travel. That's where Finke's work lives.
I've discovered most images have first person perspectives. We're seeing double – firstly through our eyes, and then imagined as we're the human in the frame. There's mystery to seeing the back of someone's head in a shot. Imagining who they are. What they're thinking. Where they're going. I would love to have a conversation on the theory of this angle and to further explore the psychological or semiotic meanings behind it. (Get it? Behind…)
America is a volume you need to spend time with to fully understand. There is complexity here, but no social issues, no injustice. This collection of photographs brought me deeply into myself and I was not expecting to go there. Even as I'm writing this I am thinking of different paths these images haven't taken me to yet. 
Next is Japan: Footprints in Time 1997-2010. Finke has spent a good portion of his life traveling to distant places and Japan holds a special place in his heart. He's split life between the U.S. and Asia for most of his adult life and his shooting style is ever-present in his Japanese work. There are 13.6 million people who live in Tokyo, so it's fair to say there isn't much time for the space that Finke defined in his America work, however he's gone right there again, flawlessly. He's condensed 13 years into 66 black and white plates covering everything from cherry blossom revelers to quiet train platforms.
I should mention there is very little eye-contact in Toms work. So much of what's called 'street photography' has that flash-on, blazing direct-eye startled look, which I find uncomfortable. I much prefer work that has a feeling like I'm in the frame as a participant, even if I'm simply standing next to someone. I don't believe there's any magic in surprise shots. Again, anybody can do that.
I've known Tom for many years, yet I'm not quite sure what the central hero concept means to him in his work. Funny how we know people, even for a long time, and never see certain mysteries contained within. Everyone has their whole lives displayed and critiqued on social media anymore. I think some of us are so fortunate to have those pockets of life to keep for ourselves. Maybe this is the unconscious idea that Finke has discovered. Or maybe he's identified with his subjects as the seer seeing the seen, grasping at some level of connectivity from behind the lens, silently.  
There is no cliche here. No salarymen, no peace signs. This work is undeniably personal and much like Petersen, you can feel Finke's personal love and attention for the country. He knows these areas. He knows this culture even though it's not his own. Tom's conveyance of his deep understanding and connection to this place is so smooth, yet so intricate that it almost goes unnoticed. He's seamless. He's totally there. This is an unbelievable achievement to blend so well with his subjects. For this alone Finke deserves some major credit.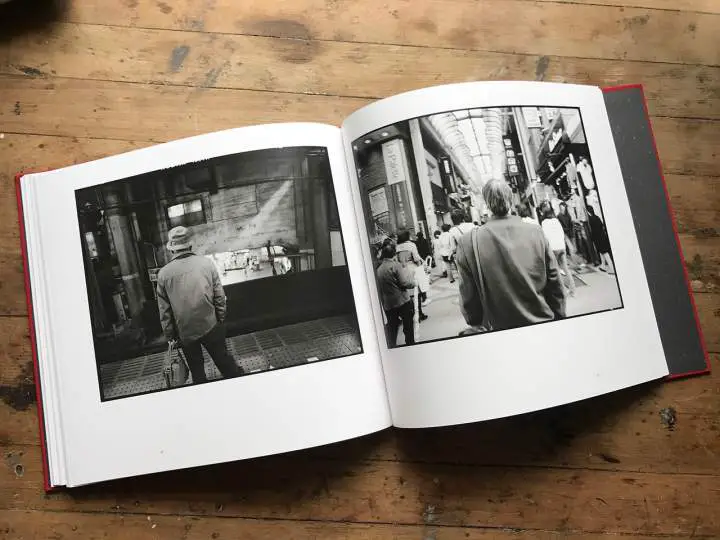 There are some photographers who intentionally work in the shadows. This is usually deliberately decided, worked to death and easily read. There are also photographers who shoot and shoot and shoot with no solid concept other than piecing the images together at the end like a puzzle, hoping for a good outcome.  There are photographers who storyboard and stage, and those who hunt and wait for 'their' moment. All of these styles (and this is so narrow of an exploration into photographic techniques that it's really not worth arguing) are totally fine. There is no wrong answer in photography.
However, rarely do we see a shooter whose work lives between those lines – between the planned and accidental luck where most shots come from. Finke's work is pulled straight from inside in the same way Moriyama pulls his city out of the shadows.  
This is a rare set of work and are definitely two books you should pick up and get to know. I'm glad I did and I'm going to have conversations with these new photo friends for a long, long time. 
Books available at
 http://www.tomfinke.com/book.html
https://www.shashasha.co/en/artist/tom-finke
http://www.sokyusha.com/books/books_2015.html direct from the publisher
Tom Finke was born in Dayton, Ohio and holds an M.F.A. from the University of Cincinnati. Tom has taught college level photography since 1979 concentrating on aesthetic, technical, historical and critical analyses of the photographic processes.  
Eric J. Hessler earned his B.A. in Photography from the Art Institute of Colorado and has been roaming the United States for the past decade as a freelance editorial and commercial photographer.