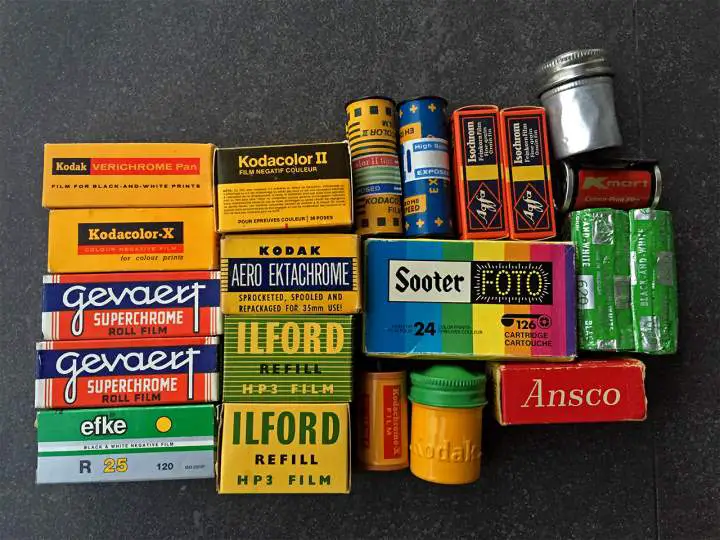 Why 35mm is booming – And what might happen next – By Stephen Dowling
In a guest post, Stephen Dowling of Kosmofoto shares with us his thoughts on how the 35mm film market has changed in the last couple of years, and how it might change in the future. Check it out.
Agfa Precisa CT100. Fuji Sensia 400 and Neopan 1600. Kodak Elite Chrome 100VS and TMax 3200. Konica Chrome 200. And the wonderful, vibrant Agfa Ultra 100.
Every film photographer will have had their own variations over the last decade-and-a-half, presented with the news that yet another of their favourite films is no more. As digital became the dominant way of taking photographs, the companies used to making millions and millions of rolls of film struggled to adapt. They cut costs and cut staff. They cut all but the most popular lines of film in an effort to stay in the game.
This has framed the way we talk about film in the 21st Century – not the films we have to enjoy but the ones that have fallen one by one. It's so easy to get fixated on what has gone that it blinds you to what you still have to enjoy.
I decided to do a list of which 35mm films are still on the market today (because 35mm is the format that most people still use, and which beginners are most likely to get an introduction on) for my blog Kosmo Foto. I didn't really have any idea myself how many were left.
You can see which are left in Parts One, Two, and Three of the list. It's by no means exhaustive as yet, as various film users from around the world have alerted me to more films that are still available.
What I didn't expect when I started it would be that I would have to update it several times with new films that were coming on to the market. There are at least 75 now.
It's no mistake that I'm writing this for Japan Camera Hunter, as Bellamy's decision to release Street Pan 400 last year might have looked as if it kicked the whole thing off. I'm sure product development at film companies takes a little more time than that, but in the year since, there's been some genuinely heartening news for film photographers.
In January, Kodak announced they were planning on bringing back Ektachrome slide film, only a few years after they pulled it. Italy's FILM Ferrania announced the surprise release of an old black-and-white film P30. French firm Bergger also released Pancro 400, another 400-speed black-and-white emulsion. And there have been limited-edition releases too; Lomography's F2 400-ISO print film, and Maco Direct's Rollei Vario Chrome, a slide film that can be shot at different speeds for differing results.
So, for once, there appears to be good news.
The 35mm film market has done more than stay afloat – it's showing the first signs of resurgence.
But what else can be learned?
Black and white is booming. Ilford makes black-and-white film and nothing but black-and-white film. It told me earlier this year that it was seeing more and more interest in its products. Ilford isn't introducing a raft on new products, but neither is it cutting films – its range looks very similar to 15-odd years ago.
In the last decade or so it has brought out a pair of films under the Kentmere brand, which have been rebadged by a number of companies (Rollei 100 and 400, and most likely Agfaphoto's Agfa Pan films as well).
There will be more competition for slide film. For the past five years or so, Japan's Fujifilm has had the slide market to themselves – and has taken the opportunity to cut the number of films and jack the price up of those that remain. A roll of slide film in the UK can now cost nearly £15. That puts it out of the reach of most beginner photographers.
But both Kodak and FILM Ferrania have announced their intention to make slide film again. While we're unlikely to ever see budget lines of slide films again, competition usually means better prices for the consumer. And the more slide film is made, the more labs will continue to offer E-6 processing.
We need more 100-speed colour film. There are currently only two 100-ISO colour print films left in most of the world – Kodak's superlative Ektar 100 and Lomography's CN100 (identity unknown, but probably Kodak's ProFoto 100 consumer film). Most people want to take pictures when the light is good and they're out and about.
Colour film is not cheap to invent or produce… but there seems to be a gap here that needs filling. I'll wager a new 100-ISO colour print film surfaces next year.
More bespoke brands are coming. I followed Bellamy into the boutique film market in the summer by announcing my first film, Kosmo Foto Mono, a repackaged film made by… well, get in touch and I'll tell you.
Repackaging existing film is nothing new. Everyone from mail-order processors to chemist chains to photo retailers made their own back in the heyday. And rather than cut in to the existing market, this variety seems to have an effect. Even if people know it's merely repackaging of an existing product, they will buy a few rolls just for the packaging.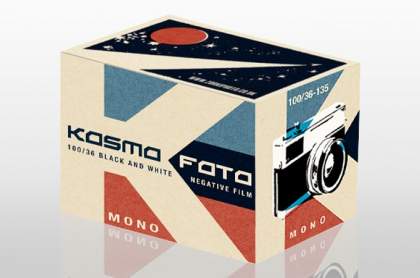 (Shameless plug alert – the first batch of Kosmo Foto Mono is still available, though only a few hundred rolls are left. Pre-order some now)
Many of us shot our first rolls of film on 35mm cameras. It's a format that has allowed photography to become hugely portable while still capable of making huge prints. It's one of photography's most enduring mediums, and looks to be in good health for some time yet.
Stephen Dowling runs the Kosmofoto site and has been a champion of film for a long time. Congratulations to Stephen for releasing his own film, with arguably the coolest packaging of any film on the market.