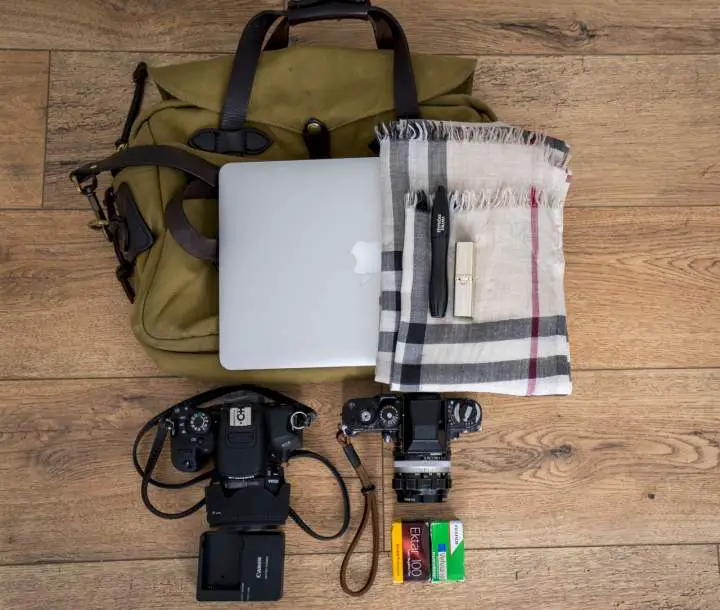 In your bag No: 1319, Christine Gabler
And so, we come to the close of 2015. And what a year it has been. Lots of interesting posts, bags, gear and everything in between. For the final bag of 2015 we have Christine from Germany, who shares with us her very simple bag. This one is lovely. Come and check it out before you start your NYE celebrations.
my name is Christine, I am a photographer based near Frankfurt, Germany. I really enjoy reading your blog and thought I would contribute with my rather "minimalistic" bag to your blog. 
I have always been creative and I fell in love with photography about two years ago when I got to try the Leica M6 of a friend. What I like about it is that it is a never ending learning process and I still learning new things every day :)
Whats in my bag: 
I am using an old Filson 256 to carry my gear
A Macbook Pro 13 inch to edit my photos on the go 
A Canon EOS 700d with a Sigma 30mm 1.4
Nikon F3 with 35mm AI, I usually shoot Kodak TX, sometimes color
some film
My Burberry Scarf and some beauty stuff
Feel free to follow me on my Instagram, I am alway happy for feedback. 
https://www.instagram.com/myeyesbychristine
Best Regards,
Christine
Thanks for sharing your bag with us, Christine. You managed to get the final spot in 2015. I hope 2016 is a great year for you.
Check out the links and make sure you come and comment.
Keep them coming folks, we need more submissions, so get your bag on Japancamerahunter.com.
Send me a hi resolution image of the bag. Optimum size is 1500 across. Please ensure there is a bag in the shot, unless you don't use one. The more you can write about yourself the better, make it appealing and tell us a story.
Oh and don't forget your contact details (twitter, flickr, tumbler et al). Send the bag shots here. Please understand that there is a long wait now as there is a backlog of submissions. Not all make the cut, so make sure yours is funny/interesting/quirky. And please make sure the shot is of good quality, as the ones that are not do not go up.
Cheers
Japancamerahunter