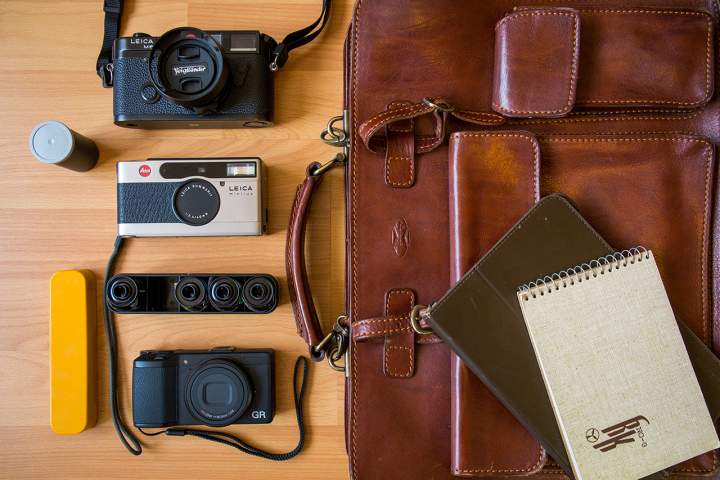 In your bag No: 1302, Claudio Gomboli
Today we have an illustrators bag, which seems to have no pens. But Cluadio shares with us not only his gear, but some of his illustrations too. And they are quite unique. Check it out.
My name is Claudio Gomboli, and I am a designer & illustrator, in love with street photography. Currently based in London, previously I lived two years in Berlin, and two years in Osaka. My hometown is Torino, North-West Italy.
The bag in the picture is a "messenger" style bag, by the Italian brand Munari. It's not specially designed for photography, but I really like it, and it's a precious memory from my father. The cameras are: the recently acquired (and long-wanted) Leica M6 classic with a Voigtlander Color-Skopar 35mm (lovely pancake size), the Leica Minilux that I love, and the amazing Ricoh GR (CMOS). The Leica M6 has pretty much replaced the Fujifilm X-E1 as my main camera (even if I still keep and use it sometimes, as well as the Leica Digilux 2). I prefer the 40mm as focal length, but I do enjoy 35mm as well, and the 28mm of the Ricoh to capture more scene when I want to. I usually carry also a notebook for sketches, and a mobile device. As you can see I bought the great "street photographer" bundle, and I keep filling the case with new rolls quite often.
I started taking photos when I was at elementary school, with a Polaroid Land Camera 1000 that I still keep. I also used many other cameras since then, in a time when of course shooting with films was absolutely common, before the digital era. Growing up, the tool that I preferred to use to note down the surrounding, and its people, was drawing. The first time I travelled to Japan I was 19, and back then I used to draw and sketch everyday. I sketched architecture, buildings, panoramas, everything that I could see around. In particular I drew people. I can see now that what I was doing was a kind of street photography: a street drawing, using graphite and pens instead of film, lens, or sensor. The passion for photography has always been dormant until few years ago, when I realised how much I loved taking photos, and specially pictures of people, just like drawing.

Now when I shoot with my camera I feel the same way I feel when drawing. I take photos with feelings, of what attracts my sensibility. As for the subjects I drew on paper, I look for emotions also in the subjects I shoot with a camera; irony, melancholy, eccentricity, oddity. I finally realised that photography could be a different and faster tool to express this personal urge to fix and translate feelings into an image. Once I had this thought I never stopped taking photos.

I started focusing more and more on photography since I bought the Fujifilm X-E1. This camera made me discover the joy of shooting with manual controls, and ignited my passion for both photography and cameras. This year I started using film again, and I'm collecting – and using – several film cameras: Konica, Olympus, Yashica, Agfa, Ricoh, Canon, Nikon, and Leica. The cameras in this bag are the ones I use most of times, and while I keep the Leica M6 as main one, I also like switching other compact cameras, depending on what I want to do. I wrote some camera reviews here: http://www.claudiogomboli.com/essays/categories/blog/camera-reviews/
At the moment I find myself using more film cameras than digital ones, even if I use both of them for different approaches. I'm happy to see that film is not dead. I was surprised by how big the film community is, and still very alive and kicking. I feel that shooting again with film improved my photography, because it changed the interaction with the tool in a way that I feel closer, and that now I apply also when shooting with a digital camera. I just love grabbing a camera, choosing a film, and going around looking for emotions and moments to include in the frame.
Website: http://www.claudiogomboli.com/
Flickr: https://www.flickr.com/photos/gomboli/
Twitter: @gomboli
Instagram: @clagom
Thank you,
Claudio
Thanks for sharing your work with us, Claudio. Nice to see the film case there.
Keep them coming folks, we need more submissions, so get your bag on Japancamerahunter.com.
Send me a hi resolution image of the bag. Optimum size is 1500 across. Please ensure there is a bag in the shot, unless you don't use one. The more you can write about yourself the better, make it appealing and tell us a story.
Oh and don't forget your contact details (twitter, flickr, tumbler et al). Send the bag shots here. Please understand that there is a long wait now as there is a backlog of submissions. Not all make the cut, so make sure yours is funny/interesting/quirky. And please make sure the shot is of good quality, as the ones that are not do not go up.
Cheers
Japancamerahunter