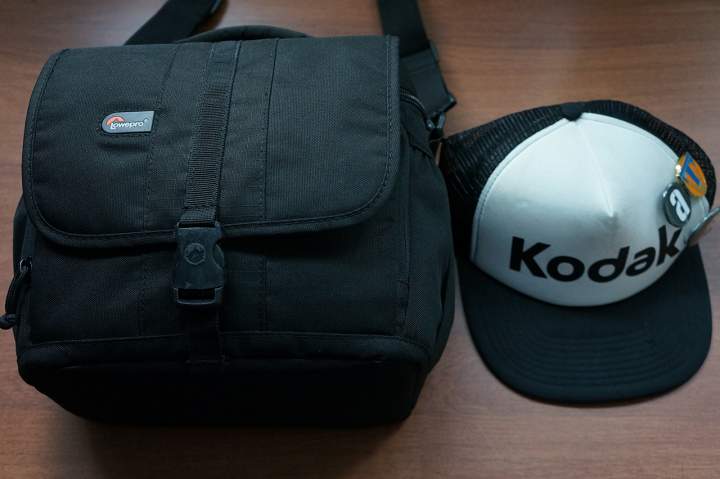 In your bag No: 1298, Alva Christo Y. W.
Alva has a cool setup to share with us. And not only that, he has a cool hat too. I kind of want one, but I already have a fair collection of Kodak stuff. Check out this bag, all the way from Indonesia.
Hi all, I'm Alva Christo Y. W. from Yogyakarta, Indonesia, currently studying aboard in Ringling College of Art and Design, FL.
I've been shooting films and collecting cameras for around 6 to 7 years. I was sticking to my LC-A for 2 years and decided to become more serious in photography, so I purchased these 2 beauties.
My bag is Lowepro camera bag, very durable and have enough room for 2 cameras (and maybe a pocket camera).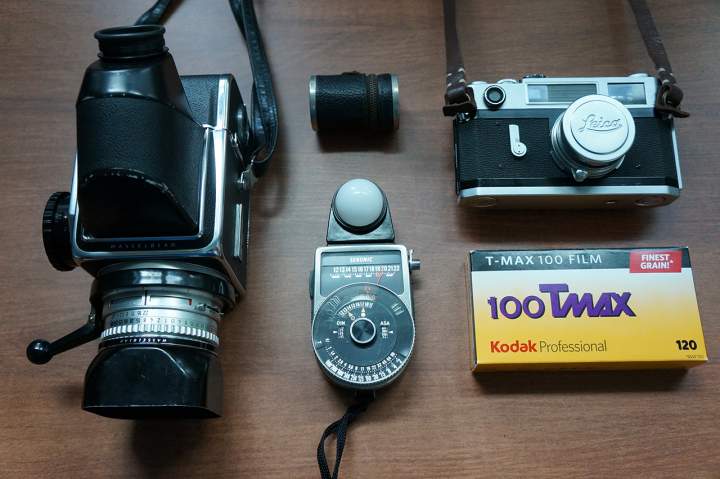 In the bag : 
– Hasselblad 500CM (NC2 Prism Finder, A12 Back, Carl Zeiss Planar 80mm f/2.8 lens, and lens hood)
Finally I reach my dream, I was asking a retired photographer if he could sell his Hasselblad for cheap (I don't have that much budget since I'm a student), and yeah, I got it for a pretty good deal. The old Planar is really good for black and white, the dimension is super nice.
– Canon 7SZ (Summitar 5cm f/2 and YB Strap)
Simple and elegant rangefinder, but powerful. I love how the collapsible design of Summitar, keeps everything simple and doesn't take a lot of space. The homemade YB Strap from my hometown is really durable, classic, and comfortable to use, you might check his website http://www.instagram.com/ybputro
– Sekonic L-428
Easy to operate, elegant lightmeter, since both of my camera have no proper lightmeter, It's essential to have one in your bag.
– Leather 35mm film canister
Classic and could hanging around your camera strap
– 35mm films
– 120mm films
I usually use Kodak T-Max and Ultrafine Xtreme for my black and white films, but I also love use Polypan F and any other rolls. I use color films sometimes, but most of the time I shoot black and white.
I'm using my Pentax SP1000 and my Sony Nex 5N sometimes as well, which are excluded from the picture here.
You can find my work here :
https://instagram.com/alvchrist/
and
http://alvachristo.wix.com/photography
Thanks for sharing your bag with us, Alva. Cool Canon 7Sz, you don't see that many of them around.
Keep them coming folks, we need more submissions, so get your bag on Japancamerahunter.com.
Send me a hi resolution image of the bag. Optimum size is 1500 across. Please ensure there is a bag in the shot, unless you don't use one. The more you can write about yourself the better, make it appealing and tell us a story.
Oh and don't forget your contact details (twitter, flickr, tumbler et al). Send the bag shots here. Please understand that there is a long wait now as there is a backlog of submissions. Not all make the cut, so make sure yours is funny/interesting/quirky. And please make sure the shot is of good quality, as the ones that are not do not go up.
Cheers
Japancamerahunter