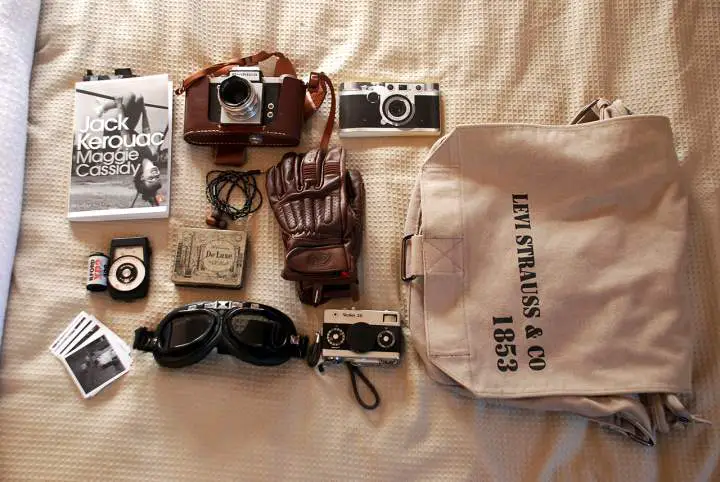 In your bag No: 1281, Nathan Turner
A very cool bikers bag today. Not just cool because of the cameras either, but the awesome goggles and gloves. This one is fantastic. Check it out.
Hi there everyone
Thanks for including me in 'In Your Bag'.
I am based in Perth, Western Australia and I love film and film cameras. I love black and white street photography and usually find my inspiration in the work of Fred Lyon. I try to nod towards 60's street photography in my work by removing whatever modern elements I can.
I first got into photography when I was 17. I was in a crappy punk band with my friends and the drummer's mum gave me a Kodak Star point and shoot. I punctuated the rolls with photographs of the town where I grew up. I was always at the train yards.Then one day I found an amazing picture of my grandfather enjoying a beer after a long day working the coal trains. I knew then that I wanted my photos to mean something. The photo was taken by a photographer who l tracked to a home just a few blocks from where I type this e-mail right now.
My typical 'day in the city' bag includes…
– Praktica FX2, Tessar 2.8 50mm –
This one was an op-shop find and the waist level finder hooked me in (also the price tag). As you can imagine it is as loud as a cannon, so I use it for my less stealthy shots. The dents in the lens were my doing. The original strap broke while I was bicycle riding in Taipei. One can't be scared of breaking their gear. Maybe that's why I don't own a Leica. (Also the price tag).
– Rollei 35 –
For something more stealthy what can beat one of the smallest 35mm cameras ever produced?
– Ilford XP2 –
I don't dev my own films at the moment and the Tri-X devs are getting expensive. Using XP2 saves me about AU$9 a roll.
– Sekonic L-188 –
This was one of my many presents from my days working in photo printing labs.
– Notebook –
A camera themed notebook that my ex got me. It has a leather camera styled case too.
– Levi Canvas Messenger Bag –
Picked up from the 'below cost' section at Target
– Langston MT001 Earphones –
I have a Spotify playlist of songs related to photography. The NPR podcasts are great too. Although I find I am more focussed when I can hear what is around me. You have to listen for the hints. Figure out what will happen next. Almost like seeing the future.
– Book –
Currently I am reading Maggie Cassidy by Jack Kerouac. I think we should get inspiration from different places, not just those in the photographic world.
– Mini Prints –
I carry around little prints of my work which have my website printed on the back. Sometimes I will give them to people; sometimes I will leave them in random places wherever I go.
– Survival Kit –
Just a few useful items in an old cigarette tin. Things like elastic bands, cable ties, razor blades and isopropyl wipes.
– Goggles and Gloves –
If it is a sunny day I will jump on the motorcycle rather than take the bus. Perth is a quiet enough city that you can ride around and actually enjoy it.
– Website –
www.nturnerphotos.com
Regards
Nathan Turner
Thanks for sharing your bag with us, Nathan. Love the bag and the Practica. You never see people shooting them now.
Keep them coming folks, we need more submissions, so get your bag on Japancamerahunter.com.
Send me a hi resolution image of the bag. Optimum size is 1500 across. Please ensure there is a bag in the shot, unless you don't use one. The more you can write about yourself the better, make it appealing and tell us a story.
Oh and don't forget your contact details (twitter, flickr, tumbler et al). Send the bag shots here. Please understand that there is a long wait now as there is a backlog of submissions. Not all make the cut, so make sure yours is funny/interesting/quirky. And please make sure the shot is of good quality, as the ones that are not do not go up.
Cheers
Japancamerahunter