Art & Photography: Tim Kerr in Tokyo
I am always interested in anything photography related, and being a former art student I also love seeing interesting art. So when artist/photographer Tim Kerr told me he would be in Tokyo I thought it might be cool to share with you what Tim does. Check it out.

Today I had the great pleasure of meeting Tim Kerr in Tokyo. If you are unfamiliar with Tim's work then you can check out this interview he did with Eric Kim about his art, photography and fascinating life.
Tim is an artist, photographer, skateboarder, musician and a gentleman with an epic beard. He also has an infectious spirit that has the ability to bring a smile to you face. His energy and passion for his creative outlets is really inspiring.
I first encountered Tim when he contacted me through the site asking about some rather unusual cameras. We kept in touch and I found out that we had similar tastes in art, music and culture after reading some of his interviews.
Tim mentioned that he would be coming to Tokyo to put on an exhibition of his art and I would be welcome to come along and have a look-see.
I have been pretty busy lately with all sorts of cool new things for the site, but have been feeling a little burned out, so it was a welcome change of pace for me to go out to Beams Cultart in harajuku and have a look at something a bit different from 4 walls and stacks of film cases.
Beams Cultart is a pretty funky space above the retail store in Harajuku. It has photo books for sale, regular shows and all sorts of ultra cool things lying around, so when Tim told me he would be having a show there I was pretty excited. I have been there in the past and have seen some really cool shows, so I knew his would be good.
Tim is a really nice guy, I mean that he is super nice and really has this energy about him. As soon as I got in the room I could feel it. His amazing pictures, his passion for his work and music was evident. As was this peachy Olympus Pen FT that Tim had with him. Tim is a photographer, and as a young student trained under no less that Garry Winogrand! But as his passions shifted and moved, so did his talents and outlets. He was a musician and is the only person I have ever heard of who has broken a leg whilst playing guitar. A skateboarder, during a time when skateboarding was in its formative years (he met and skated with my heroes). And an artist, which he continues with gusto.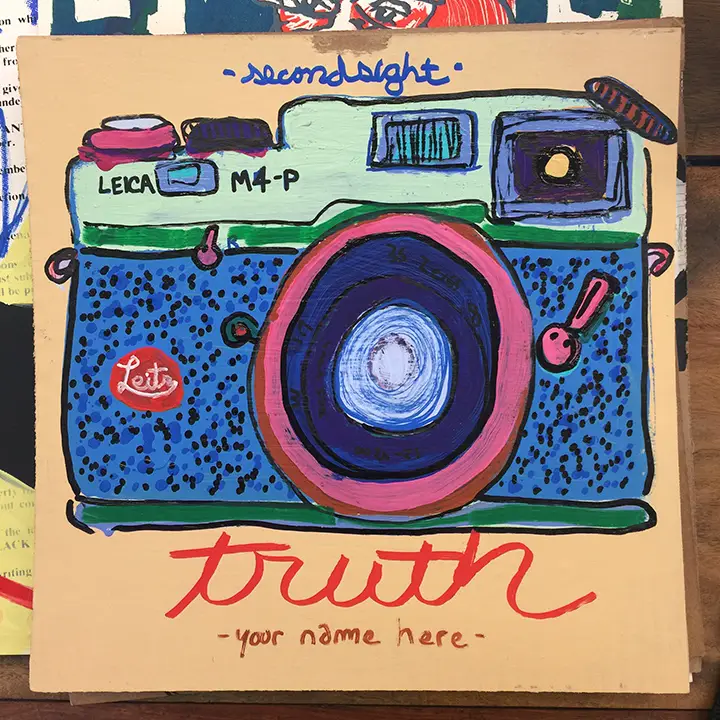 And when you see Tim's work you can see how all of these influences have come together in his paintings and drawings. Including these really really cool pictures of some of our favourite cameras. As we all know, this is what I geek out about.
But it is not just cameras. Tim covers all aspects of popular culture and music in his pieces. Using many different mediums, even painting on skateboards and producing giant murals. The images here are just part of a huge body of work, including a couple of beautiful books that Tim gave to me and I will definitely cover in a Photography Books and Zines feature soon.
Today was actually the preparation for the show, so I got to see a lot of the pieces being hung and arranged, which was a lot of fun. As there was some time and space available Tim suggested we do a bag shot, And I thought that would be perfect.
So here is Tim's handmade bag, with a really funky design and an SX-70 in the middle. There are a couple of Japanese keychains hanging from the strap. The inside flap is jimmied together with what looks like duct tape, to keep it semi waterproof and has a sectioned padded inner to keep everything safe. Pretty cool bag if you ask me.
The cameras are the Olympus Pen (apparently it came from Precision Camera in Texas, who I am a big fan of), and some other modern doohickey that I have absolutely no idea as to what it is.
A pencil case with film and batteries.
A notebook and pen
And one of Tim's great paintings, just for effect.
Tim and I  talked about photography, art, skateboarding and music, and I got to really geek out and have a great time meeting some really nice people. Tim was also kind enough to give me a couple of T-shirts that I will be giving away soon along with some other things I have here. It is about time I did a giveaway as I have a whole bunch of things in the office.
This is the man himself, rocking the Olympus, and some fantastic tattoo's (some of which have some very cool stories behind them). I caught Tim sneaking a couple of shots of me while we where there, so I shall have to do the same to him soon.
So If you are in Harajuku on Friday at 6pm and want to come and look at some great art, meet some really cool people, talk photography, art and everything else then I suggest you come along to the opening of Tim's show. It will be held at Beams Cultart in Harajuku and you get find out where that is by clicking here. Tim with be sharing the show with some other great artists too and I think it will be a fun evening.
You can read more about Tim's work here:
Website: www.timkerr.net
Flickr: www.flickr.com/photos/iseethisway
Interviews:
erickimphotography.com/blog/2014/04/25/self-expression-comes-from-within-interview-with-street-photographer-artist-musician-and-skater-tim-kerr/
rubberneckzine.com/interview-tim-kerr/
www.lomography.com/magazine/309104-coloring-outside-the-lines-with-lomoamigo-tim-kerr
It was a real pleasure to meet Tim. I love meeting people who are so positive and hyped about being creative.
Cheers
JCH