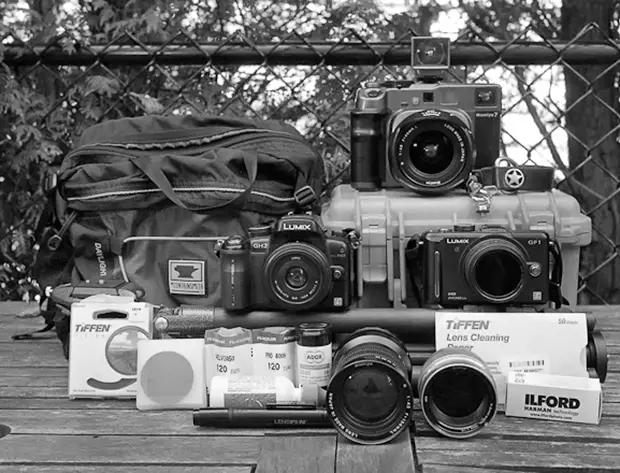 In your bag 1070, Matt Ings
Matt shares with us a proper travel setup, with some interesting cameras. Check it out.

My name is Matt. I live in Boston, MA in the US of A…but I am fortunate enough to travel to some cool places for work and pleasure. I really enjoy travel photography.  Combining film (color & BW) and digital (normal & infrared) gives me a lot of options. Here are some shots from a trip I took to Cambodia: https://flic.kr/s/aHsk4rxU8a
…and here is the setup for that trip:
Bag / Case
Mountainsmith Daylight lumbar pack. This can fit 2 cameras, a few lenses, and lots of film / accessories. The weight distribution is mainly on your hips leaving your upper back is uncovered, making this a good hot weather bag. It is easy to undo the shoulder or hip strap to swing the bag around and add/remove gear. This is not a photography bag though – so internal padding or individual camera/lenses cases is needed.
Pelican 1300 Case for storing the fairly delicate Mamiya 7. Perfect size for the camera, 43mm lens, finder, and spare batteries. Indestructible.
Camera / Lens
Mamiya 7 medium format rangefinder w/ 43mm lens and finder. KRock says this is the world's best camera – so it must be good.  I am still trying to tame the ultra wide.
Mamiya 7 150mm lens – long, but very sharp and relatively cheap
Panasonic Lumix GH2 with 20mm f1.7 pancake lens. I really love the size / quality ratio of the GH2 & 20 mm. The GH2 multi-aspect sensor is great for 16:9 photos.
Panasonic Lumix GF1 with 14mm f2.5 pancake & B+W 403 (UG-1) filter. When I upgraded to the GH2, I found the GF1 gathering dust. Rather than sell it, I decided to have it converted to a 'full spectrum' camera that can record ultraviolet, visible, and near-infrared wavelengths depending on what lens filter is used. I have a lot of fun with this camera, and recommend people convert their old / spare cameras to infrared to see what our human eyes have been missing. Do it.
Olympus 75mm f1.8 lens. I love this thing – very sharp, great color, and not too big.
Film
BW: Ilford HP5+ is my go-to film, but for bright days you can't beat the insane lack of grain in Adox CMS 20 II
Color: Velvia for sunsets & landscapes, Fuji 400H (or Portra 400) for everything else
Accessories
Holdfast camera leash, made from water buffalo leather – WICKED AWESOME!
Gitzo traveler Series 1 four section carbon tripod – small & light
Gitzo magnesium ball head with quick release
Assorted filters for different IR / faux color shots
Lens cleaning pen, liquid, and paper
I am also on instagram: http://instagram.com/matthewingsdotcom
…and I put my infrared shots on tumblr: http://matthewingsdotcom.tumblr.com/
Thank you Bellamy for this great website!
Thanks for sharing your bag, Matt. That is a very interesting converted camera.
Check out the links and make sure you come and comment.
Keep them coming folks, we need more submissions, so get your bag on Japancamerahunter.com. Send me a hi resolution image of the bag (please make sure it is horizontal) and its contents, with some details about yourself and what you shoot. Oh and don't forget your contact details (twitter, flickr, tumbler et al). Send the bag shots here. Please understand that there is a long wait now as there is a backlog of submissions. Not all make the cut, so make sure yours is funny/interesting/quirky. And please make sure the shot is of good quality, as the ones that are not do not go up.
Cheers
Japancamerahunter