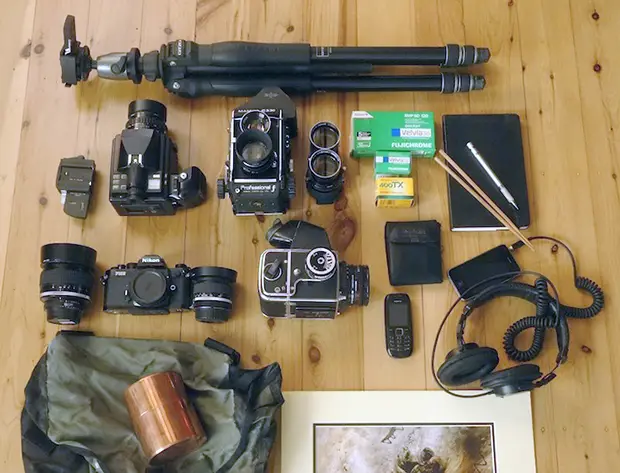 In your bag 1042, Dean Faught
Dean shares with us not only a lovely bag, but also a love of Japanese goods. Can anyone guess what the copper thing is without reading the page? Check it out.

Figured it was time for a submission after enjoying the 'in your bag?' listings for a fair while.
I'm a dual passport holder (aust, u.s.) and just bought a home down in a remote NSW coastal village south of Sydney. The natural environment here is the nicest I have ever seen (not having visited New Zealand haha).
Most of my work features the sublime coastal landscapes and the beautiful Australian flora featured in my area.
I am an international school teacher and have lived and worked on five continents… I just finished four years in Shanghai and am now working in the Equatorial Pacific.
Having lived in greater Tokyo for over three years, one develops an appreciation of the depth of consumer culture in the country… and the Japanese obsession with order and quality. Unless you live in Asia to actually witness it, one doesn't appreciate just how dependent the Pacific Basin is on Japanese products and workmanship… it is nearly always the best quality choice throughout the entire region…
If you're not careful, the seductive nature of the consumer society there can ensnare you, so I concentrated my efforts on just a few Japanese items that I incorporated into my daily life, hence the handmade copper tea caddy from Kaikado in Kyoto, saw the fella make it before my very eyes, chopsticks from Muji, and the Sony analog headphones…
All of the film camera bodies pictured were purchased in Tokyo between 2006 and 2010. The 85mm MF Nikon lens purchased in Shanghai (now a growing film camera center in its own right).. and the 28mm Nikon lens was purchased new in New York… so happy to see Nikon still offering the MF new in that model.
A really nice fella named Shimoda San from Bic Camera in Yokohama was a wealth of information for me during these formative times of deciding what to acquire… he used to work for Hasselblad technical operations in Berlin for ten years and his English was excellent and his knowledge about Hasselblad and Japanese cameras comprehensive..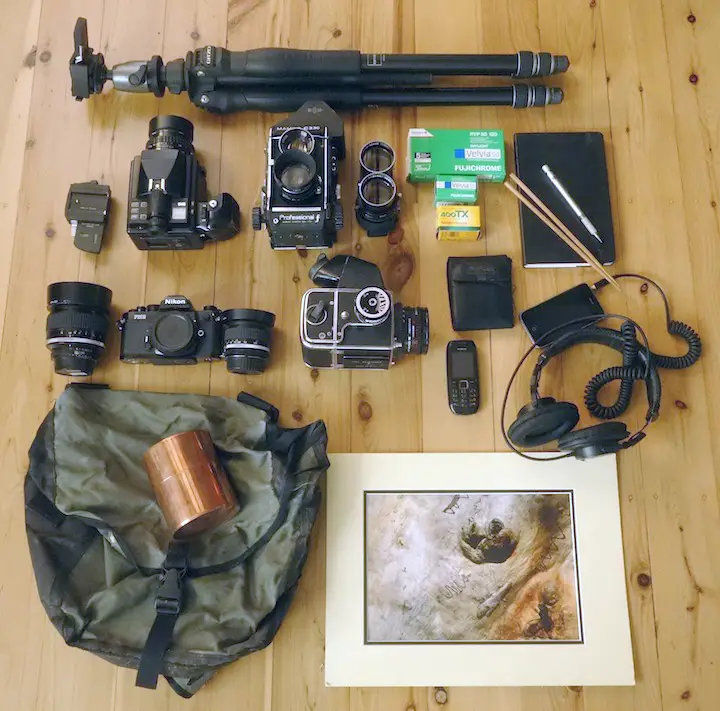 The gear (top down):
Gitzo GT 2330 Tripod
Gitzo 1177m head
Hasselblad H2 tripod mount (I own two with plates for each camera)
Pentax 645
Mamiya C330f with 80mm and 180mm lenses
Velvia 50 120, 35mm is pretty much all I shoot with…
Kodak 400TX for the occasional B/W
Moleskin notebook
Staedtler mechanical pencil for lifetime service (made in Japan)
Muji Chopsticks in case I get the munchies..
Nikon 85mm 1.4 MF … awesome lens…
Nikon FM2n … awesome all analog camera
Nikon 28mm 2.8 MF … awesome lens
Hassy 500CM early 70s vintage w/ standard 80mm lens
15 year old Columbia wallet
Nokia unlocked brick phone…
Apple Iphone 3 for music, vids
Sony mdr 7506 headphones… still the model of choice for a high percentage of sound professionals
Mountain Equipment Shoulder Bag… carries as little of a much as I need… really rugged
Kaikado Copper Tea Caddy… one of those special things to purchase if visiting Japan…
I do not a have a presence on the web… but will eventually put my work up somewhere… the pictured photo is an up close shot of a Scribbly Gum Tree.
Cheers,
Dean Faught
NSW Australia
Thanks for sharing your gear and your picture with us Dean. I wish we could see more.
Check out the link and make sure you come and comment.
Keep them coming folks, we need more submissions, so get your bag on Japancamerahunter.com. Send me a hi resolution image of the bag (please make sure it is horizontal, 720px across is optimal) and its contents, with some details about yourself and what you shoot. Oh and don't forget your contact details (twitter, flickr, tumbler et al). Send the bag shots here. Please understand that there is a long wait now as there is a backlog of submissions. Not all make the cut, so make sure yours is funny/interesting/quirky. And please make sure the shot is of good quality, as the ones that are not do not go up.
Cheers
Japancamerahunter