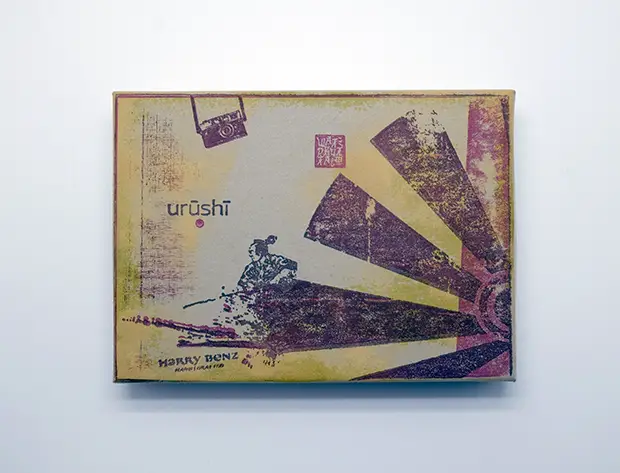 JCH Product review: Urushi Camera Straps
Recently I was contacted by Harry Benz about the camera straps that he makes. I get contacted by a lot of places to check out their products, and I often have to say 'thanks, but no thanks' as they are not really very good. But some of them are good. Like Harry's straps.

Harry offered to make me one of his Custom 'Urushi' straps as I like the japanese flavour of the strap. Obviously it is not true Urushi as that would basically be impossible and totally inflexible. But the design is of the Urushi style.
The design is really simple and lovely to look at. I love the red highlight running along the strap, it suits me perfectly.
The packaging is also very cool. Harry has really put a great deal of effort into these and it shows. I know you don't use the box and blah blah, but I love things that are well packaged. It instills a sense of comfort to know that the maker is proud of their product.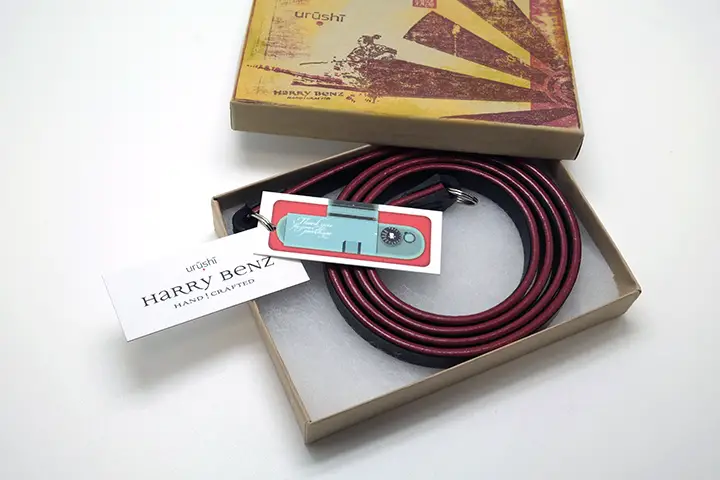 The strap itself is very simple and very tough. It is actually made from water buffalo rather than regular hide, and it feels like it will outlast me (probably not that hard considering how much I work lol). The lugs feel really secure and the rings are not the lowest and cheapest, which is often a huge oversight for strap makers. Everything about this strap makes me confident about hanging it around my neck.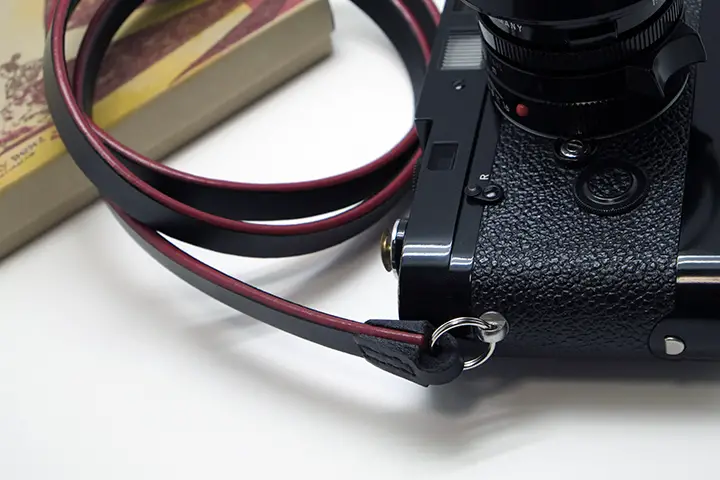 I love the fact that the straps can be custom made for me, as I find some straps are too long (ouch), or too short (which looks like I am wearing a camera medallion). This strap suits me perfectly and matches my style and my needs. It looks pretty damned sweet on the MP-6 as well.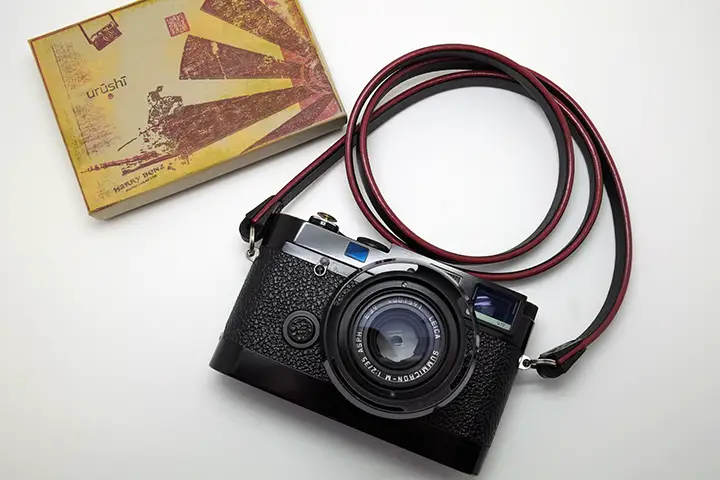 Here is what Harry has to say about his straps:
There's kind of a philosophy behind my straps. You could also say, it's the reason for my madness…
I am a photographer myself. As such I have, like you, certain requirements in mind when it comes to the accessories I choose for my camera(s). Strangely, the one piece in this puzzle that always left me searching for something better is the most basic one: a nice and functional strap. So after much research, here's what makes my straps different.
Material:
The leather I use exclusively for my straps is Water-Buffalo, which is one of the most aggressive, toughest-hided creatures in the Animal Kingdom. It is far superior in quality to cowhide and therefore more expensive. It is stronger, tear-resistant, yet flexible and smooth. It has classic good looks and will burnish handsomely with age. Unlike cow leather Water-Buffalo does not stretch at all. Furthermore, it does not have a fleshy underside; which in fact is the very reason why cow leather straps become in a short period of time so darn slippery! – In contrast my straps won't get slippery. Ever.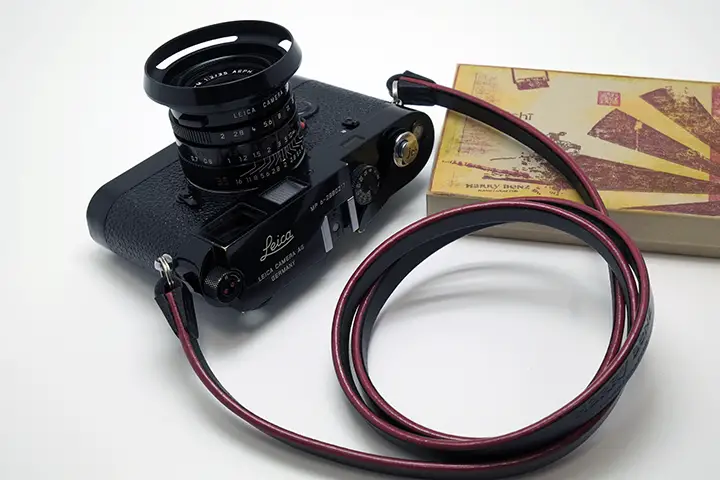 Wearing comfort:
When it comes to design, making things complicated or cumbersome is easy. Simplicity, on the other hand, takes effort. With that in mind it is easy to understand why I am not a big fan of shoulder pads and I regard them more as an excuse rather than a solution to a problem.
A camera strap is a simple thing. It deserves better. After much experimenting I figured out what I believe to be the perfect ratio between leather thickness and strap width to make for a very comfortable wearing experience. All my straps are 13mm (0.51″) wide and have a thickness of about 4mm (5/32″) at the point where the strap goes around one's neck. To make for a more elegant look the thickness tapers down on both sides to about 3.2mm (1/8″).
Form + Function:
Call me picky but my biggest pet peeve are those ugly dog-eared protector pieces most straps come with to keep the metal rings from scratching against the camera body. So instead of 'covering up' the problem I got rid of it by designing the connector pieces in a way that makes it impossible for the rings to touch the camera in the first place.
By doing so, I managed also to solve another potential problem: It is flat out impossible for the metal rings to work their way out of the strap!
Speaking of which, because I am using only heavy duty, spring loaded rings they won't work their way out of the camera's strap eyelets either.
Customization:
Standards rarely work well for people. That's why my straps come with one or more options and are exclusively made to order.
When it comes to putting everything together, you won't find
me cutting corners. Unlike other manufacturers I don't outsource or use short-cuts like rivets, staples and such: Every step is hand crafted. Pieces are carefully glued together and then saddle-stitched twice by hand.
Speaking of which, there's a reason why I go the extra mile of employing a two-needle saddle-stitch. Unlike machine stitching it won't unravel if ever a stitch should break.
Last but not least, all my strap creations are based on the same, above philosophy.
When it comes to their design on the other hand, they only have one thing in common: A unique look unlike any other strap on the market. A bold, yet subtle statement of each owner's individuality.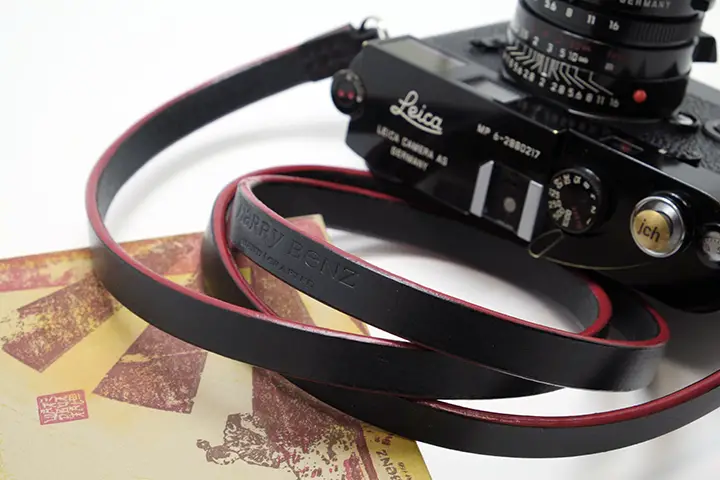 The Urushi: Applying the first layer of paint.
Urushi
The name is a nod to the legendary Japanese artists famous for their skillful lacquer painting technique known as urushi-e.
Handcrafted from the finest, most durable black water buffalo leather and incorporates the same functional principles as discussed above.
The edges are rounded off, cleaned, sanded and burnished to perfection for an elegant smoothness.
Then they are painted by hand in 5 different, work intensive steps with a series of special kind of lacquers which have been made
particularly for leather. – Under normal care conditions it will not crack or peel.
I like these straps and I am happy to endorse them. The build quality is excellent and the design is subtle and sleek. The buffalo hide is an interesting change. I am yet to test this out in hot weather, but I am sure that I will. I shall have this strap on the camera for a while. But so far it feels very comfortable.
There are load of different options available on Harry's page. Mine was $139 Canadian Dollars plus the shipping. Not bad for a decent hand made strap in this day and age.
You can order yourself one of these lovely straps over at Harry's site http://www.harrybenz.com/
You can also check out Harry's facebook page https://www.facebook.com/handcraftedbyharrybenz
Thanks
JCH