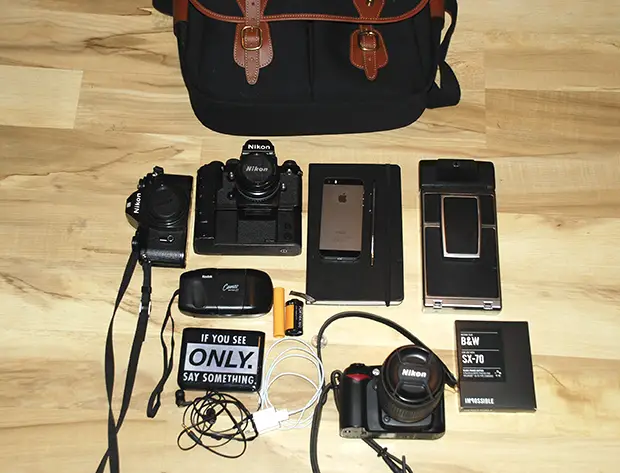 In your bag 1006, Joseph Saunders
Joseph may be a young student, but he has some lovely kit in his bag. Check it out.

Hello Bellamy, I have been a fan of you website for quite some time now, and i really enjoy it. Its nice way to find out what other photographers are shooting and finding others work.
My name is Joseph Saunders, I am 21 years old and from Boston, Massachusetts. I am a student at an art school studying photography and currently on my last year, (boy the years have flown by). I know that there is a huge debate weather you should go to school for photography. I was glad I didn't just go to a school for just photography which was great and really helped my progress has an artist and photographer. I honestly think it was worth it and i have meet a lot of people and teachers that will be good to know for later down the road.
I have always loved film and the last two years it really has consumed me in a good way, I still shoot digital and I have a love for both but ultimately I love film just a bit more. I also shoot a lot of instant film because I love how tangible it is, and that it's a matted print right out of the camera and that the best ones are the ones you didn't mean to take. I shoot a lot of 35mm but i love medium format much more i love 6×6.
As for what I shoot I tend to consider myself a minimalist. I have always been drawn to architecture and the idea of revealing and concealing and if you ever see me shooting I'm always looking up. Now I'm trying to bring the project to eye level now. Also I have caught the street photography bug, i did a lot when i was in Bermuda a month ago and i have been doing a lot.
Now for the good stuff! this will be the bag i will be using for school and my every day bag minus a few things.
Bellingham Hadley Pro
Nikon Em
Nikon F3 Hp with Md-4 motor drive with Nikon 50mm 1.8
Nikon D90 with Gordy's Camera strap and Nikon 18-105
Polaroid Sx-70 Sonar
Kodak Cameo Motor ex
Apple iPhone 5s
Wd hardive
iPhone  charger
Skullcandy headphones
Spent roll of Kodak Portra 160
Pack of Impossible BW black frame
Burts Bees Chapstick
Moleskin Note Book
Cross Pen
When i get back to school ill have a Hasselblad 500c/m in the mix for my seminar class.
Here are some links to check out my work:
Website: http://www.joseph-saunders.com
Flickr: https://www.flickr.com/photos/49880936@N04/
Instagram: http://instagram.com/joexsaunders
Thank you Bellamy! I enjoy all the great content and always look forward to the new posts!
Thanks for sharing your bag with us, Joseph. I wish I had been able to have an F3 when I was a student, but they were still insanely expensive back in my day.
Check out the links and make sure you come and comment.
Keep them coming folks, we need more submissions, so get your bag on Japancamerahunter.com. Send me a hi resolution image of the bag (please make sure it is horizontal, 720px across is optimal) and its contents, with some details about yourself and what you shoot. Oh and don't forget your contact details (twitter, flickr, tumbler et al). Send the bag shots here. Please understand that there is a long wait now as there is a backlog of submissions. Not all make the cut, so make sure yours is funny/interesting/quirky. And please make sure the shot is of good quality, as the ones that are not do not go up.
Cheers
Japancamerahunter