In your bag 841, Kevin Schenk
Kevins shares with us not one, not two, but three bags today. And he has made a lovely banner too. Come and check it out.

Hi, I'm Kevin Schenk from Edmonton, Alberta, Canada. It is currently -32 degrees Celsius outside!
I'm 22 years old, in my last semester of a BSc in computing science at the University of Alberta, and the photo editor of its student newspaper, The Gateway. I also sometimes write for the paper. I mostly shoot street when I'm not shooting for that, so big surprise, my bag is a Billingham Hadley Pro. I like to carry light gear because I walk to school, walk to class and walk to photo ops throughout the day. That's one of the reasons I shoot mirrorless.
It's cool to see all of these minimalist bags recently. Unfortunately, mine's a bit more chaotic.
The first photo is what I carry every day. It contains:
Fujifilm X-Pro1 with a 23mm f/1.4 and hand grip attached
Fujifilm 35mm f/1.4
Fujifilm 14mm f/2.8
Canon FD 85mm f/1.2 L with an FD to XF mount adapter. This is one of my most used lenses.
SD Card case with extra SD cards.
3 extra batteries. I like my Fuji cameras, but they suck at battery life.
Grey, black, and white cards. I don't use these much but they don't take up much space.
Shutter release cable
Bubble level. Useful for wide angle shots.
Soft shutter release button. Incredibly useful for low light.
Lens cloth and lens pen
Rain cover in a ziplock bag
Notebook, pens, Olympus recorder, Gateway business cards
Kleenex, mints, lip balm, Tylenol
Maglite Solitaire LED flashlight. It's tiny, but super bright.
Lighter. I don't smoke, but it's been useful enough to carry all the time.
Earbuds, headphone splitter
16GB and 8GB USB drives. I tend to forget them at work, so it's nice to carry two.
Miniature screwdriver for fixing glasses and cameras.
Victorinox Explorer Swiss Army Knife
iPad 3 64GB for notes, photo backup, etc.
SD card adapter for that.
In my pockets:
Crabby Wallet with plastic and barely any cash.
Nexus 4
Keys
I leave the X-Pro1 at home if I'm not shooting anything too important and just bring my X100. This is what I plan to bring with me to a trip to Europe in the near future. Most of the stuff is the same, so I'm not including that.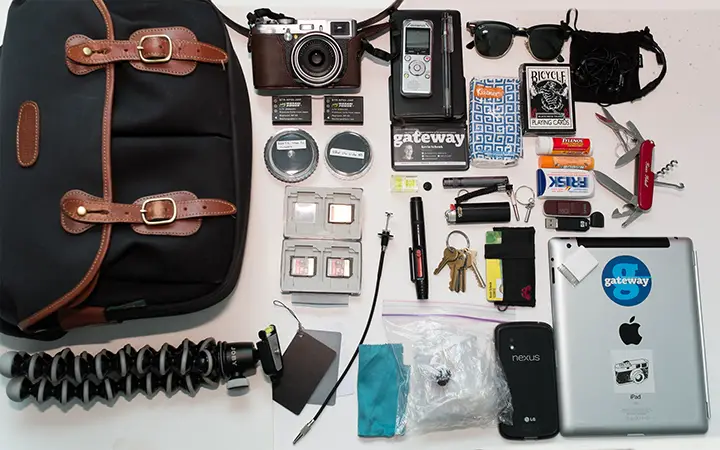 X100 with carrying case and hood
At least 2 extra batteries. Same issue as the X-Pro1.
Polarizing and ND filters
Gorillapod
Sunglasses and playing cards
And here's some of my film gear! I don't shoot as much film as I'd like to, but this is what I have at my disposal. Most of it came from a family friend that wanted to get rid of his film gear since he only uses digital now.
Yashica MAT-124
Yashica-635
Canon A-1 times two. One of them has a squeaky shutter I need to oil.
Canon AE-1
Canon A automatic film advance
Canon FD 24-35mm f/2.8 L
Canon FD 85mm f/1.2 L. Same one I use on the X-Pro1.
Canon FD 300mm f/4 L with 2x extender
Canon FD 50mm macro lens with extension tube
Pentax K1000 with a 50mm f/2 lens
Polaroid Land Camera 320. My dad saw my neighbour throw it out. It works great.
Polaroid Autofocus 4000. I have never used this because Impossible Project film is very expensive.
Braun Flash with holder.
A bunch of film. Some of it's expired. For example, the Ilford FP4 expired in 1985, but it still works alright.
You can see some of my work on my website at http://kschenk.com, my recent photos on Flickr at http://flickr.com/kevinschenk, and follow me on twitter @KevinSchenk5.
Wow, thanks for sharing all of those bags with us Kevin. Epic stuff.
Check out the links and make sure you come and comment.
Keep them coming folks, we need more submissions, so get your bag on Japancamerahunter.com. Send me a hi resolution image of the bag (please make sure it is horizontal) and its contents, with some details about yourself and what you shoot. Oh and don't forget your contact details (twitter, flickr, tumbler et al). Send the bag shots here. Please understand that there is a long wait now as there is a backlog of submissions. Not all make the cut, so make sure yours is funny/interesting/quirky. And please make sure the shot is of good quality, as the ones that are not do not go up.
Cheers
Japancamerahunter