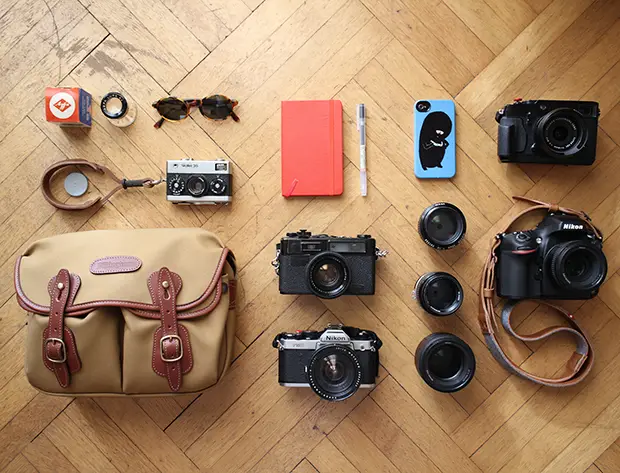 In your bag 830,Niccolò C. M. Bianchi
Niccolò has been on the site before, and now he is back with a totally new setup, much more film based as you can see. Come and check this lovely one out.

Here I am again. I'm Niccolò and I was already lucky enough to land into spot # 398 (https://www.japancamerahunter.com/2013/01/in-your-bag-no-398-niccolo-c-m-bianchi/) when I still was in Scotland for my MSc degree. I'm now back in Italy and I doing an internship, so there's not much time available for shooting around the streets, but I always try to do my best to push myself over the limit.
To give some background and avoid the readers from reading the previous blog post, I have to say that I am 24 years old, I have a Medical Biotechnology degree and a MSc in Biobusiness, I am a seriously annoying movie geek and I recently won over my G.A.S..
Since when I left Milan (Italy) for Aberdeen (UK) in August 2012, I changed my style of shooting. A trip to Japan I made in Spring 2012 already gave me the hint that portraiture wasn't my only interest in photography, but only when I was in Scotland I completely understood that going around the streets could be seriously fun. I then got back to Italy in Autumn 2013 and also understood that shooting street portraits was appealing, but not compelling: I had to try to make more complex shots, not for the sake of it, but to try to capture the interaction between people and to enrich the different layers of a photograph. I moved from a 50mm-philosophy for street shooting, to a wide-angle-philosophy. I still shoot portraits for myself, trying to capture something in the person I have in front of me, as well as to capture something about myself. It is a pretty common idea that those that portray a scene, always express it as a reflection of themselves; I believe that also Susan Sontag might have said that, but I should have to check.
Therefore, I also use my gear in a different way. There aren't many changes in the gear itself: I bought an AF-S Nikkor 85mm ƒ/1.8 to couple to the AF-S Nikkor 50mm ƒ/1.8 I already owned, while the Yashica Electro 35 GTN is a replacement for the Electro 35 GSN that I had in the previous blog post. The GSN's electric wiring was dead and I was lucky enough to find a GTN for £20 in UK and now the GSN is on shelf, waiting to donate its spare parts to its 'twin sister'. And, as you can notice, I black-taped the logos off.
I already had the Nikon D800, the Nikon FM2 and the Fujifilm X-Pro1, just pimped them: the D800 now has a Hard Graft leather strap, the FM2 can now show off a JCH soft release and the X-Pro1 got black taped as well, has a soft release, the hand grip and a Leica-like vented lens hood. I'm still very proud of my Nikkor 50mm ƒ/1.2 AI-s and Nikkor 105mm ƒ/2.5 AI-s, and still carry around my sunglasses, finally having some sunshine to protect my eyes from, rather than being under the covered, but not unforgiving, Scottish sky. I bought a Moleskine notebook and a Muji 0.38mm pen, to write down the camera settings and a brief description of any picture I take on a film camera, since many times I just end up having no idea of why I screwed up a shot. I also bought a khaki Billingham Hadley Small, which is more practical (and gorgeous) than the Lowepro Event Messenger and Lowepro Flipside 300 that are lovely, but a bit chunky for when I don't really need to carry around much stuff.
I now carry around just the X-Pro1 with the Fujinon X 18mm ƒ/2, the FM2 with the Leitz 21mm ƒ/4 and a Kodak Portra160 pushed at 800, the notebook, the pen, the sunglasses and a new roll of film (a Fujifilm Provia 400X at the moment). That's what I need. As I previously said, I know mostly try to shoot on wide angle lenses, not to force myself into a kind of shooting that doesn't fit me, but to follow a flow that I believe it can give good results, without abandoning my 50mm lenses.
The other real new entry is the Rollei 35, which I found in a closet at my home. It was there since I was born, it was my great-grandfather's and my mother forgot about its existence, so she never gave it to me. It's an incredible camera, shot half a roll of  Kodak 400TX pushed @1600, then the shutter cocking mechanism got stuck so now I have to get it checked; I read that its a pretty common issue for the early models. Still, I'm confident that the problem will get solved. I previously attached a Gordy wrist strap and used a film canister's cap as a lens cap, since the original one was broken by my great-grandfather. Along with the Rollei 35, I also found the AGFA 8X magnifier and a big bunch of old printed pictures that were taken by my great-grandfather on the Rollei 35. Me and his son, my granduncle (who is a major Leica user and, along with my nikonist grandfather, introduced me to photography), decided to select some of those photographs and maybe consider making a small project or self-publication with the pictures that were taken by our relative. It's still an ongoing project, but it is partially uploaded on Behance (https://www.behance.net/gallery/Mario-Farina-street-photographer-in-Bardolino/13133169). Incredibly enough, he was into street photography as well, in a very genuine way: he used to go to the lake during weekends. There was good wine and many people to talk to. He took pictures of them and froze them in time, letting them rest in my home's closet for years. I hope they can now get some recognition.
My current links are:
http://www.flickr.com/photos/ncmb_photographies/ (cannot change the domain to something less stupid and misspelled)
http://www.flickr.com/photos/ncmb_photographies/sets/72157636788201033/ (my 15-photos selection)
https://twitter.com/NCMBianchi
https://www.behance.net/NCMBianchi (for projects)
I know hope that I will be able to show some further improvements in the future, and I have to thank Bellamy again, for his kindness and for the great job he makes on this website.
Kind regards
Niccolò C. M. Bianchi
Thanks for returning to share your gear again, it is really interesting to see the changes.
Check out the links and make sure you come and comment.
Keep them coming folks, we need more submissions, so get your bag on Japancamerahunter.com. Send me a hi resolution image of the bag (please make sure it is horizontal) and its contents, with some details about yourself and what you shoot. Oh and don't forget your contact details (twitter, flickr, tumbler et al). Send the bag shots here. Please understand that there is a long wait now as there is a backlog of submissions. Not all make the cut, so make sure yours is funny/interesting/quirky. And please make sure the shot is of good quality, as the ones that are not do not go up.
Cheers
Japancamerahunter