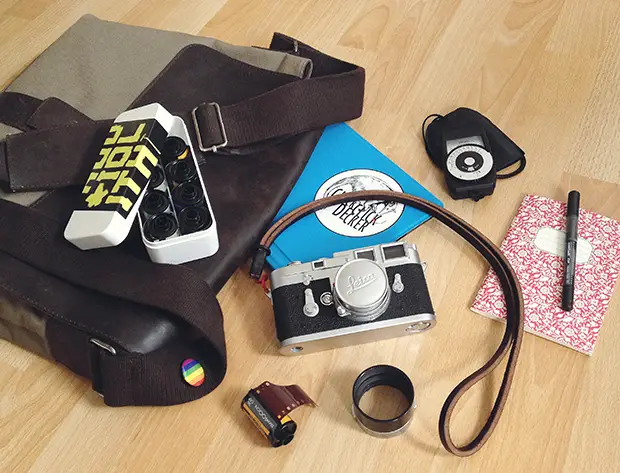 In your bag 814, Oliver Kramer
After some mega bags this week ,we are back to a nice and simple bag. Oliver shares his bag and it is a beauty. Check it out.

My name is Oliver, 28 years old, I live in Emmendingen (a small town near the Black Forest) and work in the marketing department of a public utility company.
Photography has been my hobby and passion since I was a child. I always carried my little red point-and-shoot camera with me. However, since photography was part of my education as a media designer 11 years ago I really got into it.
Over the years, I used a lot of different cameras, shot both digital and film and started to explore medium format film photography. Last year I have decided to stop playing around and experimenting with different photography equipment and focus on photography itself. The best way for me to do it, is to shoot film only. It slows me down, it feels natural and I don't have to think about this or that preset. That's why I have sold all the digital stuff and got myself the camera of my dreams: a Leica M3.
Here is the simple bag I carry around all the time:
– Leica M3 (double stroke) with Elmar 50mm/2.8
– Lens hood
– Japan Camera Hunter Film Case, filled with Kodak Ektar, Kodak BW400CN and Agfa APX 400
– Sekonic Light Meter
– Notebook and pen
– Surface RT
– iPhone 4S (not pictured)
– Harold's Messenger Bag
I think I don't have a particular style. Sometimes (lately more and more) I shoot street but often I just shoot anything that catches my eye or document precious memories.
Here's where you can find me on the internet:
Tumblr: http://oli.la
Blog: http://oliverkramer.de
Instagram: http://instagram.com/oliverkramer_
Twitter: https://twitter.com/oliverkramer_
Thank you in advance, if you are featuring this! And thank you for your fantastic website, too. Cheers!
Thanks for sharing your bag with us Oliver. I love that M3/Elmar combo, so pretty.
Check out the links and make sure you come and comment.
Keep them coming folks, we need more submissions, so get your bag on Japancamerahunter.com. Send me a hi resolution image of the bag (please make sure it is horizontal) and its contents, with some details about yourself and what you shoot. Oh and don't forget your contact details (twitter, flickr, tumbler et al). Send the bag shots here. Please understand that there is a long wait now as there is a backlog of submissions. Not all make the cut, so make sure yours is funny/interesting/quirky. And please make sure the shot is of good quality, as the ones that are not do not go up.
Cheers
Japancamerahunter