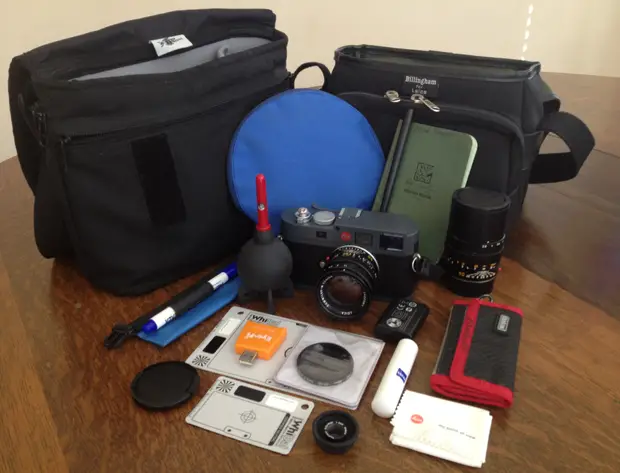 In your bag 446, Duane Pandorf
Today we have a pilots bag! Duane flies a plane and takes pictures. How cool is that? Come and check out his awesome bag.

My name is Duane Pandorf and I use two bags. My primary bag that I use the most is the latest Bare Bones Bag and a Billingham Leica Combination Bag.
I'm a pilot and fly the Gulfstream 550 which has a 6,500 mile range and work a 7 on 7 off schedule. During my 7 days at work I can be anywhere in the world and take my camera with me to capture the unique locals I travel to.
A year and a half a go I began my blog when I learned I had earned a Performance Award for my entry in the 2011 Annual Ricoh Camera contest. Since then I've been posting my experiences as I travel around the world and while home with family.
My blog is: blog.duanepandorf.com
I've recently upgraded my camera kit to the Leica M-E. I had been shooting with a Ricoh GXR-M with Leica glass.  I know I could have waited for the new M but I felt the price difference allowed me to afford a fast 50mm.  I also picked up a 90 for portraiture and I have my eye on an Elmarit 28mm to cover the wide end.
Below is a list of my equipment.
Leica M-E
Leica Summilux-M 50mm f/1.4 pre-ASPH
Leica Elmarit-M 90mm f/2.8 e46
Match Technical Thumbs Up
Match Technical Opera 3 soft release
Extra Leica battery
ThinkTank PeeWee PPR SD card holder
Giottos Rocket-Air
Zeiss lens brush
Hoya 46mm NDx8 Filter
USB card reader
WhiBal Cards
Match Technical E-Clypse 1.25x
Rite in the Rain Memo Book
Rite in the Rain All Weather pen
12″ Lastolite Reflector
2L Sea to Summit dry bag
Permanent marker wrapped with gaffers tape.
Leica lens cloth
__________________________
Thanks for sharing your bag with us Duane, what a fascinating experience, to be able to shoot and fly.
Check out the links and make sure you come and comment.
Keep them coming folks, we need more submissions, so get your bag on Japancamerahunter.com. Send me a hi resolution image of the bag (please make sure it is horizontal) and its contents, with some details about yourself and what you shoot. Oh and don't forget your contact details (twitter, flickr, tumbler et al). Send the bag shots here.
Cheers
Japancamerahunter