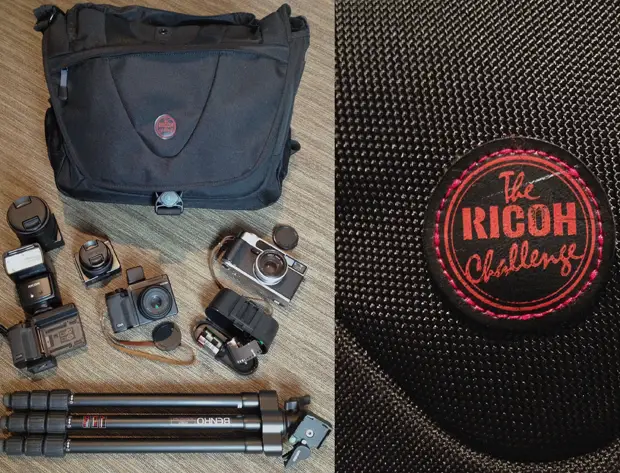 In your bag 429, Evan
Evan has not given me a lot, just this name and a few details, but he does have a very nice bag. He alos has a whole truckload of cameras. come and have a look.

Hey JCH
My name is Evan, sending this to you from Victoria BC Canada. Firstly, I can't honestly say I'm a photographer – getting there – but I'm a painter who came to photography through art school and documenting my paintings (www.squareaffair.com). I work as a designer for number TEN architectural group (www.numberten.com) and recently they have let me fill in doing some architectural photography as well.
The bag I'm sharing is my ricoh GXR setup, its great for when you want to take a lot of stuff but not go off the charts on bag size:
– The bag is a tamrac evolution 4 (underrated bag for the features, i have swapped the tamac logo for an emblem off an old ricoh bag)
– Two GXR bodies
– Ricoh A12 50mm f2.5 macro (shown mounted along with the electronic viewfinder)
– Ricoh A12 28mm f2.5
– Ricoh A16 24-85 power zoom
– Ricoh GF-1 flash (shown mounted to the second GXR body)
– Konica Hexar AF (this particular one has been de-tagged by a previous owner)
– A small film holder (holds 4 rolls)
– The tripod is a Benro travel flat with an Induro ball head (not only is the design unique, it can be carried upright in the side pocket of my bag)
– Not shown, I'm usually carrying a laptop or iPad in the bag too (main reason for the bag size) as well as memory cards, batteries, lens cloths, and stuff like that.
I know this bag is a little digital-centric for your blog, so I wanted to include some of my other cameras that i take out (usually sans bag, or in place of the hexad af), I'm particularly fond of the yashica t4, or the konica big mini. I have had a lot of photographer friends laugh when i pull those out, or even the GXR for that matter against their massive digital slrs; they are missing out.
The picture of the cameras strewn out on my light table makes me look like a crazy person, but given the nature of this blog, I doubt I'm the only one with a stack of cameras like this.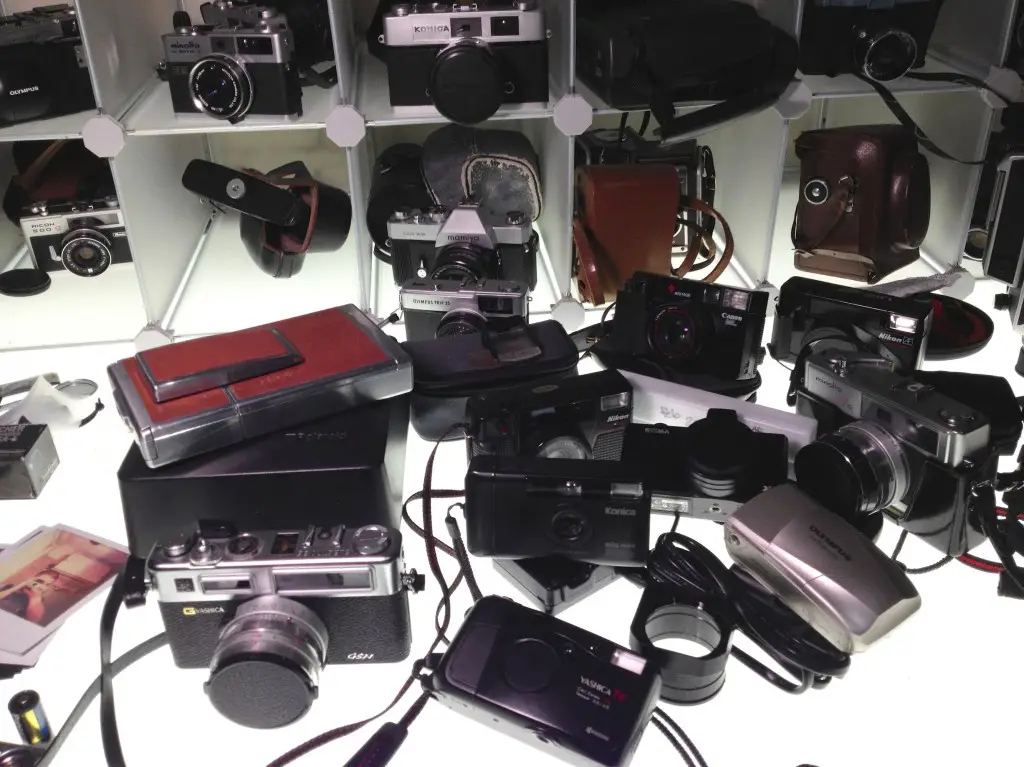 These shots were all taken using my iPhone 4s, it gets a lot of use as a camera as well.
Also, Bellamy, your site is fantastic, keep up the great work…. eventually i will have to make my bag all ricoh with a GR1.
Thanks for sharing your bag and your immense collection with us Evan. That is an impressive array of gear.
Check out the links and make sure you come and comment.
Keep them coming folks, we need more submissions, so get your bag on Japancamerahunter.com. Send me a hi resolution image of the bag (please make sure it is horizontal) and its contents, with some details about yourself and what you shoot. Oh and don't forget your contact details (twitter, flickr, tumbler et al). Send the bag shots here.
Cheers
Japancamerahunter