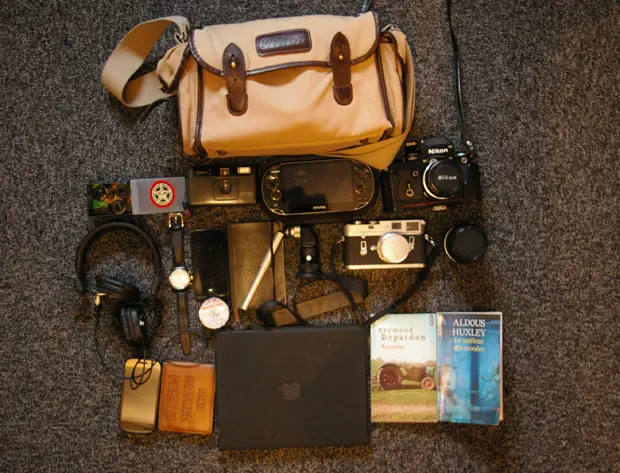 In your bag 416, Paul Llorca
Wow, this is a 14 year olds bag! And just look at it, what a bag. But before you all moan about how a 14 year old has a Leica, read on about how he came to have it.

Hey Bellamy !
So I'm Paul Llorca, a 14 (and a half) year only film "photographer", from Clermont-Ferrand, France. I've started film (and photgraphy) about 6 months ago, with a Konica Pop and a Zorki 4. My gear has really changed since that time, and I wanted to show it to you. By the way, it's the setup I'm gonna take to a short trip to Paris.
The bag is a random Nikon I got with the Nikon F2.
1- The Cameras:
-Leica M4 and Summicron 50mm F/2: First, don't think I'm a spoiled kid because I own a Leica M camera. It was gracefully given to me (and the Nikon F2) by the widow of a friend of my family, to be precise, the doctor who gave birth to me . It's an awesome setup, very discret and well built. It's loaded with T-Max 100. It's usualy on my shoulder.
-Nikon F2 black and Nikkor-S Auto 35mm F/2.8: Great camera, really sleek, and great for night shots.
-Konica Big Mini Jr. : Great little point'n'shoot camera, super cheap, and with no light leaks (I hate light leaks). It's currently loaded with Agfa Vista 200.
2-Lens and accesories:
-Nikon Micro-Nikkor 55mm F/3.5 : Never had the occasion to try that lens, I will give it a test run in Paris.
-Film case: It's not a Bikkuri Case, but a slide film holder. I can fit about 6 rolls of film, but it's only loaded (for now) with Tri-x 400, Ilford HP5 400 and Fuji Sensia 200. I'm really looking forward some Portra 400.
-Nikon DR-3 viewfinder: For weird angle shots
3-Misc stuff:
-Marshall Major Headphones
-iPad 1st gen
-Swatch watch
-Bad Mother F*cker wallet (pretty badass, I Know)
-Moleskine with heavy duty ink pen
-Lip balm
-Aldous Huxley's "Brave New World" book
-Raymond Depardon's "Paysans" (Farmers). If you don't know Depardon,you should definetly check him out, he did numberous books and movies (and he took, with a Rolleiflex, the official photo of François Hollande, the french president !)
-PS Vita: The quite infamous console from Sony
You can see what I do on Flickr:
http://www.flickr.com/photos/yglotte_lab/
And on Instagram: @Yglotte
Thanks to Bellamy for having this awesome website,
See ya
Paul
Wow Paul, thanks for sharing your great bag. I hope that you keep you passion and push it further. And wow, Aldous Huxley, very interesting reading material for a 14 year old. I hope you enjoy it.
Check out the links and make sure you come and comment.
Keep them coming folks, we need more submissions, so get your bag on Japancamerahunter.com. Send me a hi resolution image of the bag (please make sure it is horizontal) and its contents, with some details about yourself and what you shoot. Oh and don't forget your contact details (twitter, flickr, tumbler et al). Send the bag shots here.
Cheers
Japancamerahunter