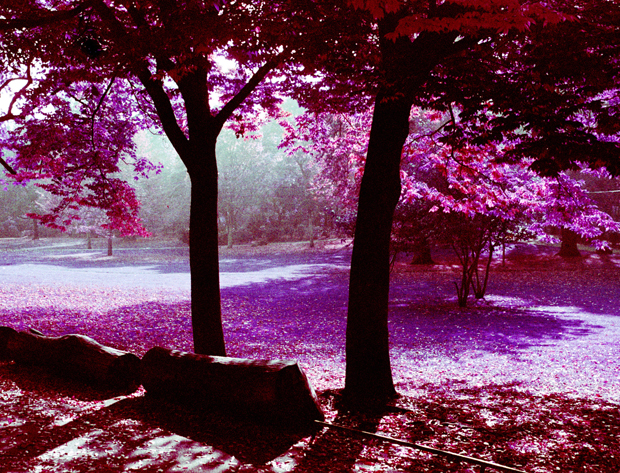 Lomo are at it again! New Film!
So Lomo have been up to something in their secret lab. Whilst checking out the Phoblographer yesterday I found out the Lomo have decided to release a new film. So I got in touch with them and got the lowdown.

Lomo have been busy recently, with the successful Kickstarter for their film scanner and the popular media grabbing hold of what they are doing, it seems like the company are coming on leaps and bounds. This is certainly the case for their promotion of film photography, with mass media attention and rumours of them making bids for the Kodak film stock.
And this new release is not going to make any of those rumours die down. Lomo have decided to make a new film, which is very similar to an old film Lomochrome Purple 400 is almost (though not quite) the same as Kodak Aerochrome, that wonderful purple cast aerial surveillance film of old (before we had predator drones of course).

As you can see from the above shot the film will give amazing colour casts to every green element in the image, thus completely changing the perspective of the image. This is certainly going to be popular. But, this film is not easy to use and takes a degree of discipline to get right. I am looking forward to see what people can do with it. I was hoping to get some sample rolls, but it seems they have none available yet. If I manage to get my hands on some you guys will be the first to know about it.
So why bring this film back? And not, say 1600 super presto, or something similar? Well, it seems like Lomo are bringing back the Kodak films first, which might be an indication as to possible future acquisition of Kodaks emulsions. But also, Lomo has a unique lofi style, so regular old monochrome film is not going to wash straight away. They need something that catches peoples attention, and this film certainly does. Not just for the colour but for the price tag too! This stuff is far from cheap, with prices closer to that of slide film than of neg.
Here is the blurb from Lomo about the film…
You've dreamed about it, our community has pled for it and we have listened to your wishes… so roll out the red carpet for Lomography's striking innovation: the LomoChrome Purple 400 film! This unique color negative film will astound you by transforming every green element of your photo into radiant purples. A revival of the psychedelic infrared look from the discontinued Kodak Aerochrome film we all love. To know more about this unique look, check out our online magazine article. The first film rolls will be available in July and you can pre-order them now in our shop!
The Lomography LomoChrome Purple 400 will transform the lushest green countryside into a flaming magenta fantasy world! As if this wasn't good enough, this film innovation is a ISO 400 Color Negative film, so it's incredibly easy to use and to get developed in C-41. The film will be available in 35mm and 120 formats, ready to use for any analogue camera. Unlike infrared films that required a complicated use of filters and ideal sunny light to achieve the effect, this new film allows you to shoot in any weather conditions! We have 4000 rolls of LomoChrome Purple 120 and 3500 rolls of LomoChrome Purple 35mm available for pre-order in the Lomography Online Shop. This first batch of films will be available for delivery in July 2013 (except for Brazil and Russia). The reason the film will take a little while to be delivered is that your order will help finance this exciting first production and LomoChrome Purple takes a little bit longer to manufacture than your average emulsion.
TECHNICAL SPECIFICATIONS:
·         Color Negative
·         C-41 Processing
·         400 ISO
·         35mm and 120 formats
So there you go, another interesting film that has come onto the market, which goes to show that film is not dying, it is just changing. It looks like there is a continuing trend for film to become more of a fine art medium and this new film certainly reinforces that idea.
What are your thoughts on this film and what Lomo are doing? Comments are appreciated.
Thanks
JCH