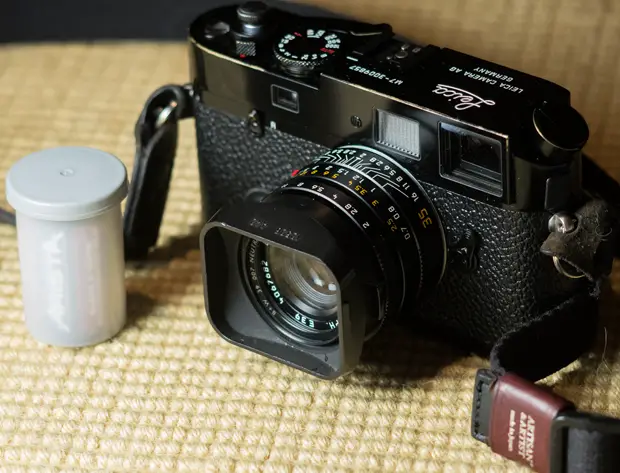 In your bag 352, Alex Hime
Wow, they are really coming along. Not long until we have number 365! Alex has a fantastic bag for us today. All the way from LA. Welcome to the jungle…

My name is Alex, and I'm proud to merely call myself an amateur. I've lived in Los Angeles most of my life and while many of my photos are taken while driving on a daily basis (traffic really is a horror sometimes), this city—and the amazing nature that is all around us—never ceases to inspire in some way or another. Typically I don't even carry a camera bag, just one camera, one lens and a couple rolls of film. But when I'm travelling or going out on the specific goal to take photos, I bring a bag that constantly transforms depending upon the intended subject. The bag below is one I'll bring with me in a couple days when I visit a couple parts of the LA River.
In my packed Think Tank Retrospective 5 I have (from the upper left):
20" Cable Release-for long exposures
Wireless Shutter Release-very noisy, but the only viable option if I ever want a photo of myself
'Lipstick' Style Brush-to get dust or dirt out of hard to clean grooves on equipment
Felt Tip and Ball Point pens-for writing
2L76 Batteries-for the M7
Manfrotto Table Top Tripod-great general use tripod, strong enough to hold a DSLR but small enough to easily fit in any bag
The New JCH Film Cases-filled with Tri-X…err…um…Arista Premium
Small Rocket Blower-usually left in the car or in the hotel room, but I like to give the equipment a once over after a day of shooting
Mobile Cloth-as reviewed here on JCH, a wonderful and reasonably priced cleaning cloth
'Shammy' Cloth-just in case it gets wet, this really soaks up the water fast
Leica 21mm Viewfinder-terribly overpriced, especially when the Zeiss is out there, but it is the only one appropriately offset for Leica M cameras
Zeiss ZM C-Biogon 21mm-an amazing lens; almost no distortion, high IQ…as good as any 21mm when used on film, not so great on digital
Leica Summilux-M ASPH 50mm-not much needs to be said of this lens, except that it's better than I deserve
Leica Macro-Elmar-M 90mm-this is a greatly ignored lens, widely considered to be one of the best 35mm lenses every made; a 90mm f/4 lens just isn't sexy enough for many of today's Leica Photographers
Leica APO Telyt-M 135mm-another nearly perfect lens, not so popular in 2012
ALC M7 (Black Paint, no Dot, 0.85x VF) with the Leica Summicron-M ASPH 35mm-none of the issues raised about the early generation M7s have occurred with my 8 month old body (I actually just changed the batteries for the first time in 7 months and a couple hundred rolls), it is the perfect film camera for me…and trusting this would be the case is the reason I dropped the extra money on an ALC to make it how I desired. The Summicron 35 ASPH is my most used lens over the past couple years, the compromise between size and speed is wonderful.
Small Notebook (below the 21mm and 50mm)-take notes on locations, lenses used, etc.
Leica 1.25x Viewfinder Magnifier (below the 90mm)-I don't use it too often, but very helpful with the 90 and 135
* Not shown:
Filter Wallet-with B+W MRC filters in three sizes to fit my lenses; Orange 040, ND 0.6, Linear Polarizer
Leatherman Wingman Tool (actually peaking out of a pocket in the bag)-what bag from the US isn't complete without some kind of weapon?
As I mentioned my bag setup will change depending on the subject. When I'm going on hikes or out into nature (where time slows) I bring a Lowepro Flipside 10L, with an M3, an M2, Gossen Digisix, an NEX 5N (with Novoflex adaptors), a few lenses perhaps including a Leica Apo Telyt-R 180mm or the Leica Telyt 250mm, JCH Film Cases filled with Tri-X, Portra 400, and E100VS, a compass, matches, and a full-size tripod.
My typical day-to-day carry combo:
An M7 with an Abrahamsson Mini-Softie, Artisan and Artist ACAM 103n (terribly overpriced, but by far my favorite strap), Summicron 35mm ASPH (often interchanged with the lux 50mm ASPH), a roll or two of Tri-X
It is in large part due to "In Your Bag" here at JCH, and some of the other gear driven sites out there that my wallet is lighter, but what's money unless you're happy? Thanks to Bellamy for the great site and thanks to everyone who posts their bag, each of them is interesting for different reasons.
My flickr, which at times is updated frequently and sometimes not at all:
http://www.flickr.com/photos/kokoshawnuff
Thanks for sharing your bag with us Alex. It is great to see my cases being put to good use.
Check out Alex's link and make sure you come and comment.
Keep them coming folks, we need more submissions, so get your bag on Japancamerahunter.com. Send me a hi resolution image of the bag (please make sure it is horizontal) and its contents, with some details about yourself and what you shoot. Oh and don't forget your contact details (twitter, flickr, tumbler et al). Send the bag shots here.
Cheers
Japancamerahunter