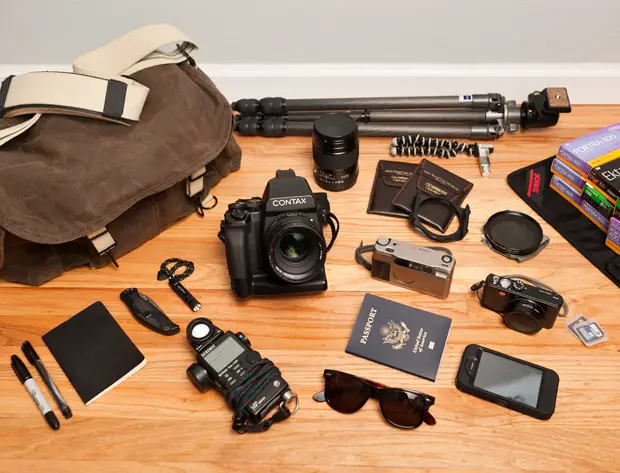 In your bag 286, Daniel MacDonald
Not only is todays bag awesome, it is going places. Daniel has now embarked on a world trip with his family and this little set up. Should be a great trip. Check it out.

My name is Daniel MacDonald, and I am a photographer based in Fair Oaks, California.  I've been enjoying your website and various postings for a while now, and thought I might make a submission to "What's in your bag?"…
In just over a week I depart on an extended trip abroad with my wife and seven year-old daughter.  During the next 10 months we will be visiting Bali, Thailand, Burma, Vietnam, the Philippines, India, and Sri Lanka.  After an excessive amount of deliberation, this is the kit I have decided to bring along.  For a while I was considering my Nikon DSLR and a quiver of primes, but the allure of recording our journey on medium format film with Zeiss optics was ultimately much more appealing and inspiring.
I've been involved with photography professionally for over 20 years, starting as a black & white lab tech and freelance assistant, and then touching on everything from "guys in ties" for corporate annual reports to shooting snowboarding for publication…  For many years I've photographed weddings, but recently the majority of my work has been documenting the arts, and stock sales of "real life" images through Getty.
In my personal work I am most inspired by the images I capture while traveling, and by portraits of my daughter, so the combination of the two should be especially powerful and fruitful.


The Bag is a Domke F-2 Ruggedwear…  It's just big enough to hold all my gear, while still being small enough to carry around without too much hassle.  The finish is supposed to be weather-resistant, but I just love how it molds to the shape of my body, and is so subtle and inconspicuous.
The Contax 645 is my primary camera.  I have the Zeiss Planar 80/f2 for portraits and general use, as well as the Zeiss Distagon 45/f2.8 for scenics or interiors.  It's large and heavy, but if you've seen what the world looks like through the Planar 80mm, then you know why I'm carrying this camera around Asia for a year…
The Contax T2 is my quick-draw 35mm back-up camera, for those times when I really want to get an image on film, but don't necessarily want to pull out the 645.  Phenomenal optics with a fixed 40/f2.8, simple elegance in little brick of a package.
The Leica D-LUX 3 has been my faithful little pocket digi for many years now, accompanying me on backpacking trips and bike rides and snorkeling expeditions…  It has been exposed to so many blizzards while snowboarding that I am continually surprised when it continues to function.  Though it gets quite noisy at higher ISO settings or with longer exposures, the image quality and color rendition are pretty great, and many of my best-selling images on Getty were made with this camera.
With no way to download images, I am bringing about 80 GB worth of SD cards that I will just fill up and then send home.
The iPhone 4s (with Otterbox Defender case) will be my only web-access device, and serve as a back-up digital camera for uploading images to our travelogue (www.selamat-jalan.tumblr.com).
The Sekonic L-508 is my light meter of choice for nailing that 1/2 stop of over-exposure that makes Portra glow so beautifully.
I'm bringing two Singh-Ray Galen Rowell ND grad filters (2 stop: one hard, one soft) with a Cokin holder…  I've only used these a few times, but I figure they might come in useful along the way.  I'm also bringing a Nikon circular polarizer for those tropical waters.
For stabilization I've got my old Gitzo G 1127 MK2 carbon fiber tripod with a cheap (and light) QR ball head. This doesn't technically go in my bag, but lives in my backpack and comes out when needed.  I also have a mini Gorillapod with a i.Trek Supermount for the iPhone.
Other odds & ends include the usual:  Sharpies and Moleskine notebook, miniature Fenix torch, Kershaw Ken Onion mango peeler, cheap disposable Wayfarers, and my recently-renewed passport, blank and virginal and eagerly awaiting stampage.  Not pictured: a mechanical shutter release cable for those long nighttime exposures.
The film is an assortment…  Mostly Kodak Portra 400 (120, 220, 35), but also some Fuji Pro 400H (120, 35), and one pro pack of Kodak Ektar 100 (120).  The Domke Film Guard (Large) is heavy, but with the number of airports I'm going through it's a necessity.  Shooting conscientiously, I'm hoping this will last for at least four months, but we shall see…  I don't want to stifle my creative instincts, but neither do I want to leave us destitute after all the processing costs are added on to the end of our trip!
The whole thing weighs-in at just over 6 kilos (not including film and tripod), which is certainly the most I would want to carry, but it feels like a pretty comprehensive set-up.  We shall see…
Examples of what I do with my cameras can be seen here:
My website is:  www.dmacphoto.com
Flickr:  www.flickr.com/photos/dmacphoto_flickr/
Tumblr:  www.dmacphoto.tumblr.com/
Wow, what a bag and what an adventure, thanks Daniel. I am very jealous of your travels. I hope that you get to see that your bag is on the site.
Check out the links and make sure you come and comment.
Keep them coming folks, we need more submissions, so get your bag on Japancamerahunter.com. Send me a hi resolution image of the bag (please make sure it is horizontal) and its contents, with some details about yourself and what you shoot. Oh and don't forget your contact details (twitter, flickr, tumbler et al). Send the bag shots here.
Cheers
Japancamerahunter