Interview with a collector/photographer, Jason Howe
JCH has an interesting little interview for you today. Not only is Jason a photographer, but a collector too. I noticed that he has quite a remarkable Olympus in his collection, so I thought it would be great to hear a little bit more about it. Check it out.

Introduction
Thanks Bellamy for the invitation to share a little about my camera collection and photography, needless to say I'm a big JCH fan.
I'm originally from Sheffield in the UK but have spent the last three years living in New Zealand, lets just say I used to be incredibly busy in construction, now I have plenty of spare time…….I shoot both digital and film which I develop myself. Photography is a real passion of mine and over the last year or so its also developed in to what I would describe as a mild addiction to collecting film cameras and lenses. This in turn led me to my little adventure with the Olympus OM-1 which I've elaborated on for this feature.
Olympus OM-1 "a la carte"
"You're a Rangefinder man" I kept telling myself, "SLR's are not really your thing". I guess thats what makes it all the more surprising that I ended up with two of these, yes two identical cameras within the space of a few days!!! Such is the allure of the Olympus OM-1.
I guess the only real surprise is that I have not done this before.
I won't go in to detail about why I was looking on auction sites for the OM-1, but needless to say I was and I'd identified a 50mm f/1.8 Zuiko Lens along with an OM-1 Body from different sellers, the maximum bids where placed and I was pretty sure they would be winning ones. All that was left to do was monitor the progress of the auction and with luck they would be mine.
Am I the only person, that having found exactly what he was looking for and made a bid, then continues to look for new listings of the same item on a daily basis………..in effect I was looking for trouble and this time I found it.
OM-1 Body with 50mm f/1.8 Zuiko and 35mm f/2.8 Zuiko Lenses. All with original packaging and documents, plus a Lens Hood and Repair Manual.
To top it all off it was owned by a former Camera Repair man. I pondered this turn of events for a short time, was it just unfortunate that this superior set had been listed after I'd already placed bids elsewhere……….no it wasn't, it was fortunate I'd found it. That's how easy it was to turn a negative in to a positive, for me anyway!!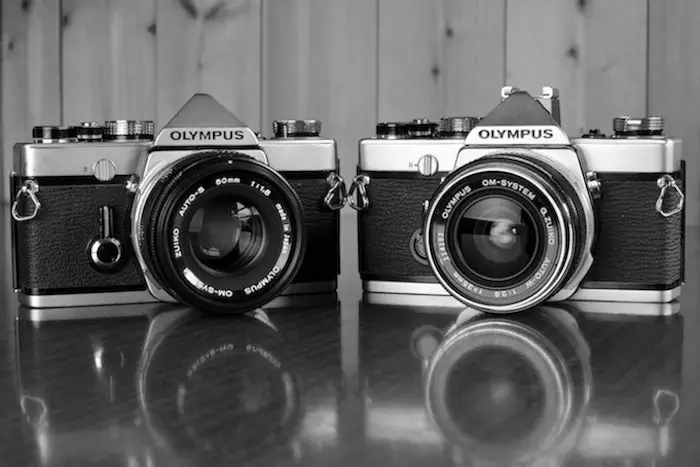 "This is Stupid" I said to myself………having two cameras that look the same……at that moment the Olympus OM-1 a la carte was born!!! I proceeded to take a couple of shots of the camera in its existing condition, for posterity.
At home it is the custom that I get a certain amount of ridicule whenever I proceed to take photographs of my cameras…..I choose to ignore this and focus on the beauty of my subject… :-)
This was probably the hardest part of the exercise, the camera looked so beautiful as it was and it was in such pristine condition the mere thought of doing anything to it was in some ways objectionable, however, onwards and upwards!
Even now I can only look at this image through my fingers…..what was I thinking!
It's well adhered but once you get it started it comes off in one piece, this is good because it makes it easier, bad because you sit there thinking I could put this back on and forget about the whole silly idea, yes I did think that…..but I pressed on, in the end I think it was worth it.
What first got you interested in collecting cameras?
It happened quite by accident, like many others I was shooting with a DSLR and whilst I was happy with the image quality I found the user experience to be cold and unrewarding. I realise it was a bit of a romantic notion but I really wanted a camera I could "fall in love with" one to which I felt an emotional attachment. So, I began to research the alternatives, it was not long before I was giving serious consideration to the Leica M9, however having never used a rangefinder I thought it sensible to buy an old film rangefinder first and make sure it worked for me. In my case I opted for a Yashica Electro 35 GSN, I was in awe of this beautiful and immaculate film camera from the 70's, I began to research rangefinders in more depth, beginning with those from the former Soviet Union then Japan and Germany. I guess at the outset I was seduced by the history of these cameras and had a real desire to experience them for myself, so before I really knew it I was collecting.
Do you have a specific type or brand of camera that you look for?
The rangefinder system is where my main interest lies and whilst I have a few SLR's and TLR's I only occasionally stray. The Yashica Electro 35 GSN that I mentioned earlier was nothing short of a revelation to me, I was so taken with the rangefinder system and the way in which I felt more connected with the camera that I went on to buy the Leica M9, in turn as my enjoyment of shooting film and developing increased I became more interested in the film Leica's
What defines a great camera for you?
Not so long ago I would have answered this question with a long list of technical requirements but thats changed since I began to collect cameras and shoot film. "Uncomplicated" is how I like my cameras at the moment and that's a huge part of why I'm enjoying the film experience. It's most certainly not about the value of a camera, I derive as much pleasure shooting with a Zorki 2c as I do with a Leica IIIf.
Of your collection, which is your favorite camera?
Sometimes that can change with the passing of time, on other occasions a new acquisition will be flavor of the month…..I have a Leica M6 which I've been having great fun with lately. That's probably my favorite at the moment, although I'm really quite smitten with a Leica M5 that came to me as part of a collection which included a 35mm Summicron f/2 V1 that I was chasing. This was a real surprise as I have never been a fan of this cameras appearance but it certainly grows on you.
Do you use these cameras?
I'll be totally honest here, I have a few cameras that I have not gotten round to using yet. But I most certainly would never entertain buying a camera with the sole intention of looking at it, everything I buy is going to be used and whats more its going to get used as often as I can.
And finally, it is all about shooting after all, so what do you like to shoot?
I try not to limit myself to any particular genre, additionally I've found my photographic tastes to be in a perpetual state of flux….I'm sure most photographers experience this. I've attached four images that I think represent me and my photography at the moment.

Lakeview – Leica M6 with 15mm VC Super Wide Heliar f/4.5


Bridge Dynamic – Leica M9 with 15mm VC Super Wide Heliar f/4.5


The Mob – Leica M9 with 50mm VC Nokton f/1.1


Day Dreamer – Leica M9 with Leica 50mm Summilux f/1.4 FLE
More of my camera collection and photography can be found here –
My Website – http://aperturepriority.co.nz/
My Flickr – http://www.flickr.com/photos/52590822@N05/
My Facebook – http://www.facebook.com/pages/Aperture-Priority/106735462760380
Cheers
Jason
Thanks for sharing your thoughts and your work Jason. I love the camera porn shots, they are so well composed. And it it really nice to see a collector that is interested in really using their gear too. Check out the links to Jason sites and please comment, we love it when you do.
Please remember that the images are reproduced with the kind permission of Jason Howe and may not be used or reproduced without permission.
Do you have a collection that you would like to share with the followers of JCH? Send me a mail and lets share your passion.
Remember to comment and get yourself some camera karma.
Cheers
JCH