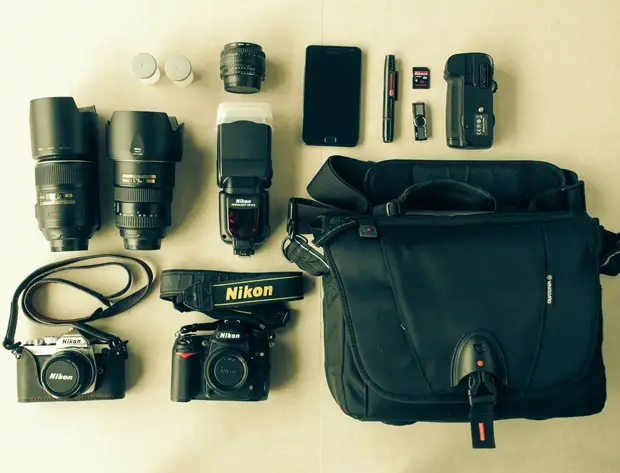 In your bag number 206, Reuben Teo
Today we have a bag from Borneo! Well, Kuala Lumpur, but the owner is from Borneo. How cool is that? Come and see what is in this photographers digital bag.

Hi There,
My name is Reuben Teo from Malaysia. I come from a small town called Kuching in the island of Borneo. I have moved and currently live in the big city of Kuala Lumpur. I am a web designer and also freelance photographer. I've been shooting for about 4 years and I love to travel around. I do portraitures, baby shoots and weddings most of the time. I started shooting when my dad gave me my first DSLR, which was a D80 after graduating from college. After experimenting with landscape photography for some time, my friends told me to do them some favours, that's where I started to venture into weddings and portraitures. This also gave me some opportunities to learn more and meet new people. This bag is my wedding event day camera bag, where I keep and bring my most essential gears. I have another heavy duty bag, and I only use it when I go trekking but mostly just use it to keep some of my vintage cameras because I'm rather busy with work lately. I am currently using a D7000 for most of my shoots.
I love a bag that is not too big but spacious enough to keep all my stuff during events. A smaller bag allows me to move about when it's crowded and it's also easier to change lens with a sling bag too. I love shooting film as well. That's why I have my FM3a and Nikkor 50mm Ai-S lens with me all the time. In the bag, I include some extra films just in case. I don't have the knowledge of developing my own film, but I have a special scanner at home just to scan my films. I also bring along my Galaxy Note to keep me up to date with my schedules and emails.
If you like to know more about my work and what I do, here are some of my links:
Website: http://www.designbar.com.my
Facebook: http://fb.designbar.com.my
Blog: http://reubenteo.blogspot.com
500px: http://www.500px.com/reubenteo
Oh, and you can also follow me on instagram too. Just search for reubenteo.
Thanks
Thanks for sharing your fantastic bag with us Reuben. I like to feature a digital bag from time to time. Check out the links, and make sure you comment.
Keep them coming folks, we need more submissions, so get your bag on Japancamerahunter.com. Send me a hi resolution image of the bag (please make sure it is horizontal) and its contents, with some details about yourself and what you shoot. Oh and don't forget your contact details (twitter, flickr, tumbler et al). Send the bag shots here.
Cheers
Japancamerahunter