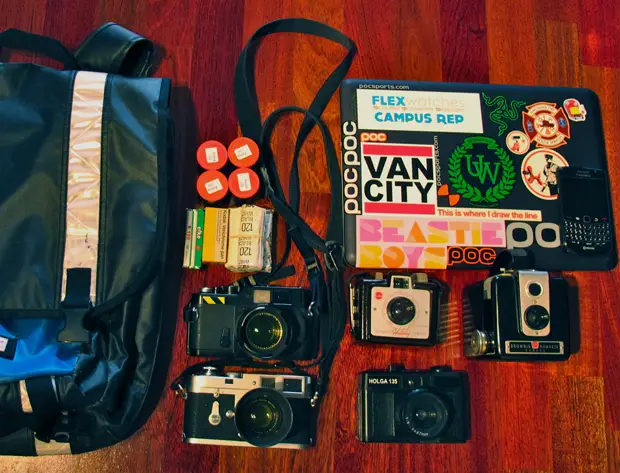 In your bag number 198, Philip Basaric
Todays bag is jam packed full of great gear and it belongs to a sixteen year old! start 'em young I say. Check out what Philip has in his bag…

Hi my name is Philip Basaric and I'm a 16 year old high school student from Vancouver Canada. My father introduced to me to photography at a young age and I have not stopped since. I try and shoot everyday between my commute to school and back but I get the majority of my shooting done during the week. Currently I am shooting exclusively film, specifically 35mm, 127 and 620.
The bag that I use everyday is my Timbuk2 Swig Bag which has served me very well over the past year. One of the benefits of it is that it is water resistant which in a city where it rains so much comes in handy.
Film:
-Fomapan 100 35mm
-Kodak Verichrome pan 127mm
-Efke R100 127mm
-A mysterious made in england 120 film. I respool it for 620 and then use it in my kodak brownies
Cameras:
-Voigtlander Bessa R- My everyday camera. I shoot everything with this camera and love it to death.
-Leica M2- Whenever its nice out I take out the Leica and shoot some rolls with it. Truly a beautiful camera and a pleasure to shoot with.
-Holga 135- Great little camera to just go out and play with often producing pictures that are much better than anything I expected
-Kodak Brownie Holiday Camera- The effort of obtaining 127 film is well worth the time shooting with this camera. I often just experiment with this camera and it never ceases to impress.
-Kodak Hawkeye Camera- If I remember correctly I got this camera at the vancouver camera swap for around 5 dollars and I have to say that its an absolute treat. It has produced some of my best photos and is always fun to shoot with.
Lenses:
-Type 1 Leica 50mm f/2 Summicron
-Carl Zeiss Jena Sonnar 50mm f2.0
Technology:
-13′ Macbook Pro- I am dependant on my laptop to get through my day and I cant imagine life without It. I recently got a keyboard cover that has all of the photoshop tools and shortcuts labeled on It!
-Blackberry Bold 9780- As with most teenagers our cellphones are our lifelines. I use for keeping in touch with friends, keeping records of what I'm shooting, and much more.
Whenever I have the time I upload my scanned photos to flickr and they can be found at:
http://www.flickr.com/photos/philipbasaric/
Regards,
Philip
Brilliant bag Philip, thanks for sharing it with all of us. Love the Beastie Boys sticker on the Macbook too.
Check out Philip's link and make sure you come and comment, it only takes a minute.
Keep them coming folks, we need more submissions, so get your bag on Japancamerahunter.com. Send me a hi resolution image of the bag (please make sure it is horizontal) and its contents, with some details about yourself and what you shoot. Oh and don't forget your contact details (twitter, flickr, tumbler et al). Send the bag shots here.
Cheers
Japancamerahunter