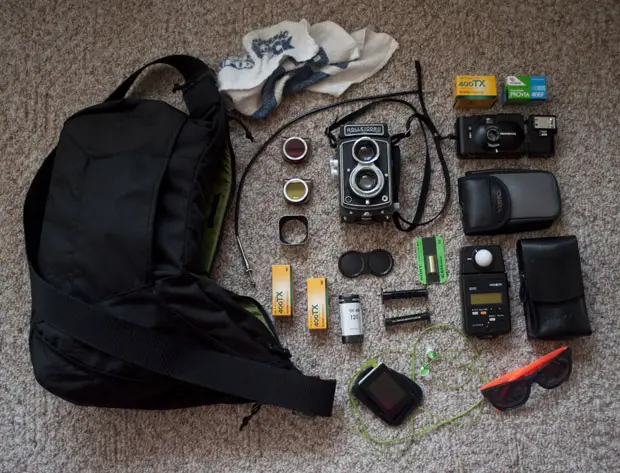 In your bag number 96, Andrew T
Hi everyone, how are you all? I have another bag for you today, this time from Canada. We are getting close to number 100. I don't know about you but I am getting pretty excited about that.

My name is Andrew and I am from rainy Vancouver, BC in Canada. I'm a 21 year old university student and I absolutely love shooting film! I started out using my dad's film SLR in high-school and have never "progressed" to digital photography as I get no satisfaction from the process or the equipment, instead I am stuck in the past and I am loving every second of it! I have amassed a small group of cameras over the past few years, but my absolute favorite kit to shoot with is presented here.
The bag is a Lowepro Passport Sling. It's not the best bag by any means, but it works well enough and I got it at a great discount, so I'm happy.
The first piece of gear up is the Rolleicord III. My favorite camera to use, it just feels perfect in my hands and the images it spits out are out of this world. I always carry it with the original metal Rollei hood and red and yellow filters in original cases. The plastic lens cap is a third-party creation and the towel for some extra protection when in the bag. Also included is a cable release.
Film choice here is Kodak Tri-X for most of my general shooting and Fuji Acros for long exposures at night. Also, two extra 120 spools just in case. I shoot color film too, but mostly during the summer.
Next up is my meter. It's a Minolta Auto Meter III which is absolutely dead on every single time. Other than its plasticy feel I have nothing but praise for it. Always carry a spare battery with it and its original case.
The other camera I like to take along with the TLR is my Olympus XA. The quality to size ratio simply cannot be beat! Amazing pictures, small size and quick handling make this a winner in my book. Always have the A-11 flash on hand for spontaneous late night shots, usually carried in a Yashica-branded point'n'shoot case.
Usually I'll have either black and white film in there, Tri-X is my top choice, or whichever cheap color film I can get my hands on. In this case, some pawn shop Fuji Provia 400F.
Lastly, I always have some tunes with me on my trusty but ancient iRiver Clix, and some free plastic sunglasses for the sun (that one magical day a year in Vancouver).
I love shooting street or being out at night with my tripod and doing long exposures, but a lot of the time I just grab my cameras in my bag and head out to wander the city shooting whatever catches my eye. Visit me on:
flickr: www.flickr.com/photos/atopshootsfilm/
tumblr: atopshootsfilm.tumblr.com/
Cheers!
Andrew
Thanks for your bag Andrew. It is great to see a Rolleicord in someones bag, what a lovely little camera.
Keep them coming folks, we need more submissions, so get your bag on Japancamerahunter.com. Send me a hi resolution image of the bag (please make sure it is horizontal) and its contents, with some details about yourself and what you shoot. Oh and don't forget your contact details (twitter, flickr, tumbler et al). Send the bag shots here.
Cheers
Japancamerahunter