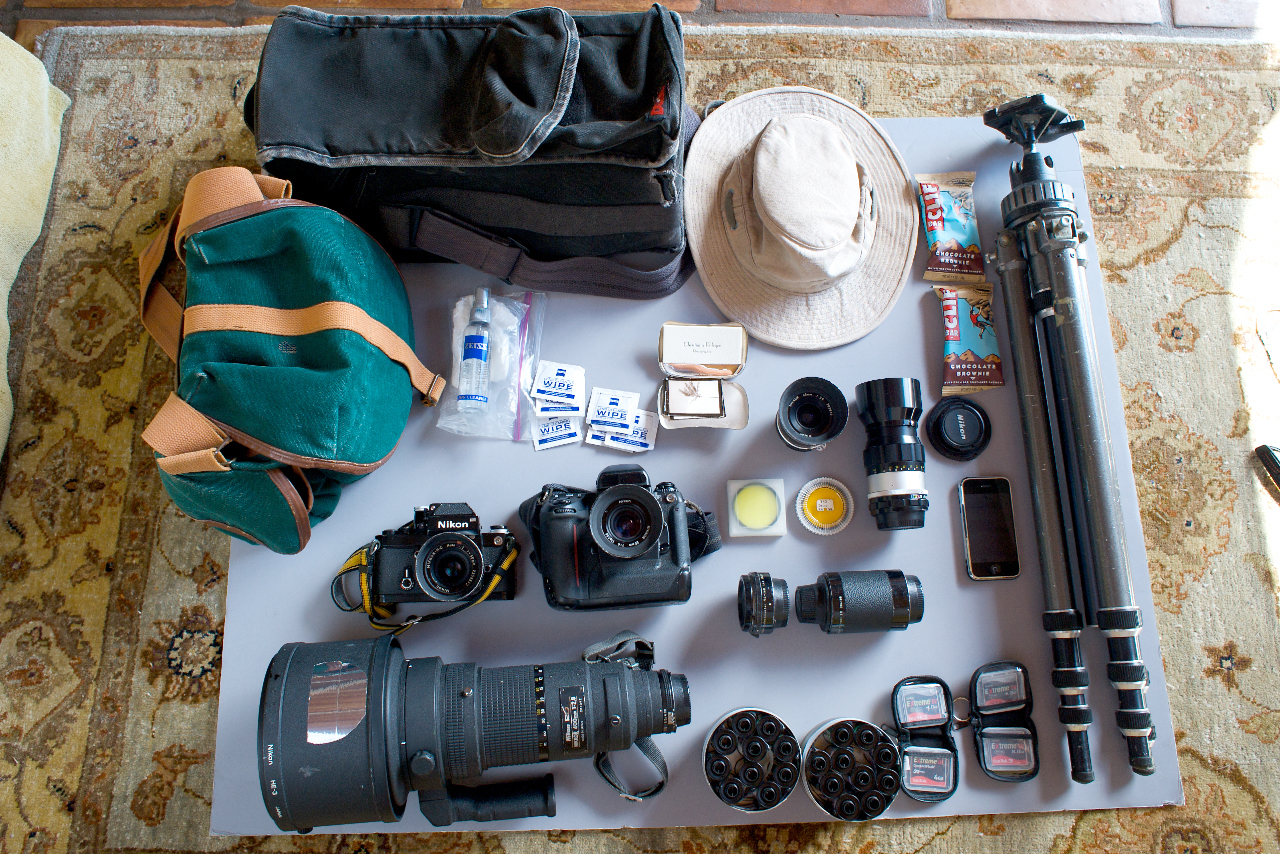 In your bag number 44, Christiaan Phleger
Hey there people, we have an interesting bag for you today. A real pro bag, with a brilliant description. This is the sort of description that I love. And to top it all off, this is coming straight from Hawaii! Fantastic. Over to Christian to tell us all about his bag.
Aloha fellow camera fans, my name is Christiaan Phleger and I am a professional photographer based in Honolulu, Hawaii. I used to do newspaper photojournalism and then I switched to doing photojournalist style weddings about 12 years ago.
This bag set up is for the Pipe Masters surf contest held every year at the Banzai Pipeline on the North Shore of Oahu. I like to shoot the contest out there, its a great chance to shoot the very best surfers at a dramatic and dangerous wave. It breaks quite close to shore, and when the contest is on the crowd can swell to thousands so I like to get there really early and stay the whole day shooting.
This year on the first day of competition the surf was large and really exciting.
The green bag is a Limited Edition Domke F-5 with brown leather trim, I'm glad I snagged two of them when they came out in the late 1990's. I have a few Domke's but I think these are the most handsome, don't you agree? The large black bag is a Domke Large lens bag for the big tele. I don't like to take too much gear, I like to shoot close to the water's edge and sometimes rogue waves come sweeping up the beach, so I attach the bags to the tripod so they are elevated. When one of those waves come I just hold on to the tripod so it doesn't tip over as the wave washes around my knees. Other less experienced photographers aren't so lucky, and I've seen lots of gear sitting in bags on 'dry' sand get washed away. Ever seen a 300mm f/2.8 floating away in salt water? Not a pretty sight.
The large lens is my primary lens for the surf action, a Nikkor 400mm f/2.8 Ai-S ED-IF that I am the third owner of, originally owned by the famous Cory Lum. I got the lens for 3200.00 US in 1994 so I think I got a good return on my investment. I sometimes use the Nikkor Teleconverters TC-14B and TC-301 to give me an (almost) 600mm /f4 and an 800mm f/5.6.
I try to make the other lenses as light as possible, lens speed is not so crucial in the very bright Hawaiian sun. I include an old Nikkor 135mm f/3.5 Q.C, (a very sharp, contrasty and very light lens), a 20mm f/4, a 35mm f/2.8 Ai (the 6 element one, stupid sharp and no distortion), and a 50mm f/2 H.C. These lenses are for crowd shots and overviews, and sometimes I can get up to the judging tower to show that view.
Camera bodies are a Nikon D3 (not shown, used to shoot the photo), a Nikon F5 and a Nikon F2. I carry 5 CF memory cards, 4 and 8 GB size, and shoot Fuji Neopan Acros 100 of which I carry 20 rolls in two Fuji film bulk roll cans. I do my own processing and printing.
Accessories include two yellow filters for black and white, business cards in a fancy holder, Zeiss spray lens cleaner and pre-moistened towelettes, lens cleaning tissue, (lots of salt spray!), Clif bars for snacking, about 2 liters of water, hat, sunscreen and an ancient Gitzo tripod with Bogen head. I keep telling myself to replace the head but it works ok and is stable for the higher shutter speeds I use to shoot surf. I also carry the original Iphone so I can call friends on the mainland to tell them what I'm doing and wave at them as they see me on the Triple Crown of Surfing webcast.
You can see some of my photographs of this years action at my blog at four-silver-atoms.com, my wedding website is christiaanphleger.com, and you can watch replays of the webcast at triplecrownofsurfing.com.
ALOHA!!
Brilliant, what an absolutely fantastic bag and a really great story too. I am loving the huge selection of gear. I wouldn't want to carry it all around, but it is great to see it. Thanks for sharing it with us Christiaan.
Keep them coming folks, we need more submissions, so get your bag on Japancamerahunter.com. Send me a hi resolution image of the bag (please make sure it is horizontal) and its contents, with some details about yourself and what you shoot. Oh and don't forget your contact details (twitter, flickr, tumbler et al). Send the bag shots here Send the bag shots here..
Cheers
Japancamerahunter