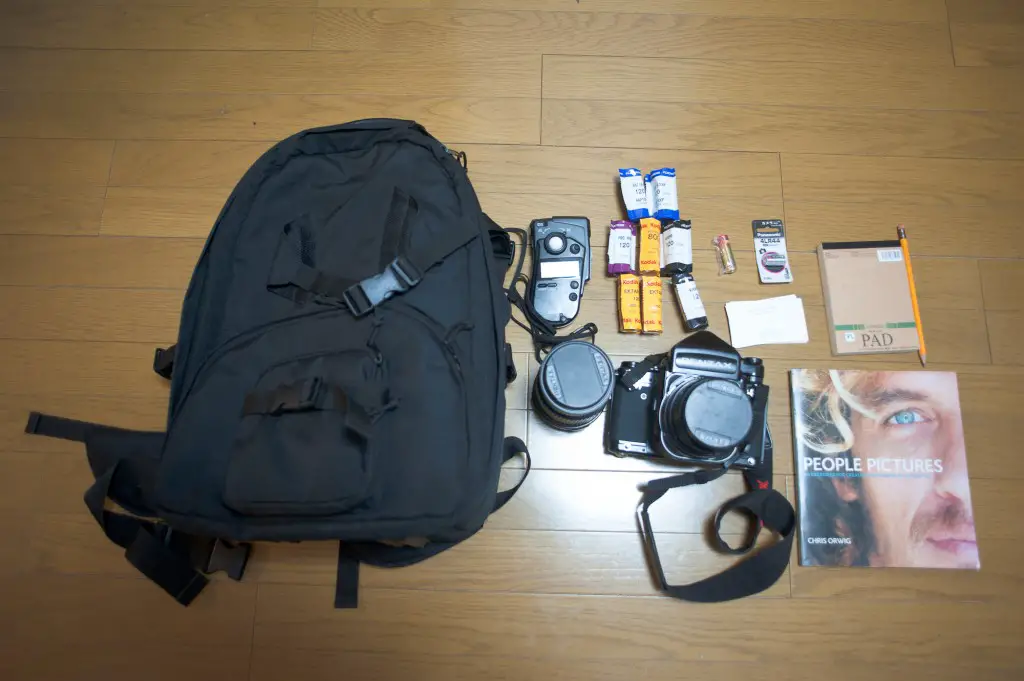 In your bag number 29, Ade from the UK/Japan
Today we have a bag from one of my friends and fellow Tokyo shooter, Ade Ogundanya. Ade is from London, but by ways and means found himself in Tokyo (don't we all?). Take it away Ade:
I'm Ade a.k.a Street Portraitist, a.k.a floatingcamera. I am software developer in Tokyo working for an online advertising company. Of late, I mainly just take street portraits of people I see in the street (not "candid portraits" of girls playing with their keitai, I actually go up and speak to people :) )
All of this is done on medium format and can be found at www.streetportraitist.com.
Contents of the bag from right to left. Got a notepad and pencil to basically write down apeture, shutter and light conditions of each shot. Main motivation for doing this is to check how certain films look in each light and if I am getting the amount of depth of field I wanted for each shot.
Below is Chris Orwigs book People Pictures, very inspirational, I read it for ideas on how to shoot people.
Spare battery for the pentax and light meter and some business cards to give to people after I take their photos.
Next is my weapon of choice the pentax67 with ttl viewfinder. It has a 105mm 2.4 attached to it. Most shots I take are with the 105mm which is about a 55mm on 35mm format.
I carry a spare lens which is 165mm 2.8 which is about about 85mm on 35mm format, I mainly use it for headshots of if I want a tighter shot.
Random rolls of film just incase I end up in a situation where I want to shoot like crazy.
Seckonic light meter. I dont ever use the ttl viewfinder to meter always use the external light meter.
Bag I got for free from my homie Kane (http://www.kanesfeaver.com/).
And thats about it.
Twitter
flickr
Thanks Ade, great to see what you actually shoot with. Always interesting to see inside the bag of a mate.
Keep them coming folks, we need more submissions, so get your bag on Japancamerahunter.com. Send me a hi resolution image of the bag (please make sure it is horizontal) and its contents, with some details about yourself and what you shoot. Oh and don't forget your contact details (twitter, flickr, tumbler et al).
Cheers
Japancamerahunter