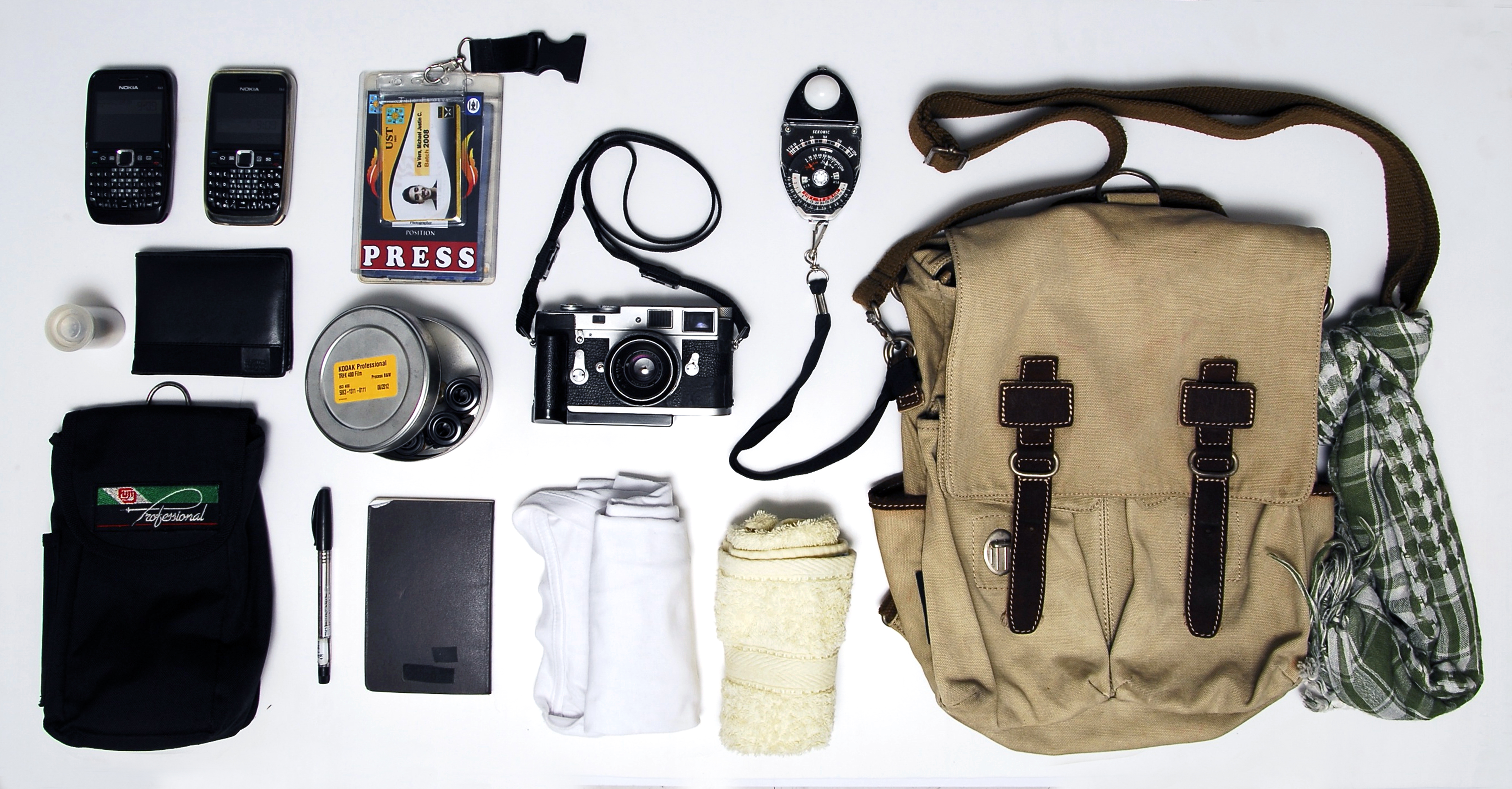 In your bag number 22, Michael from the Philippines
Hello lovely people, hope you are all well. I have another bag that has been submitted, this time from the Philippines. I am really loving this feature, as we get to see bags from all over the world. Michael has submitted this bag, so I shall leave it to him to explain:
I am Michael de Vera, a graduating Communication Arts student in Manila, Philippines. I have been taking photographs for almost four years now. I am specifically inclined to street photography and documentary photography. But above all, I really love holding and seeing the curves, chromes and patinas of classic vintage cameras.
In an ordinary day, this is my most basic set-up:
Satchel
I got this from our old bag chest and I think my father used to own it. It's a rugged khaki satchel with two front pockets, two small side pockets, a rear one, and main big insert. In all my bags, I prefer having a back pocket to secure those things I need to grab quickly. Lately, I have been thinking of replacing this one with a rugged wear Domke F3X. Do you think I should take the plunge? I want something lighter in itself and with a softer material. I heard the F3X would do good.(Note: Yes, I think that would be a great choice. JapanCameraHunter)
Scarf
I tie a pashmina scarf around the satchel's strap. This is particularly handy during sunny or even rainy days, especially when I place my towel between the knot. I have learned to bring this daily from my group of friends from Rangefinderfilipinas.com
Sekonic Light Meter Studio Deluxe III
I borrowed this from my uncle and tied it to the other end of the satchel for instant access. It goes in the satchel's side pocket. Something that's beyond the Sunny 16.
Rugged Leica M2 with grip and Jupiter 12
My daily street set-up. I got it last Summer of 2011 and did not part with it ever since. With enough light, set it to 2 meters, 1/250, and f8.0 and you're good to go.
Old Tin Can of Tri-X 400 Bulk Film with used Film inside
This is where I usually keep my used film.
Extra White Shirt and Towel
Badly necessary, especially during those hot sunny days.
Small Notebook with Pen
For obviously storing notes, and doodles.
A Set of University and Organization Identification Cards
I always bring my handful of IDs I need for entering my campus and taking photographs during events.
Wallet and Old Film Canister with Coins
Usually empty apart from receipts, other paper notes and business cards.
Two Nokia E63s
Oddly enough, I have two of the similar phones, each for a separate cellular operator.
And An Old Fujifilm Pocket Insert
The satchel does not have enough padding; hence I first store the M2 inside this insert then contain inside the bag. Yet, usually the M2's outside the satchel and hangs on my shoulder all the time.
Contact Information
Though I still do not have my own website, you could find me updating my photographs from time to time through my Flickr Or you could also reach the Philippines first and only classic photography community, rangefinderfilipinas.com  which I am a member of.
Thanks very much to Michael for sharing his bag with us. It is a very cool set up and beautifully laid out. It is really interesting to see the different ways that people want to present themselves.
Keep them coming folks, we need more submissions, so get your bag on Japancamerahunter.com. Send me a hi resolution image of the bag (please make sure it is horizontal) and its contents, with some details about yourself and what you shoot. Oh and don't forget your contact details (twitter, flickr, tumbler et al).
Cheers
Japancamerahunter