In your bag number 15, Angela from Canada
Another day, another bag, this time from Canada. Keep them coming folks, love to see bags from across the globe. But we need more more more.
Over to Angela;
Hello, my name is Angela and I live in the city of Winnipeg in Canada. I've been here for the past 8 years with my family.
Aside from that photography has been my hobby for the past 6 years (probably more than that when you count how old am I when I started literally playing around with my father's Polaroid). I used photography mainly to update my friends and relatives that we left behind, but now it has evolved into a form of hobby, art, self-expression, experimentation and social awareness. I just had my first exhibit last April and it was great! I'm looking forward to do more of these and share to people what I like to do.
On to the contents:
Bag/s
I use two types of camera bag for "everyday" use, a no-brand messenger bag I got from ebay and a lowepro camera messenger bag. I use the brown one if I'm only bringing one unit and nothing else (aka no fuss) but for a regular photowalk with friends or if I travel with my family I bring the black one.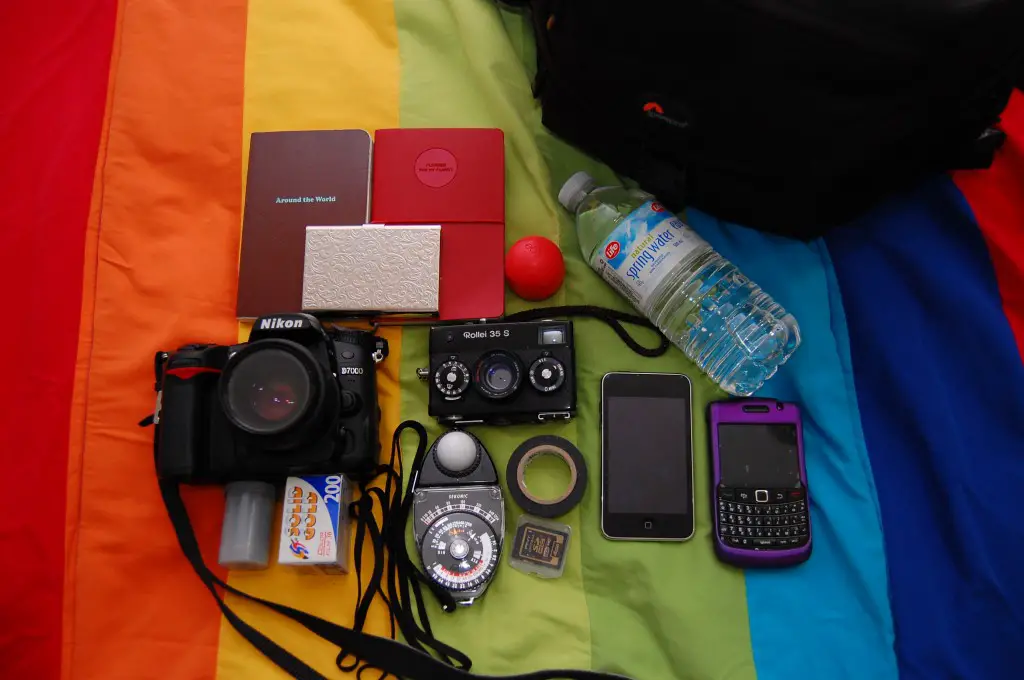 Most of the time I bring a shoulder bag with a point and shoot with me since I work during the days and shoots on the weekend (time permitting).
Water
Notebook and planner
Always have these to jot down notes, to plan dates, etc.
Business card holder
EOS Lip Balm
Even my lip balm relates to photography (this was unintentional though)
Nikon D7000
My digital unit varies from this and my lovely D40. This is the one that's stuck in my bag at the moment.
Rollei 35s
I have different types of film camera. I always make sure I have one film unit with me. At the moment this is what I have since I have to use up the film (it's been inside since August).
Film and Memory Card
Back-ups don't hurt at all!
Sekonic light meter
I'm learning how to understand light more so I always make sure I bring my light meter with me. Even if my camera/s have a built in meter with them I find that this helps me learn how to meter with my eye and my head. :)
Electric Tape
Always in my bag especially if I'm shooting exclusively in film
iPod and Phone
I always travel with music on. Most of the time I bring my iPod classic but if I'm shooting I bring the touch unit since I have some photography apps that I find helpful when I'm on the street or in the dark room
Contact info:
I do have a blog called What if no one's watching?
Also a twitter
and a Flickr account (not updated religiously) wildphotochase
Thanks for sharing your bags Angela, very interesting stuff. Like seeing classic cameras used next to modern cameras too.
Keep them coming folks, get your bag on Japancamerahunter.com. Send me a hi resolution image of the bag (please make sure it is horizontal) and its contents, with some details about yourself and what you shoot. Oh and don't forget your contact details (twitter, flickr, tumbler et al).
Cheers
Japancamerahunter