Camera Geekery: Solarcan
Now I am not usually a Kickstarter kind of guy, but I do rather like this one. Solarcan is actually already nearly funded, but a little push wouldn't hurt for this cool product. I quite fancy one myself.
Born from a love of photography, art & astronomy Solarcan is a unique camera designed to produce extreme time exposures that capture the Sun's path across the sky
Over several months of planning, designs, redesigns and one almighty learning curve we're finally ready to introduce Solarcan: a world first in terms of mass-produced solargraphy camera!
Take a look at the finished product… We think it looks quite neat!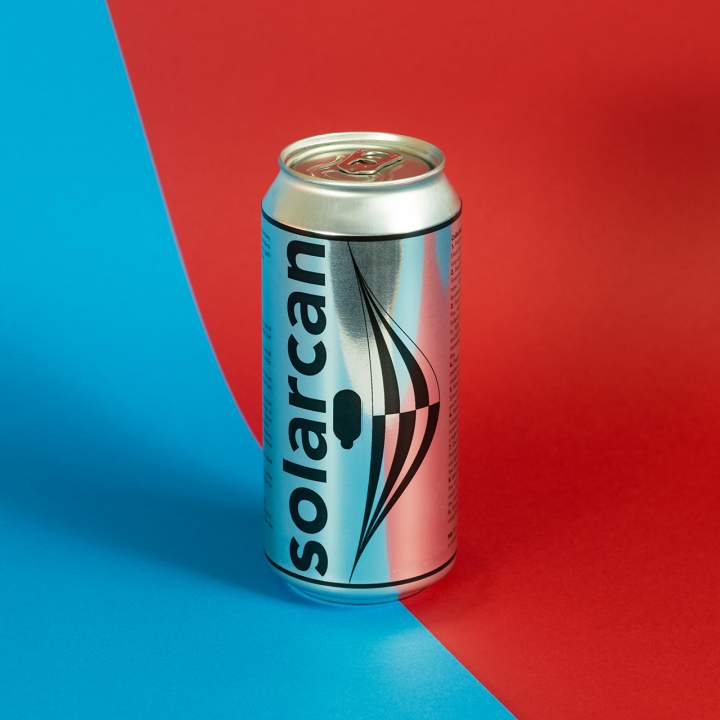 Wait… What does it do exactly?
Don't be confused by the concept. In reality it's remarkably simple. All you'll need to get started is a sturdy post or window that faces the Sun. Everything else is included in a single Solarcan package!
Once set up the Solarcan will capture the Sun's path as it traverses across the sky. Every day the Sun will rise slightly higher or lower depending on the season and create a new path. Over weeks, months or even years, depending on your patience, a beautiful image will begin to form inside the Solarcan.
Here's some experimental images we've created with our prototypes: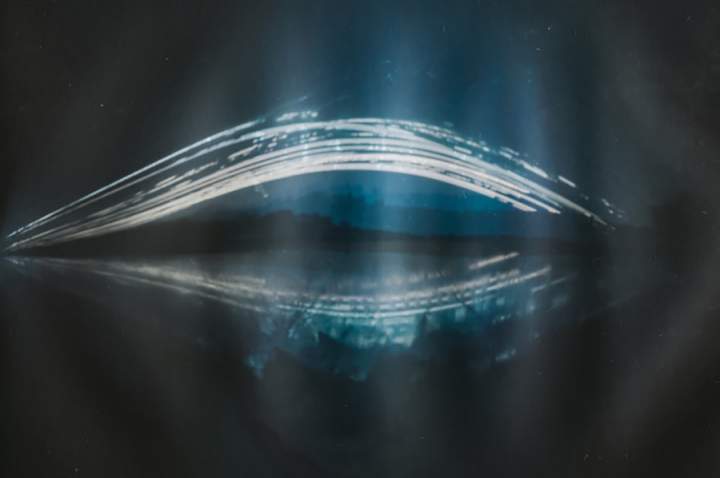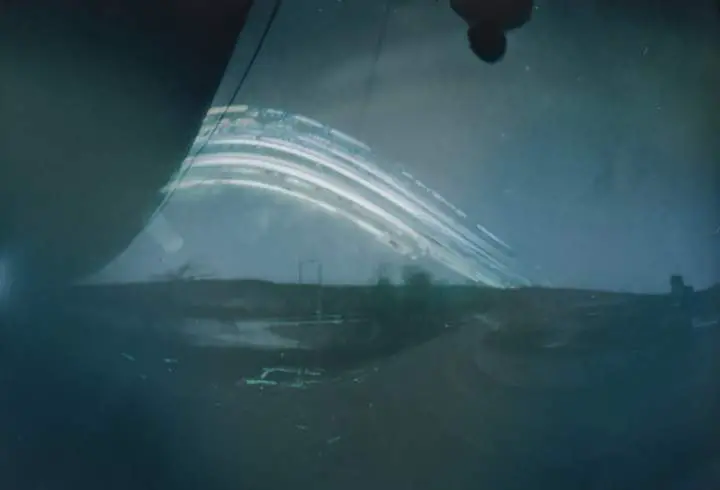 OK, but how does Solarcan work?
Inside the Solarcan is a 5×7″ piece of high grade Ilford photographic paper. Once the black tab (pictured) is peeled away, revealing the pinhole lens, light can pass through. Over time this will gradually scorch the path the Sun is taking through the sky. Because the Solarcan is machine sealed no liquid will pass through to damage the paper inside.
Once you've run out of patience (hopefully after several months) you simply remove the photographic paper from inside and scan or snap with a camera and invert to see your final image!
What's really great is a complete set of instructions are included on the Solarcan body itself.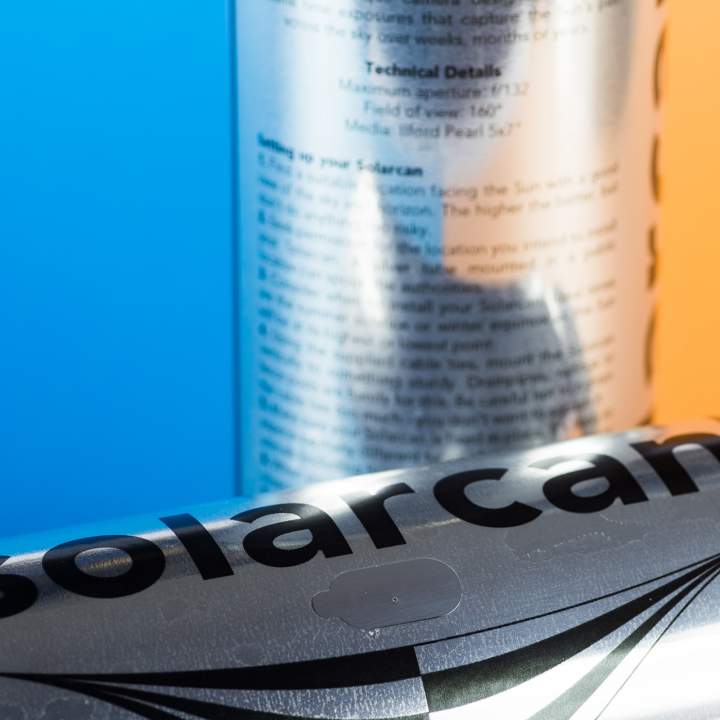 Right, but why does it look like a beverage can?
Neat huh? We're big fans of repurposing household objects and with the standard 440ml drinks can we couldn't resist. As it so happens the shape and size is a perfect fit for a standard paper dimensions. The camera's design is effectively ready made – however, sourcing virgin ones and the machinery required to make them complete was one of the largest challenges we had to overcome during the making.
What are the specifications?
Maximum aperture f/132
Field of view 160°
Media: Ilford Pearl 5×7″
Lightweight
2 x 500mm cable ties
Cylinder box for safe keeping
Couldn't I just build one of these on my own?
Yes you could and we absolutely encourage you to do so if you have the supplies. Solarcan is a one stop solution whereby no extra tools, knowledge or photographic equipment is needed to create a stunning long exposure photograph. With the instructions on the side it's practically fool proof!

Who is the intended market?
If you're interested in creating art, science experiments, understanding photography more or even Space then this is for you. It is as much fun for children as it is for adults and even professionals. Ideally in the future some day we'd love to see them for sale in science museum gift shops! *hint hint, wink wink.*
Can I add one to my camera collection?
You sure can! Each one of the first 1000 produced will be numbered individually on the base of the Solarcan. Want a super-low number for your collection? Check out the special rewards to the right of this page.
Here's a few more Solarcan images which you are free to share on social media. Use the hashtag #Solarcan if you do so we can follow its progress.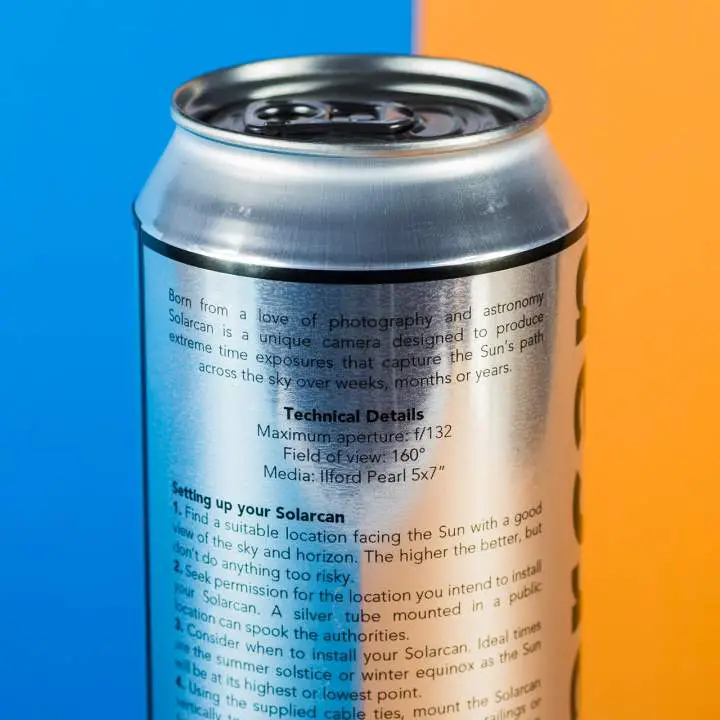 Hey, we're also on social media. If you're backing us we'd love to see your support there:
Instagram
Twitter
Facebook
Website
Thank you!
If you decide to back us, then thank you from the bottom of our heart. Creating the Solarcan and bringing it to a stage where we're confident enough to run a Kickstarter was an achievement itself. We also hope it doesn't end here and look forward to the building of a new community of like-minded experimental photographers, scientists and artists!
You can go and see (and support) the Kickstarter by clicking here.
Yours faithfully,
Sam Cornwell. Photographer, artist, astronomer and now… inventor.
This is a really cool project. I have seen these before, but not one that looks like a beer can. Hopefully it will not get swiped by your local inquisitive drunkard.
JCH