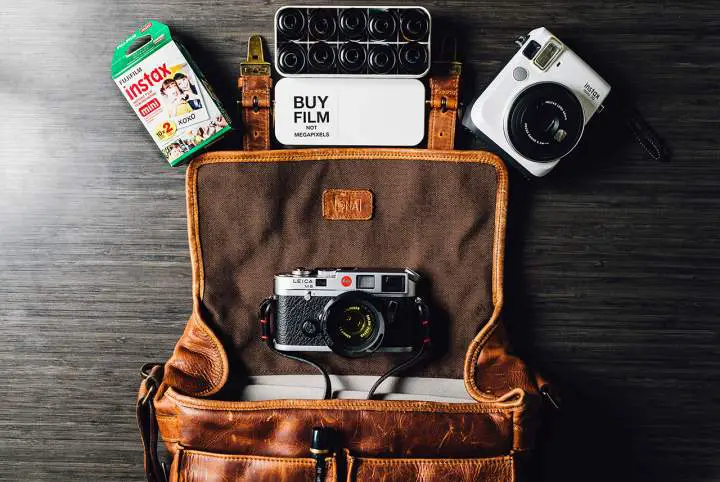 In your bag No: 1355, Jordan Castelan
Jordan has been on the site before, sharing his work with us. And now he is back to share his bag with us. And what a beauty it is, pure eye candy. Check it out.
Hey guys I'm J and I'm back with a bag submission this time.
I was fortunate enough to have some of my work featured by Bellamy earlier and I thought it was time for me to finally submit my bag.
This is primarily my travel bag and I couldn't be happier with it.
An ONA Leather Prince Street in Antique Cognac – An amazing Christmas Present my girlfriend recently got me. If I needed to I could probably fit my life into it and still not have it appear over burdening. Everything about this bag just works and it definitely feels like a life long purchase.
A Leica M6 – What can I say about this camera that hasn't already been said? It's a work horse, trusted and steady. With that being said it's definitely missing something. I'm lucky enough to also own a 1966 M4 and everything about that camera does feel right. I always thought purists were sitting on their high horses about pre-M5 Leica cameras but they might actually be onto something……can't beat the convince of that in camera meter though.
A Voigtlander Color-Skopar Pancake 35mm f/2.5-M (PII) – This lens is stunning. Would buy again. If they made this lens for every mount I have a camera in I would buy another copy of it for each.
A Yellow Filter – I've been shooting a lot of black and white lately which makes this a must have for me.
A JCH film case currently filled with
1x Tri-X

1x Delta 3200

1x Agfa Infared 400s

3x TMax 100 

4x HP5 Plus

Not pictured but also in my bag and quickly becoming my favorite film stock are two rolls of Rollei Retro 80s.

A Fuji Instax Mini 70 and film double pack – A cheap and people friendly camera that's turning into a burning money pit of addiction. This camera is entirely to much fun for it's own good. 

Also not showcased
A lens pens

Spare batteries

A pack of tissues

And a mini lighter

I'd love for you to look at more of work which can be found listed below.
Instagram – @JCastelanPhoto
My webpage – JCastelan.photography
and my previous feature on JCH – Get Featured Jordan Castelan
Thanks once again Bellamy and I hope to run into some of you out there one day.
– J
Thanks for sharing your bag with us, Jordan. That bag looks very nice, I might have to have a look at them.
Check out the links and make sure you come and comment.
Keep them coming folks, we need more submissions, so get your bag on Japancamerahunter.com
Send me a high resolution image of the bag. Optimum size is 1500px across. Please ensure there is a bag in the shot, unless you don't use one. The more you can write about yourself the better, make it appealing and tell us a story. Snapshots of your gear with a camera phone and no words will not be featured.
Oh and don't forget your contact details (twitter, flickr, tumbler et al). Send the bag shots here. Please understand that there is a long wait now as there is a backlog of submissions. Not all make the cut, so make sure yours is funny/interesting/quirky. And please make sure the shot is of good quality, as the ones that are not do not go up.
Cheers
Japancamerahunter