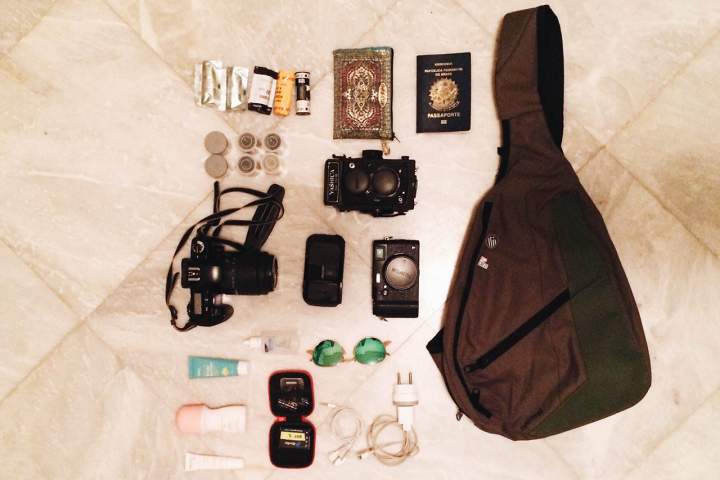 In your bag No: 1343, Rafaela Petean
It makes me feel really proud to see people from all over the works sharing what is in their camera bags. I never had any idea that it would become so big. It is bordering on a social experiment. And this time we travel to Brazil to check out a brilliant students bag. Check it out.
I'm a 22 year old film student from São Paulo, Brazil. I start my last semester in February! In the film industry you have tons of fields to work in but since the beginning I knew I wanted to be the one behind the camera. I'm a diretor of photography and film is my passion. I shot with the Arri BL4 35mm in the beginning of last year and fell in love with the analog world. 
I don't know if I have a "style" of photography yet, I love to photograph people. Usually on the streets. 
On my daily life in São Paulo I always have a camera with me. The Fuji x100t or my Olympus Stylus. 
Right now I'm in a village in Greece, I've been travelling here for about 2 weeks, still have 2 more weeks to go. Greece is such a beautiful country, and it's been an amazing experience. So now onto the bag:
– Newfeel sling bag
– lip balm, deodorant and moisturiser 
– extra batteries and memory cards 
– earphones and phone charger + adapter 
– sunglasses 
– neosoro (decongestant)
– Fujifilm X100t
– Olympus Stylus
– Canon SLR EOS 500
– Yashica Mat 124B 
Films:
– Tri X 400 (35mm)
– Superia 400 (35mm)
– Fuji color 200 (35mm)
– Portra 400 (120mm)
– Ektar 100 (120mm) 
– Acros 100 (35mm,120mm) 
– Lomography film (120mm) 
– Provia 100d (35mm) 
– Passaport 
– small bag of money and ID 
If anyone wants to check out some of my pictures, both digital and analog: 
– https://facebook.com/RafaelaPetean
– https://www.flickr.com/people/haffie/
Thank you for all the work you put into the blog, I'm a huge fan! 
Thanks for sharing your bag with us, Rafaela. It is very cool to hear how the Arri brought you to film. What an awesome way to start, Best of luck with your studies.
Keep them coming folks, we need more submissions, so get your bag on Japancamerahunter.com
Send me a high resolution image of the bag. Optimum size is 1500 across. Please ensure there is a bag in the shot, unless you don't use one. The more you can write about yourself the better, make it appealing and tell us a story. Snapshots of your gear with a camera phone and no words will not be featured.
Oh and don't forget your contact details (twitter, flickr, tumbler et al). Send the bag shots here. Please understand that there is a long wait now as there is a backlog of submissions. Not all make the cut, so make sure yours is funny/interesting/quirky. And please make sure the shot is of good quality, as the ones that are not do not go up.
Cheers
Japancamerahunter