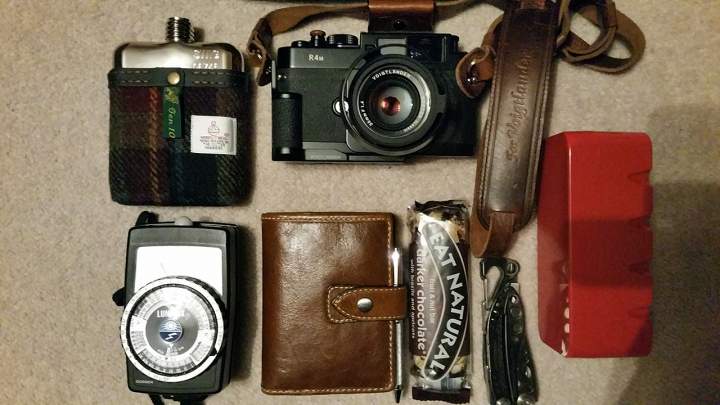 In your bag No: 1332, Andy Cowman
Andy has a very classy bag for us today. Not only has it got a cracking camera inside, but other delights too. I am of course talking about chocolate snack bars. Though the hip flask looks promising too…
My name's Andy and I live in the uk.
I've discovered your fantastic site back in September so I'm a newbie to JCH, but I check the site every day now so I hope I'm making up for it!
I've been into photography as a hobby for quite a few years. The last two or three of which I've been using fuji's x-e1 followed by the x-e2 and a couple of the excellent fuji lenses.
I think it's a fantastic system but back in September I decided I wanted to return to 35mm photography mainly as I wanted to have some actual tangible negatives as opposed to digital files stored on a computer, and also I was kind of getting bored of the use of photoshop/critical sharpness/digital look and feel to my photography.
So I sold some guitar pedals (my other hobby) and bought the last brand new voigtlander bessa r4m in the uk along with the 35mm f1.4 nokton.
I'm hoping to add the 21mm f4 lens to the setup next year when I get some pennies saves.
I've always fancied one of the voigtlander bessa rangefinders and figured it would be a good system to run alongside my fuji setup.
I'm exceptionally pleased with it, and have just received a Patterson film processing kit as a Xmas present with the ultimate aim of turning our cellar into a darkroom next year.
Anyway… I thought I would submit a couple of pics of my 35mm bag setup to your great site, hopefully it's of interest to your readers.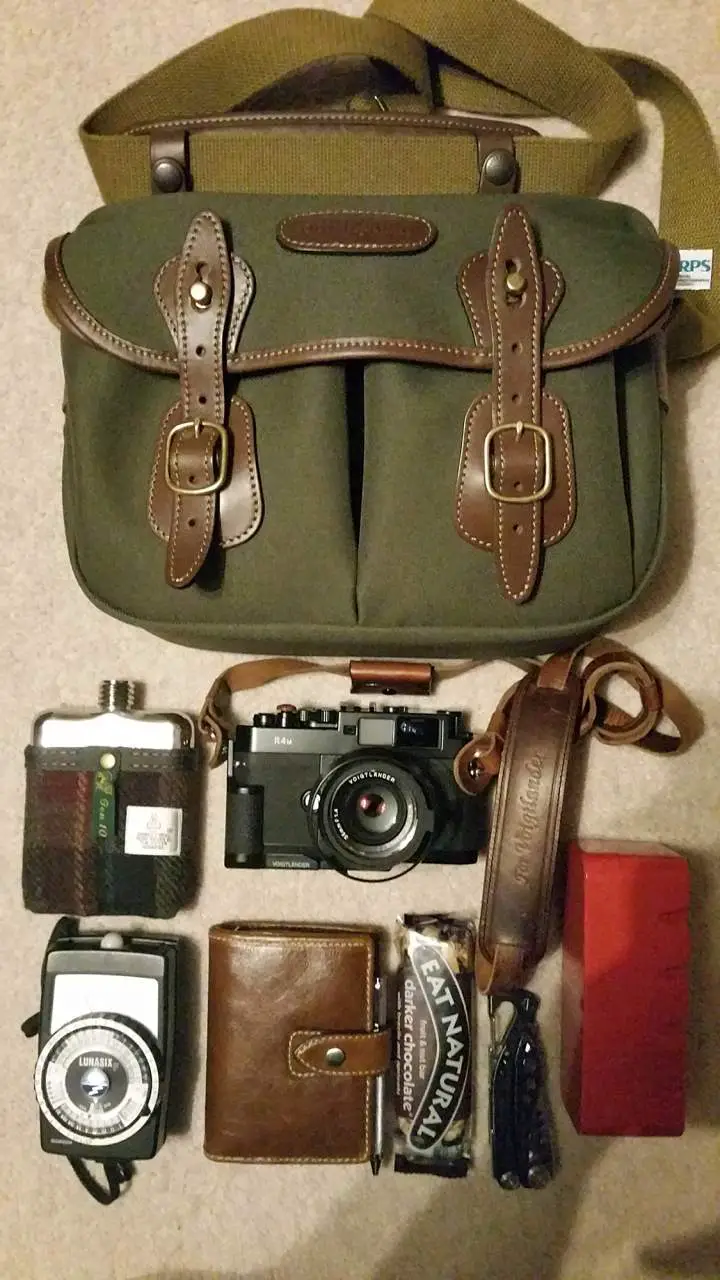 The bag itself is a billingham hadley small in sage/chocolate then:
Voigtlander bessa r4m with 35mm f1.4 nokton and luigi leicatime deluxe strap attached.
Gossen lunasix f
Swig hip flask with Harris tweed cover and a lovely 15yr old single malt inside
Filofax mini leather notebook
Cereal bar
Leatherman carbon skeleton
Japan camera hunter film container with hp5 and tri-x inside.
Thankyou so much for the great work you do on the site! It's very much appreciated!
Happy new year to all!
Andy
Thanks for sharing your bag with us, Andy. I wish you had shared some links too. What's in the flask? Highland? Speyside?
Please make sure you come and comment.
Keep them coming folks, we need more submissions, so get your bag on Japancamerahunter.com.
Send me a hi resolution image of the bag. Optimum size is 1500 across. Please ensure there is a bag in the shot, unless you don't use one. The more you can write about yourself the better, make it appealing and tell us a story. Snapshots of your gear with a camera phone and no words will not be featured.
Oh and don't forget your contact details (twitter, flickr, tumbler et al). Send the bag shots here. Please understand that there is a long wait now as there is a backlog of submissions. Not all make the cut, so make sure yours is funny/interesting/quirky. And please make sure the shot is of good quality, as the ones that are not do not go up.
Cheers
Japancamerahunter