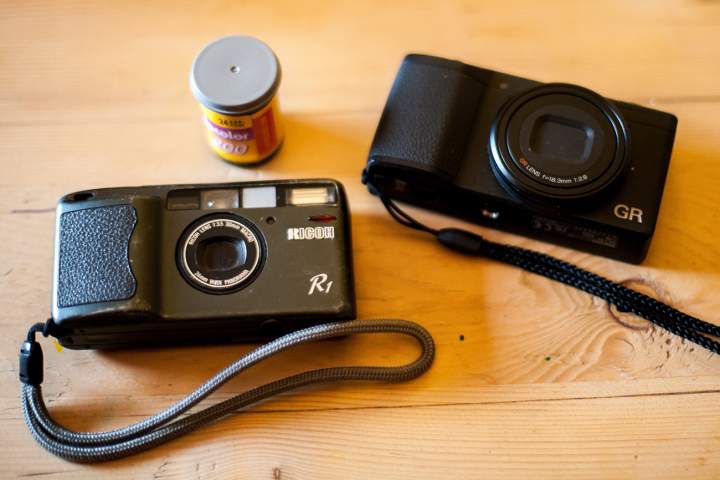 In your bag No: 1198, Dank Spangle
Dank is back! And this time without a bag. The last time Dank was here he carried a big old bag with lots of stuff. Now his outlook has changed and he has gone with this minimalist setup. Check it out.
Having hoiked big cameras around for years, I've recently been converted to minimalism, and to wide angles.
Up until my conversion my regular gear, which I carried pretty much everywhere, was an SLR rucksack containing a 1Ds Mark II, a 50mm 1.4 and all sorts of bits and bobs to go with them. And whatever film cameras I was playing with at the time.
If I wanted to go light I'd pack a Low-Pro mini-magnum with as many cameras as I could squeeze in (see my previous 'In your bag' entry).
Then I bought a GR digital. Brilliant. Its wide-angle, arms-length world has given me a new way of approaching photography. And it fits in my pocket; no bag.
(Do I miss the narrow depth of field a big sensor and f1.4 gives? Yes. But it means I'm challenged to look for something other than separating my subject using depth of field to give my pictures impact.)
The other effect of the GR has been to make me revisit Ricoh's film cameras. The GR has opened my eyes to Ricoh's rare understanding of how people use cameras; they give you all the features you need and put them in the right places.
That said I still don't really get on with the GR1 family… and I'm not sure why… perhaps I just prefer a low-rent film camera.
Talking of which, my real discoveries have been the R10 (with its must-have 'print WORLD PEACE on your pictures' feature) and the R1 with its ambitious wide angle mode.
It's the wide angle mode (I've glued the panorama curtains open) that puts the R1 in my pocket with the GR. They compliment each other nicely.
So that's a camera in a pocket and a camera in hand. And a spare film.
(If I'm away for a while I'll add a charger and a memory card for the GR and a spare battery for the R1.)
I've written about the R1 here:
http://www.dankspangle.com/2015/04/shonky-ricoh-r1/
My GR thoughts are here:
http://www.dankspangle.com/2015/03/ricoh-gr/
You'll find ramblings about my other cameras on my site, including the 1Ds, the GR1 and the R10.
My Flickr page is here: https://www.flickr.com/photos/dank_spangle
Yours
Dank
Thanks for sharing your bag with us, Dank. Interesting read on your thoughts on the R1. Thanks for sharing.
Check out the links and make sure you come and comment.
Keep them coming folks, we need more submissions, so get your bag on Japancamerahunter.com.
Send me a hi resolution image of the bag. Optimum size is 1500 across. Please ensure there is a bag in the shot, unless you don't use one. The more you can write about yourself the better, make it appealing and tell us a story.
Oh and don't forget your contact details (twitter, flickr, tumbler et al). Send the bag shots here. Please understand that there is a long wait now as there is a backlog of submissions. Not all make the cut, so make sure yours is funny/interesting/quirky. And please make sure the shot is of good quality, as the ones that are not do not go up.
Cheers
Japancamerahunter