Camera Geekery: Dream Lens Custom M3
I often get to see some really cool items, and sometimes I like to share them with you too, but I cannot share them all. But then some things come in that just cannot be ignored and I have to show you. This is one of them.
A while back, after making the Shiro Edition M2, I got a lot of people deciding that they wanted their own custom Leica. Whilst all of them are beautiful in their own right, this one stood out in particular as something really special. This was not just a camera, but a lens too.
This is the Dream Lens Custom M3. And what a beauty it is.
When we where going through the process of putting this camera and lens together, there were certain points that the customer was very specific about, the details were very important for him. The right gloss to the paint, the right colour mix for the infill script. Everything had to be just perfect.
But it wasn't that he just wanted an M3, he wanted the 50mm 0.95 Canon lens (converted to M-mount) to match the body as best possible, as his plan is to shoot this combination without ever removing the lens. The paint had to match and the lens had to match the body too. And I think it has turned out perfectly.
The camera leather was also an important choice for the customer, and the eventual decision on small hide lizard skin really works with this particular combo, we went through about 6 different colour versions (there are over 100 leather colours available). The yellow and the red matching on the body and lens too is a particularly nice touch.
There was a lot of back and forth with this camera, as I am sure you can imagine, with paint samples and swatches to be checked, but the final result after 3 months of work is nothing short of spectacular. One of my favourite details on this particular camera is the frame counter, which has been changed to black with red infill. To me it is that level of detail that really sets something like this apart.
And before you all shout 'shelf Queen', I can assure you this will not be. The customer wanted this camera personalised so that he can use it and feel that it is really 'his' camera. This camera will most definitely be getting some use.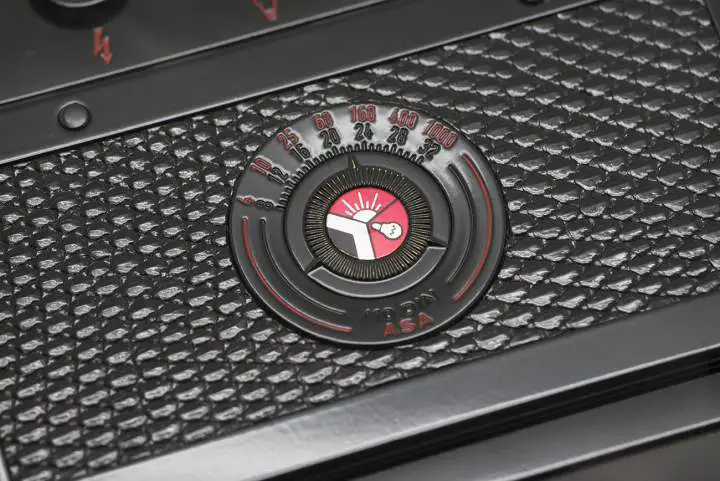 Getting a customisation like this for you camera doesn't come cheap, but the results are nothing short of spectacular. I have a couple of special cameras of my own and I know what I want to get done next. But what about you? What would you do? What camera and what combo? Oh, and don't say Hello Kitty, we have all see that.
If you would like to get a camera like this (or something even wilder) made for you then contact me and we can make it happen.
Please understand that not all cameras can be repainted due to the materials used to manufacture the camera. If in doubt, please ask.
Thanks
JCH