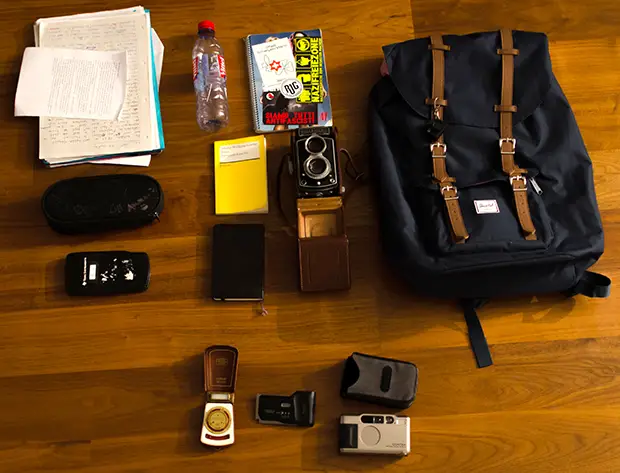 In your bag 1130, Akira
Today we get to have a peek inside one of the coolest schoolbags I have ever seen. Check it out.

Here's my everyday schoolbag:
I'm a 17 years old student from Bern, Switzerland.
On the upper half of the photo is my everyday school bag including my camera, which I like the most. The camera gets changed whenever I feel like using something else.
On the lower half, I have a compact camera and a lightmeter, which I always carry in my winter coat. Fortunately it got big pockets.
I carry only one roll of film, which resides in the camera. At the moment it's a Kodak Tri-X (35mm) and a Delta 400 (120).
The upper half:
– Bag. It's a Herschel bag, which I have for 3 reasons. 1: It looks good 2:It's waterproof and 3: Mijonju has it too. On the strap I have a key chain in form of a camera. It blinks and makes shutter noises.
– Camera. A Rolleicord, which I bought for a very low price. It's my one and only beloved medium format camera.
– Yellow book: A copy of Faust from Goethe. We read it in school and now I want to reread it in my free time.
– Moleskine: Holds my to-do lists. Without it I'm lost.
– Agenda: Just an agenda. The stickers on it are more interesting. Check out the "Reitschule" if you should be in Bern one day.
– Water bottle: To stay hydrated.
– Calculator: Used in school, or if I have to calculate how much money I've got left to spend on photography.
– Pencil case: Used in school.
– Sheets: Notes and so on.
The lower half
– Camera: A Contax T2, which I got for free from a friend. He found it in his grand-dad's attic.
– Pouch: Protecting the camera from scratches, when I have my keys or other things in the same pocket.
– Data back: A data back for the T2, which I found in a camera shop for 10 bucks. I love having the date on photos.
– Light meter: An elegant Zeiss Ikon Ikophot. I use it all the time to train my light reading capability. Love the small size and leather case.
Write me if you're shooting film and you live near Bern. _[email protected]
Grüezi,
Akira
Thanks for sharing your bag with us, Akira. A setup I wish I had been able to use at 17.
Check it out and make sure you come and comment.
Keep them coming folks, we need more submissions, so get your bag on Japancamerahunter.com. Send me a hi resolution image of the bag. Optimum size is 620×473. Please ensure there is a bag in the shot, unless you don't use one. The more you can write about yourself the better, make it appealing and tell us a story. Oh and don't forget your contact details (twitter, flickr, tumbler et al). Send the bag shots here. Please understand that there is a long wait now as there is a backlog of submissions. Not all make the cut, so make sure yours is funny/interesting/quirky. And please make sure the shot is of good quality, as the ones that are not do not go up.
Cheers
Japancamerahunter