Get Featured: Saiful Azri
Saiful has a really beautiful project, sharing with us the dying art of Chinese opera on the streets of Singapore. Come and check it out.

My name is Saiful Azri and I am currently an undergraduate at the National University of Singapore.
Film photography started by accident for me when I found a Nikon FE2 that belonged to my dad. I looked it up on Google and found out the same camera was used to shoot the iconic Tank Man of Tiananmen Square photo. Somehow this was fascinating to the history major in me and I guess photography for me right now is merely a means to document something before it is lost.
In Singapore where I come from, everything moves and changes very fast. Rapid modernization has led to the disappearance of familiar places, places we grew up in and exaggerated the sense of nostalgia in younger Singaporeans.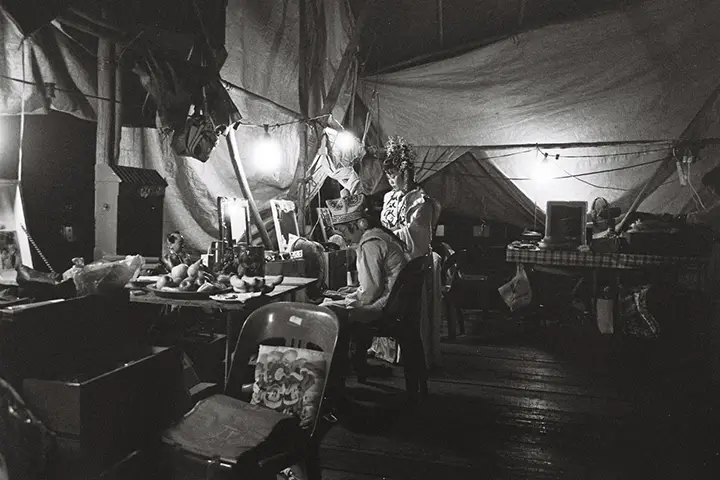 Chinese Opera shows used to be a strong force in bringing the community together and provided a fixed place in society as an avenue for social interaction but this has gradually disappeared.
The photographs came about from a school project and represent my attempt to capture the dying art of Chinese Opera.
Every aspect of opera nowadays highlights its temporal nature, precariously hanging onto its place in Singapore's modern society, from the temporarily constructed opera stage to the audience and actors who comprise mainly of elderly citizens.
I hope by sharing these photos, viewers will get to see a different side to Singapore, a side that deserves mention before it disappears completely.
Thanks,
Saiful Azri
Thanks for sharing your work with us, Saiful. This is fascinating to see, a long standing tradition that brings the community together. I hope people realise the value of this and don't lose it. I wish that you could have shared some links with us.
Come on, share with us what you have and get yourself featured.
Click on this link and send in your project/work: Get Featured. *I am looking for mainly projects, not individual images*
Oh, and click here to see a few of the photographers that have been on the site before https://www.japancamerahunter.com/?s=featured
Please make sure you come and comment. Polite and constructive critique is welcome, offensive and disrespectful comments will be moderated.
Thanks
JCH