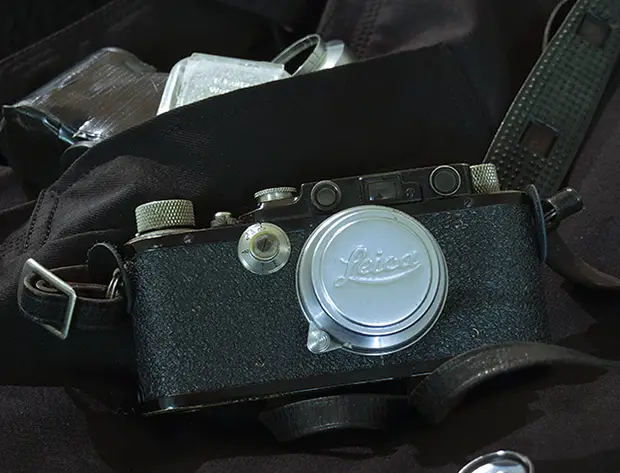 In your bag 1000, Various
So here we are my friends. Number 1000. The biggie. But I couldn't really decide on which bag to feature, so instead I decided to feature a whole load of bags. I hope you enjoy them.

This is it. Number 1000! It has been a long road to get here but we made it. There have been all kinds of bags featured during this time and I was really struggling to figure out what to have for the 1000th. In the end Dan K suggested that I do a big old load of bags from some of the people that have helped the site and add a few big names in there too. Well, that suits me, as there is a lot less pressure on me to make an epic bag, hehe.
So here it is. Not one, not two, but eight bags! This is going to be Epic.
Dan K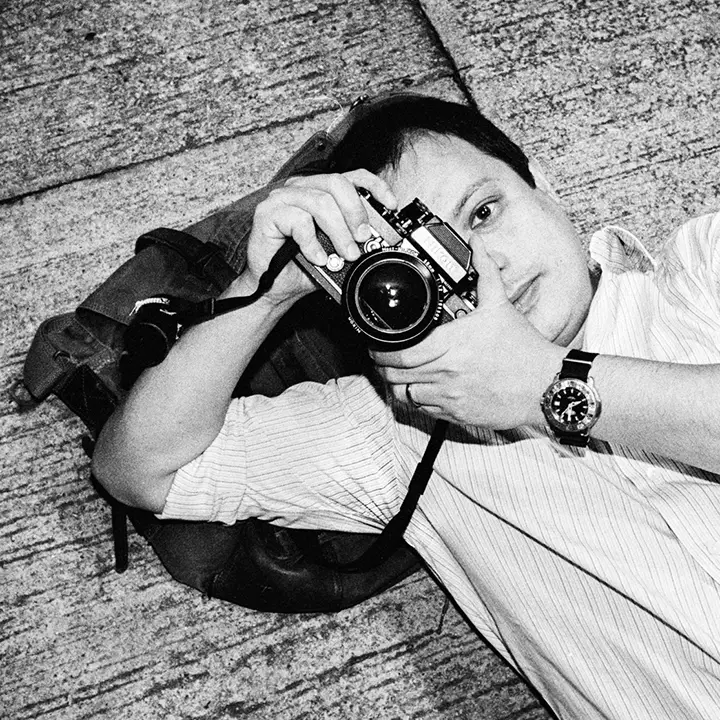 Bag: Belstaff 556
Camera: Nikon F2/T with F2AS Photomic Finder DP12
Lens: Noct-Nikkor 58mm 1:1.2
Film: Kodak Tri-X 400, with spare roll on the strap
Attached photo: Credit to @CameraFilmPhoto
Although I own a large selection of cameras and lenses, simplicity rules on the street and I prefer to carry one lens and a minimum of film. If necessary, a Nikkor 28mm 1:2 makes a good second lens. The Nikon F2 offers a solid platform and reliable shutter. The DP-12 finder is big and bright with 100% coverage and flexibility of choice over a wide rainge of Nikkor lenses. Centre-weighted metering is reliable and predictable. I have for years shot mostly Tri-X film, and carry just a roll or two. My gear and anything else needed goes in my old Belstaff 556, a fantastic bag that is not obviously a camera bag. Thanks to @CameraFilmPhoto for this photo!
You can follow Dan on his social networks. He always has something interesting to say about photography and cameras.
Tumblr
Twitter
This is his first 'In your bag'
You can read all of Dan's articles here
Vishal Soniji


Here is my in my Bag shot.
This is shot with Nikon F 50mm f/1.4, Kodak Super Gold 200.
Filson x Magnum messenger bag
Rolleiflex 2.8E (80mm Planar)
Japan Camera Hunter x Camera Film Photo film case
You can read more about Vishal and his passion for film here https://www.japancamerahunter.com/2014/03/film-news-camerafilmphoto-interview/
Ming Thein


Finally got a chance to shoot the contents of my bag today – it's a preemptive post, so it'll be what I'm bringing for my upcoming Chicago + San Francisco workshop tour/ architectural assignment in September. I would travel with slightly different gear if its was one or the other, however I'm going to have to combine the two to save weight.
Those of you who remember my earlier teaching bag will notice quite a big difference; this is because I'm now making extremely high resolution Ultraprints, which require as many pixels of as high quality as I can possibly get. I think it's an interesting setup because it both covers a lot of ground professionally, as well as creatively…
Here goes:
Pentax 645Z, D FA 55/2.8 and D FA 90/2.8 SR Macro lenses. I love the MF look, but not so much the weight. The 90/2.8 SR is a monster.
Nikon D810, PC-E 24/3.5 modified to parallel tilt/shift axes, PC-E 45/2.8 with regular axes, and the new Zeiss ZF.2 1.4/85 Otus – this lens deserves a special note as it's quite possibly the best lens I have ever used, for any system, period. I've had the privilege of testing one for several months, and it's pretty much been welded to the D810.
Ricoh GR, in a belt holster. Always with me. This camera just delivers – all the time, without hassle. It's usually a second or third single quick grab camera for me; even so, it's racked up 8,000+ very satisfying images. That's a personal record for a compact.
Spare batteries and memory cards for the above – the 645Z and D810 chew through 32GB cards, so in addition to the two I've got in each camera, there's an extra 12 in the wallet. I don't format a card til the contents are processed and archived, and use a fresh card for each job, which can sometimes result in several cards (the upside down ones here) being out of service – hence the 12. Storage is cheap, anyway.
Variable ND, CPOL filters for all lenses. 86mm (Otus) and 77mm (PC-Es) not shown here.
Two 2TB WD My Passport hard drives for backups and offline storage.
A 11″ Macbook Air; late 2012 model, fully maxed out. Will handle the large files from these cameras, but obviously not that fast…
Wacom Intuos tablet (small) and wireless kit – the basic models are so good now, there's no reason to have the Pro model. Especially if you're like me and wear out a tablet a year.
Gitzo GT1452T Traveller tripod with Arca-Swiss P0 Monoball head; L brackets for both cameras
Main bag is a Kata 272 Owl; everything here except the tripod fits comfortably with some room to spare. Doesn't look that big and gets on board easily. You can work out of it because it's got very clever multiple access holes, but I find it good to transport gear to location, then have a second, much smaller day bag to work out of – in this case, a Crumpler Dry Red 2 with a couple of lens pouches inside. It looks low profile and nothing to shout about, but will hold either Pentax or Nikon kits with some room for extras, and a pocket for the iPad. I was using a Billingham Hadley Small before, but it was physically larger and didn't hold as much – or didn't have a pocket for the iPad with the padded liner removed for capacity. The day bag goes inside my suitcase, but will pass as a camera bag even on budget carriers.
Not shown: lens and camera cleaning supplies, small medication pack, blower bulb, cables, chargers, pens, iPad mini retina, small toolkit, gaffer tape, muesli bars, diary, business cards and headphones.
Lastly, congratulations to keeping this running for 1000 instalments!
Cheers
MT
Ming Thein | www.mingthein.com
Dr. Andreas Kaufmann


Yes, this is the bag of Leica head Honcho Dr. Andreas Kaufmann. As you can see it is pretty Leica intensive, ha ha. Dr. Kaufmann is a very busy man, but he made time to take a few shots and show off that sexy custom M and red lens he has. Oh and the ultra cool special edition Domke bag made just for him.
Sadly Dr. Kaufmann didn't have time to put together any details about the cameras as Photokina came up as we were putting this together. But I am sure some of you can guess what he has in the bag anyway.
If you want to learn more about Dr. Kaufmann's interesting life then you can read some of his interviews here http://leicarumors.com/2013/07/22/interview-with-dr-andreas-kaufman-2.aspx/
Eric Kim


For a long time I have been trying to minimalize my traveling things. The things I find absolutely critical are these:
Backpack: north face recon backpack I have had for 6 years since college. Holds all my stuff pretty well. The bigger the bag is, the more stuff I am tempted to put inside.
Messenger camera bag: ideal to hold my camera inside, and to use as a daily walk-around
Smartphone: I am currently traveling with a smartphone and 11 inch MacBook Air. I also brought an iPad, but found that it isn't really necessary. Next travel, I'm going to leave my iPad at home. It's just another electronic to worry about.
11 inch MacBook Air: the ultimate laptop for travel. Portable and compact, perfect for writing, blogging, answering emails. Even good enough for Lightroom.
Leica MP and 35mm f/2 Summicron: my workhorse for street photography. I'm glad I don't have the stress of owning multiple lenses. And I always keep my flash (Leica sf20) with me.
Kodak portra 400 film: I find traveling with film preferable to digital. Why? I don't have to worry about hard drives crashing on me while traveling. I usually bring more film than I need (this trip I brought 100 rolls), but only shot 25 rolls so far. Also no problems scanning it through the airport x ray (only ISO 1600–3200 film is a problem).
Bose noise cancelling headphones (qc15): essential when spending a lot of time in airplanes and noisy airports.
Come and see Eric's website and blog.
Website
Flickr
Twitter
Facebook
Google +
Youtube
Me


Well, everyone has been saying I should put my bag in the 1000th post, but I feel it wouldn't be fair to have just mine. Which is why it is surrounded by other, better bags.
This is my daily bag if I am not going hunting. If I am hunting I take a smaller compact like a T2 and a much smaller bag.
But on the rare occasion that I actually get to go somewhere to shoot this is what I have been taking recently.
Ondu Pinhole camera – I have really enjoyed using this. It is a lot of fun and it got me back in to being creative. Beautifully made too.
Lumu – Kind of need it as I am using the Ondu. Very useful bit of kit. Tends to get lost in the bag though.
Westone headphones – Tokyo is loud and I need music to stop myself going bonkers. Today it was Warsaw and The Stone Roses.
Love Film bag – This is full of bits. Batteries, cleaning paper, a swoosher thingy, cards…I think there is even a medical mask in there in case I get Ebola.
Leica MP-6 with Leicavit and 35mm Summicron Black Paint ASPH – This is my main camera and it has taken a bit of a battering. It still looks good though and works like a charm, provided I don't drop it…again.
Film cases – for, um, film. Got some Cinestill and Rollei in there.
Vape pen – This is cobbled together from different pens. Ego fitting. It has really helped me to quit the tabs and it smells a lot nicer too. I just wish I would stop getting questioned by the Japanese police about it.
Volcom sunnies – Thanks Eddie.
Domke F2 Beams Japan Special Edition Blue Denim – I was lucky enough to get this bag when I was working with Domke. It is a lot softer and a bit lighter than a F2 and it ages really well.
I hope you like it. It took me bloody ages to get the nap of the carpet to look right.
You can see some of my stuff here https://www.flickr.com/photos/bellams/
The Bloody Producer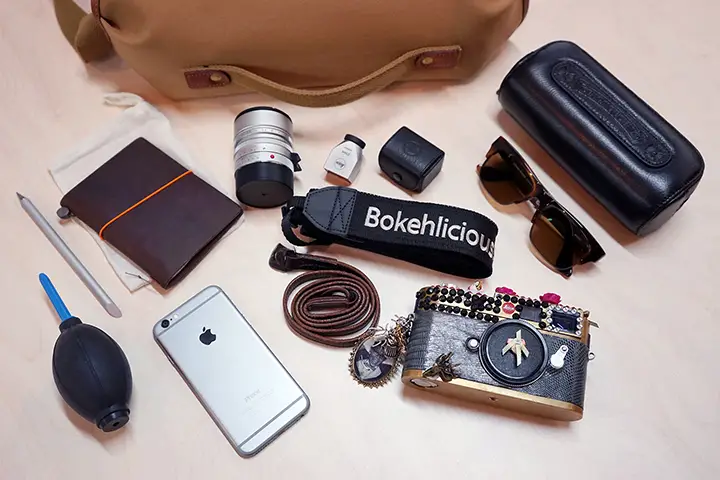 The Bloody Producer has the unenviable task of herding Kai and Lok into doing some work. Unfortunately that sometimes backfires. Case in point…that poor M9.
1. Billingham Hadley Pro: I should go and collect a cheque from Billingham because between our team of five we had three Billingham Hadley bags. I've given it a fair amount of abuse, and it has yet to fail on me. Having said that, Lok did manage to break the top handle during our Taiwan Special trip (http://www.digitalrev.com/article/taiwan-special-1-3-tips/MjMzMjIxMTE_A – Yes that's the same bag in the video. I lent it to Lok, before he got his own copy). But then Lok breaks almost everything – his own iPad, our wireless transceiver, the door handle on his safe… He's actually more destructive than Kai.
2. The Leica: Now this is perhaps the only Leica in the world that had suffered a makeover, twice, only for the purpose of entertainment. Had I known that it will be painted pink, I could have avoided the agony of choosing between black and steel grey in the first place. Recently Kai had given it a 2nd makeover (http://www.digitalrev.com/article/pimp-my-leica-m9/MjYzOTQ2MzE0) by adding lizard skin (from a real lizard that is) all over it, along with a number of delightedly tasteful (read utterly hideous) decorations. That said, it's not an entirely juvenile and attention seeking exercise. I did gain something from it. That is once the fine craftsmanship of Kai Man Wong had taken over the precise German engineering, you began to see it as just another tool. I no longer worry about the little dents or those paint scratches. I actually enjoyed photography more as a result.
3. The 50mm Summilux and 21mm Summilux (not shown): these are the two lenses I have got. The 50mm Summilux is the probably the best 50mm I have ever used, even better than the prohibitively expensive Noctilux. It's a good balance between speed, size, weight and built quality.
4. 21mm viewfinder: This little piece of optical wonder take the guesswork out of using a wide-angle lens on a rangefinder. It's quite overpriced though. I suppose you could get one that does the same thing for a lot less.
5. Bokehlicious Strap: I had this on my Sony RX1, which had developed a bit of fault with its flash and had to be sent back to Sony. It's probably not their fault though, as I had exposed it to a bit of drizzle and the water got inside the flash unit.
6. Artisan & Artist leather strap: well crafted and age beautifully.
7. Chrome Hearts 'balthy' Sunnies: in case I had to do something extremely ridiculous, in front of the camera (not happened yet, but you have to be prepared).
8. Notebook and pen: the passport sized notebook is hand crafted by Midori – a small Japanese stationary company. They are probably made outside Japan in order to keep the price down. Beautiful patina and very pocketable. The pen is ink-less and made of a silver tip. It lasts forever and you don't have to worry about leaked ink ruining your bag.
9. iPhone: I could probably survive longer without water than without this little device. The only trouble is … they are not 'little' any more, and I think it's a shame that they have decided to give in to this phablet trend and release the politically-correctly-named 6 plus. But then I could be the minority.
https://twitter.com/BloodyProducer
Mark Reeves


Mark gets in because of timing. His bag was next in line, so he gets to join the parade.
I have been enjoying the uber-bags of late so thought I might send in the current every day "bag" which is a slimmed down version of my previous slim-line kit shown in number 333 (so long ago). I know you prefer bags in your bag shots but there is not much point with this set up so here is my "in your pocket" (complete with pocket).
The Schwarz-Gerät is a 1934 Leica III (Model F) nicely worn around the edges but with new griptak which is an amazing cover for frequently used cameras – far superior to slippery vulcanite. He usually wears a 1939 Summar (grossly under-rated lens – up there with the Summarit for quirky charm and not nearly as much aberration) and is found over my shoulder hanging from a M4 leather strap.
Poking out of the coat pocket are a home made 3 film holder holding FP4+ (pre-cut leaders for sub 10 second film changes), a Leitz mid yellow filter, and the lens hood from a Super Ricohflex which fits the Summar very nicely. No need for a meter with FP4.
There is a tiny amount of recent photography on tumblr – Flexaretcetera, it gets heavily pruned quite often though.
Cheers,
Mark
Wow. A bit thanks to all involved who gave up their precious time for the site. It was a mess, but we got there in the end.
I have no intention of stopping, in fact I see this as just another milestone. I want more bags.
But, I am going to be a bit more picky from now on. I want people to make an effort and take the time to think about their bag shot. I will not feature bag shots without bags (unless they are special). Crappy cellphone pics that are out of focus will not be allowed. No details about yourself and your gear? No feature. Don't share your entire collection of cameras, nobody uses 15 cameras in the same bag. Keep it real.
Thank you all and please make sure you come and comment.
Keep them coming folks, we need more submissions, so get your bag on Japancamerahunter.com. Send me a hi resolution image of the bag (please make sure it is horizontal, 720px across is optimal) and its contents, with some details about yourself and what you shoot. Oh and don't forget your contact details (twitter, flickr, tumbler et al). Send the bag shots here. Please understand that there is a long wait now as there is a backlog of submissions. Not all make the cut, so make sure yours is funny/interesting/quirky. And please make sure the shot is of good quality, as the ones that are not do not go up.
Cheers
Japancamerahunter