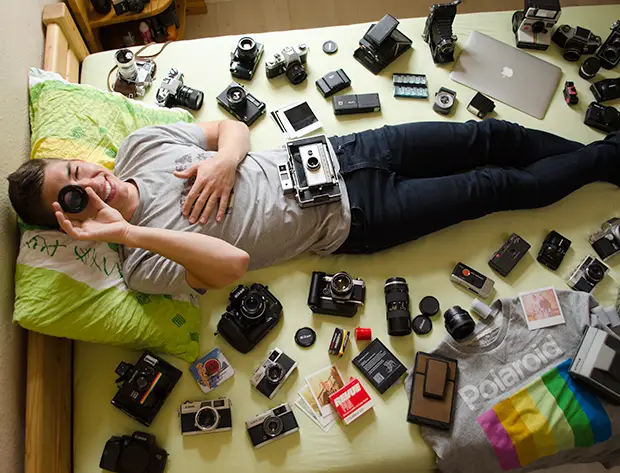 In your bag 911, Ádám Hinger
Well, this is a little bit different. Not a bag, but a bed. Ádám shares with us his collection, and himself too. Pretty cool.

Dear Japan Camera Hunter!
My Name is Adam Hinger and I live in Hungary, a simply love old cameras and photography. I'm 20 and just signed for a photography university in Budapest. I love whats in my bag shots and your site, so theres not one day without checking the new posts!
My favorite subjects are urban landscapes and everything that shows the contrast between man and nature. Sometimes I take a walk with my cameras and not even take one picture, looking trough the finder helps me solve my problems and makes me relaxed.
Over the past 3 years I collected 50 cameras and I try to use each on of them from time to time. Anyway I figured I share What's on my BED. ( my bag is too small too show my relationship with these marvels ) Hope I make it to the font page, Keep up the good work, and congratulations on your website.
Ádám Hinger
Thanks for sharing your bed with us Adam. Shame you didn't share any links.
Please make sure you come and comment. Cheers
Keep them coming folks, we need more submissions, so get your bag on Japancamerahunter.com. Send me a hi resolution image of the bag (please make sure it is horizontal) and its contents, with some details about yourself and what you shoot. Oh and don't forget your contact details (twitter, flickr, tumbler et al). Send the bag shots here. Please understand that there is a long wait now as there is a backlog of submissions. Not all make the cut, so make sure yours is funny/interesting/quirky. And please make sure the shot is of good quality, as the ones that are not do not go up.
Cheers
Japancamerahunter