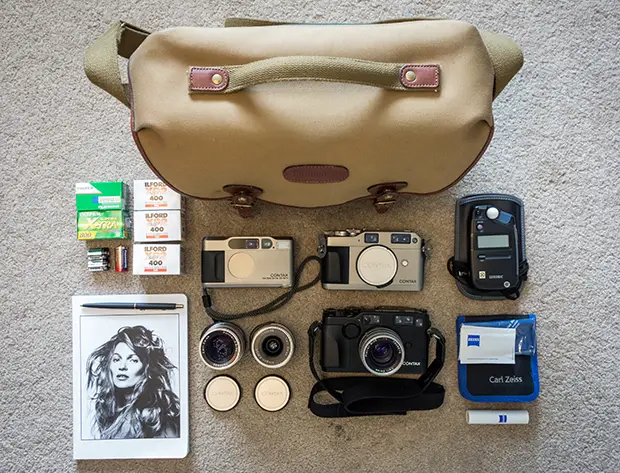 In your bag 846, Graham Fry
Do you like Contax cameras? Well, Graham likes them more. This is a totally Contax bag. Which is pretty awesome in my book. Check it out.

My name is Graham Fry. Long time fan of the site and it's been an ambition of mine for a while to submit a bag shot. I am an ex wedding photographer, now working in camera retail and living in Bournemouth on the south coast of England.
I adore black and white photography, so much so 95% of my work is in mono. I suffer from severe G.A.S. and have owned A LOT of cameras in recent years including Canon 5D3, Nikon D800, Fuji X-Pro1, Fuji X100 and X100S, Olympus OM-D and Sony RX1 but I have now sold all of my digital gear and now solely use analogue cameras.
As you can see from my bag I have become a bit obsessive over Contax cameras. I love the quality of Zeiss lenses and the fantastic titanium construction of these cameras. I have a Contax G1, a black G2 (which is my main camera) the 28mm f/2.8 Biogon, the 45mm f/2 Planar and the 90mm f/2.8 Sonnar and for outings with my kids and wife a Contax T2.
My film stock of choice is Ilford XP2 as its contrasty, fast and easy to get developed. I also dabble with the odd bit of colour and currently have some Velvia 50 and some Superia 800. I have a Sekonic light meter which I occasionally use, a rather nice Zeiss lens cleaning kit and a Kate Moss note book and Parker pen. I picked up the note book on a recent trip to the National Portrait Gallery to see Bailey's Stardust exhibition. As for my actual bag, there really is only one you must consider, the Billingham Hadley Pro. It is superb and is one of the only photographic related items I have bought and never sold on!
Check out my website here: http://www.grahamfry.com
Thanks for taking a look at my bag,
Graham
Thanks for sharing your bag with us Graham. Those Contax G's are lovely. Such a pleasure to use.
Check out the link and make sure you come and comment.
Keep them coming folks, we need more submissions, so get your bag on Japancamerahunter.com. Send me a hi resolution image of the bag (please make sure it is horizontal) and its contents, with some details about yourself and what you shoot. Oh and don't forget your contact details (twitter, flickr, tumbler et al). Send the bag shots here. Please understand that there is a long wait now as there is a backlog of submissions. Not all make the cut, so make sure yours is funny/interesting/quirky. And please make sure the shot is of good quality, as the ones that are not do not go up.
Cheers
Japancamerahunter