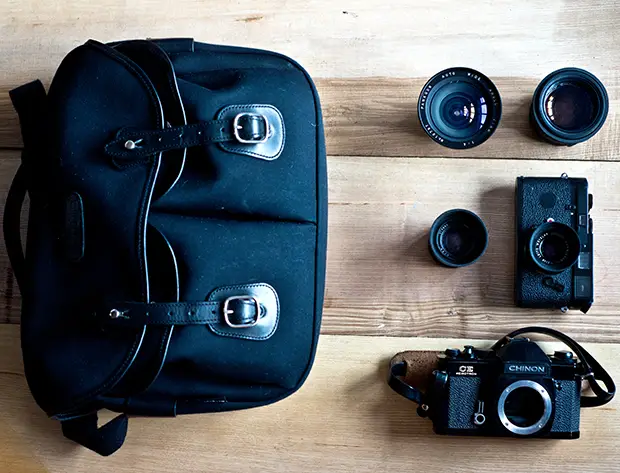 In your bag 816, Josh Jones
At 19, Josh may be young, but he knows what he wants from his bag. Check out this beautifully simple setup.

My name is Josh Jones, im 19 and live in Cheshire In the UK.
I work full-time as a chef but whenever i get the chance i get out with my camera.
What's in the bag:
The Bag:
Billingham Hadley Pro in black and green
The Camera's:
Leica m4-P
Chinon CE memetron
Lenses:
50mm/f2 Jupiter 8 LTM
40mm/f2 Summicron M
55mm/f1.2 auto chinon tomioka M42
21mm/f4 Panagor auto wide angle M42
I first became interested in photography when i got a nikon d60 for my 15th birthday. This led too me studying photography at college for two years and learning digital techniques as well as traditional darkroom skills. I used the d60 too shoot my initial interest in landscapes, HDR and panoramics until my neighbour gifted me a zorki 4 russian rangefinder with the jupiter 8 lens and i caught the film bug. From then on my shooting focused more on street photography and the odd portrait.
Shortly after the zorki-4 croaked it i sold the d60 and lenses and bought a Leica M4-P and a LTM to M mount adapter and used the jupiter 8 for a while until id rounded up enough cash to buy a 40mm summicron-c. I used this one lens one camera setup for a while then was gifted by the same neighbour as before the chinon with the very nice 55mm f1.2 and 21mm f4. (free camera's ftw!)
Thanks for letting me share my gear! My work can be seen here: http://www.flickr.com/photos/johanki
Thanks for sharing your gear with us Josh. It is great to hear that you have been busy in the darkroom. Keep it up.
Check out the links and make sure you come and comment.
Keep them coming folks, we need more submissions, so get your bag on Japancamerahunter.com. Send me a hi resolution image of the bag (please make sure it is horizontal) and its contents, with some details about yourself and what you shoot. Oh and don't forget your contact details (twitter, flickr, tumbler et al). Send the bag shots here. Please understand that there is a long wait now as there is a backlog of submissions. Not all make the cut, so make sure yours is funny/interesting/quirky. And please make sure the shot is of good quality, as the ones that are not do not go up.
Cheers
Japancamerahunter