The ICS 2012 camera fair is almost upon us
Yes, another camera fair, and this time from the ICS group. This is one of the smaller fairs and it is only a two day affair, but there will be plenty of things to see and buy there.

The ICS group has become known as one of the most respected camera sales groups in Japan, if not the world. So much so that they actually had a Leica M6 TTL black paint model specially commissioned for them. They have been holding fairs in Japan since the 1970's, and next month they host another one.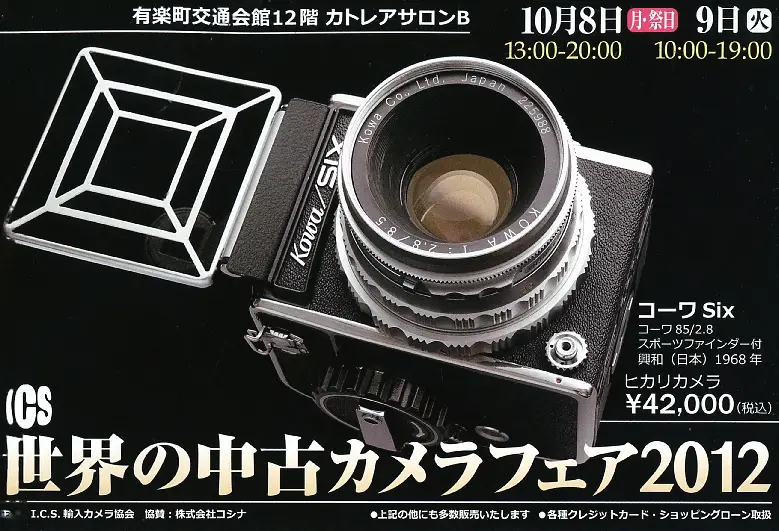 The fair starts at 1pm on the 8th of October (close at 8pm) and again on the 9th from 10am until 7pm.
This is one of the smaller fairs of the year, only on for 2 days and starting in the afternoon on the first day. Which is great for me as it means I will not have to do one of those 3am starts again.
There will be plenty of nice items at this show though, and I have heard rumors of several nice showpieces available, though I am not at liberty to say what they are. But I will be going for at least one of them.
The event is being held in the Yuakucho Kotsukaikan building, on the 12th floor. The building itself is not all that hard to find. Here is a link to the Japanese map http://www.kotsukaikan.co.jp/access/index.html and here is a link to a google map, which I think is much more useful https://maps.google.com/maps
I will be there, doing my thing and buying for all of you lovely people. I hope to see you there too. If you are not going to be there but you want me to look for something for you then mail me and I can get you something special. Afterall, I am Japan Camera Hunter.
Thanks
JCH