Featured photographer, Jim Mortram
I have the special honour of being able to feature the work of a photographer whom I admire greatly, Mr. Jim Mortram. Jim's work is very personal and deeply moving. It has taken a while to get this interview as Jim does not have a lot of time, but I am very glad we managed to do it. I hope you enjoy it.

J.A Mortram is a documentary photographer and environmental portraitist based in East Anglia, United Kingdom. Jim's work is centred on creating an expansive long-form photographic essay Small Town Inertia which explores the intimate and untold stories of marginalised individuals in the small rural community in which he lives.
First of all, welcome to JCH, please tell us about yourself.
Hi! Pleased to be here and take part… I'm a U.K. Social Documentary photographer based in East Anglia. I also work in my family home as a full time Carer. I started the 'Small Town Inertia' project just under a year ago and I'm a member of the Aletheia Photo/Film collective.


You have won awards for your photography, could you tell us about that?
In my first year of shooting I entered a few magazine, gallery and book competitions, just fishing really, you see something on-line, enter, it's just a few clicks and done. The intention of entering was to generate more attention to the themes and people I work with.


I understand you are a full time carer. Would you say that has an influence on your photography?
Very much so. I work at home caring for my Mother who has acute epilepsy. It's for sure had an impact upon me as a human being so obviously the trickle down effect has influenced my photography. I'm not sure if it's nature or nurture. Both most likely. I've always been in situations that have some proximity to pain, stress and endurance. Coping with the up's and downs as a Carer has shaped the way I interact with everything. You learn to be more paced and patient. You learn to shut up and listen more. It's helped shape my political views, made me socially aware and in a very strong way stripped away and 'us and them' relationship with people. I see people, of any kind, as a fellow human being not as a separate, compartmentalized other to me.


You run the Small Town Inertia site. How did that come about?
After a year or two on social photography sites I decided it would be a better format to have all the work in one place, a home for all the stories. I made a conscious to add testimony and interviews to images and update stories as though chapters in a book. I wanted to retain context and placing updates as regular features in one single place really aids that. It was also a primary concern that the series have a place together, the last thing I want is for single images to be taken out of context and that can happen when posting without pertinent information.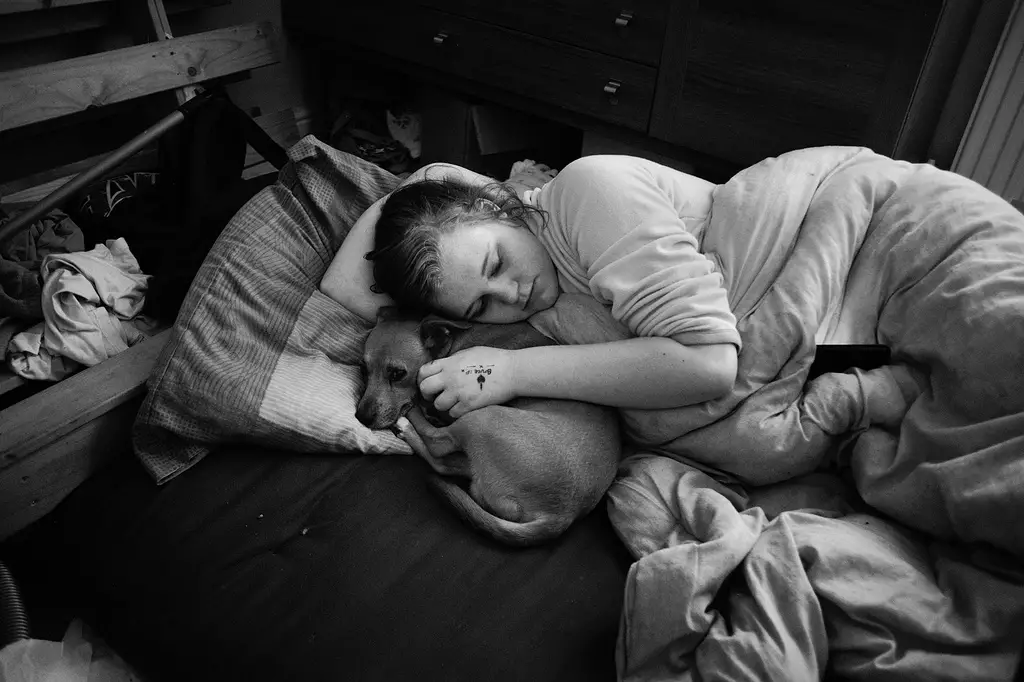 How would you describe your style of photography?
Essentially I'd consider myself a Social Documentary photography comprising straight documentary work and an element of portraiture. I have two main styles 1/ I like to get close, I like to have the camera disappear I'm not that keep of getting images of people seeing a camera. 2/ I like to stand back and shoot a room. I ask a lot of questions as often I'll integrate an interview within a shoot, other times I'll just be there to document. At it's core I just want the shots to reflect what's happening, to be a document.


How did you get started in photography? Was there a particular moment of inspiration?
When an elderly friend was dying of cancer I was loaned a camera and began documenting WH's life, listening to the stories of his life. I took the last photo of him alive. That experience had a profound effect upon me. It was a real moment of clarity. It gave me in a fairly brutal way the lesson of what a incredible responsibility photography can be and what a real honour. It also helped shaped the backbone of my desire to report people in a very close fashion, to really understand and listen. Also, the photographic community as an entity in itself has been a huge inspiration. I've been very lucky to have had support and encouragement from photographers, editors, curators that have taken to the series and without whom I'd really not be in a position to shoot at all. Having not studied and not coming from a situation where money is the motivation or generated by the series the help of a very real community on-line has been my life boat. I honestly don't know what I would have done were it not for their help. Through this process I've come into contact and bonded with some truly remarkable people.


Do you have a method to your shooting, or do you prefer to be more organic?
It's very organic. Situations are always changing, different. I do though have acquired over time responses to certain situations. There are technical responses and also personal, emotional responses. I shoot fully manual, most often in low light and I never use a flash, the closest I'll get to a flash is a reflector. Usually a session lasts for about one or two hours (The most I can get away from duties at home) and will begin with a talk, I'll learn a little of how things have been for the person I am shooting that day. If it's going to be a portrait day I'll integrate that within our conversation, if a straight documentary day I'll ease myself onto the fringe of what's happening around me.
Are there any photographers that inspire you or influence your work?
Yes. Very much. To be honest the people I shoot have a greater influence. W.Eugene Smith has become as influence and I love this quote of his "Photography is a small voice, at best, but sometimes one photograph, or a group of them, can lure our sense of awareness" I think that's beautifully said and very true. Brenda Ann Kenneally is an influence. I could name hundreds of photographers, journalists and editors whom's work I respect. I'm not too aware of conscious visual influences I just admire their work load, working situations, thematic choices and the evident empathy photographers such as these have. They influence me more ethically than visually. Life magazine has been a big influence. My visual style just comes on the spot and it's most likely the result of every visual input I've ever had, you soak up influence from everywhere, I studied painting and that was a huge influence, cinema and literature have both been another huge influence. We are all the sum of our parts.


Where would you like to see your photography develop in the future?
I'd want to shoot full time. Full time and work with some great charities, projects and publications. I shoot to try and make a difference, give voice to those that have none, to try and bring people closer together. These days I think that's something we should all try and do and desire.
Do you have any upcoming projects that you would like to share with the readers of JCH
I'll keep shooting all the current series 'Living with Epilepsy' being one I am focussing on more and more. I just aim to shoot as much and share as much as I possibly can within my current restraints. If I'm lucky I can get away for a few hours a week to work on a story. I'm planning developing a few of the series into moving image short documentary films. I'll do a book but not for some time, a few years yet.
Thanks Jim for being part of this site. I have been admiring your work and your dedication for some time now and I am honoured to have you on the site. I hope that more people get to see what you are doing and I look forward to your future projects.
Check out Jim's work at the following sites:
Small Town Inertia : www.jamortram.posterous.com
Aletheia Photo Collective : www.aletheiaphotos.com/j-a-mortram-bio
And follow him on twitter:
https://twitter.com/JAMortram
Please remember that the images are reproduced with the kind permission of Jim Mortram and may not be used or reproduced without permission.